LAMILUX Flat Roof Exit Comfort Swing
Individual Luxury – Daylight at its best
---
the benefits at a glance
LAMILUX Flat Roof Exit Comfort Swing
---
design & comfort
Winner of the German Design Award 2020 in the Category Special Mention
Generous daylight incidence
Convenient access to the roof terrace via stairs (on-site)
Flat roof exit opens 84° in approx. 25 seconds
Folding mechanism provides more space on the roof terrace
Self-cleaning due to inclined upstand
Top element and flat transition from frame to glazing
Stepless opening by hydraulic cylinder
Variety of colours according to RAL card (edging profiles and reveal area)
Leaf system, motor opener and top element are completely pre-assembled at the factory
Opening side DIN left or DIN right selectable when ordering
Safety
Emergency stop function during closing by light barrier
Closing and opening of the element possible via optional key switch
Can be opened or closed during a power failure by manual operation with a hand lever
Compliance with DIN 18234 without additional measures (prevention of fire expansion on the flat roof)
Fall-through proof according to DIN 18008-6
As a standard: Outer pane TSG, inner pane LSG
Resistance to external fire exposure from flying sparks and radiant heat with classification Broof(t1) according to DIN EN 13501-5
Energy Efficiency
Complete construction without thermal bridges
Completely thermally insulated upstand
Can be equipped with the highest quality functional glass
Minimized risk of condensation
Equipment Variants
LAMILUX Flat Roof Exit Comfort Swing
---
Glazing Types
| | | | | |
| --- | --- | --- | --- | --- |
| Designation | Ug-value | Translucency | Total energy transmission | Soundproofing |
| Heat protection glazing W110 | 0,6 W/(m²K) | 72 % | 51 % | 39 dB |
| Heat protection glazing W303 | 0,6 W/(m²K) | 49 % | 50 % | 39 dB |
| Solar protection glazing 60/30 S117 | 0,6 W/(m²K) | 55 % | 30 % | 39 dB |
| Solar protection glazing 60/30 S118 | 0,6 W/(m²K) | 37 % | 27 % | 39 dB |
| Solar protection glazing 50/25 S121 | 0,6 W/(m²K) | 47 % | 26 % | 39 dB |
| Solar protection glazing 50/25 S122 | 0,6 W/(m²K) | 31 % | 23 % | 39 dB |
| Solar protection glazing 70/37 S125 | 0,6 W/(m²K) | 62 % | 34 % | 39 dB |
| Solar protection glazing 70/37 S126 | 0,6 W/(m²K) | 42 % | 34 % | 39 dB |
Sun protection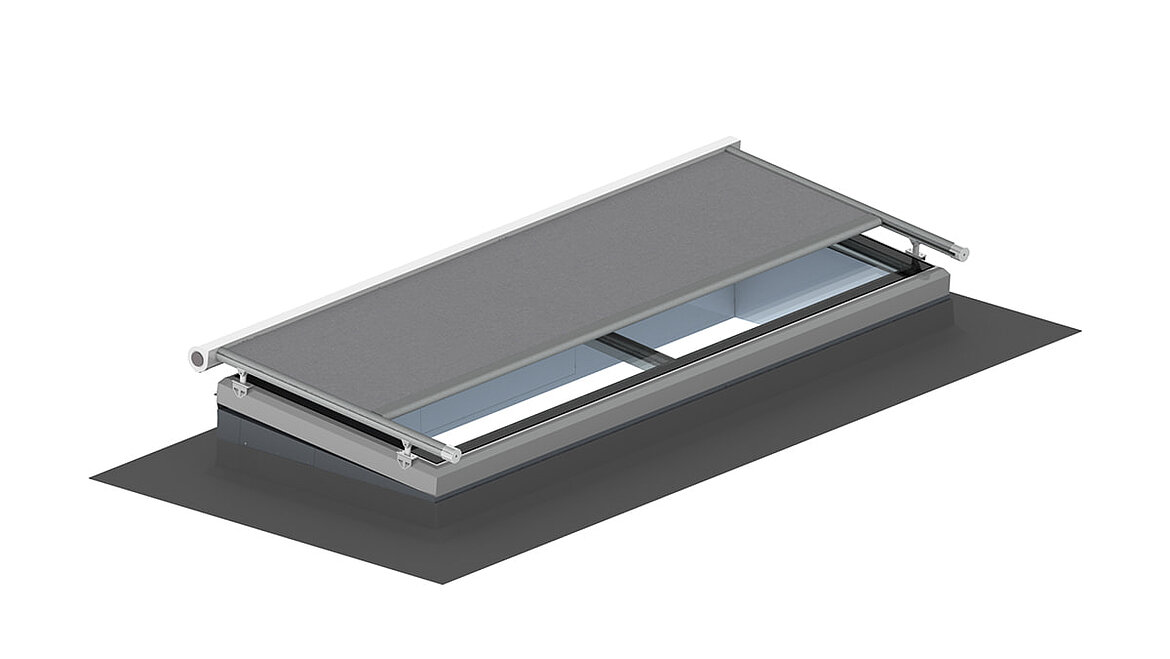 Daylight incidence and solar heat input create a broad potential to direct energy into buildings and thus save costs for heating and artificial lighting. Of course, this must not happen in an uncontrolled way, but must be adjustable by controllable shading systems. The external shading system for our LAMILUX Flat Roof Exit Comfort Swing is suitable for this. With noise-optimised retractable sliders, the external awning can be easily extended using push buttons or a radio remote control, thus allowing optimum control of the amount of daylight entering the room. The cable routing is concealed and integrated in the top element.
Opening Drives
An infinitely variable opening takes place over the leaf by one hydraulic cylinder per narrow side, which is operated by an electrically operated hydraulic unit (230 V). The Flat Roof Exit Comfort has a limit switch as opening monitoring on the opposite narrow side of the exit as well as a light barrier for monitoring the exit area of the element. To open the element, the hydraulic unit is controlled via a key switch with dead man's switch.
Top Element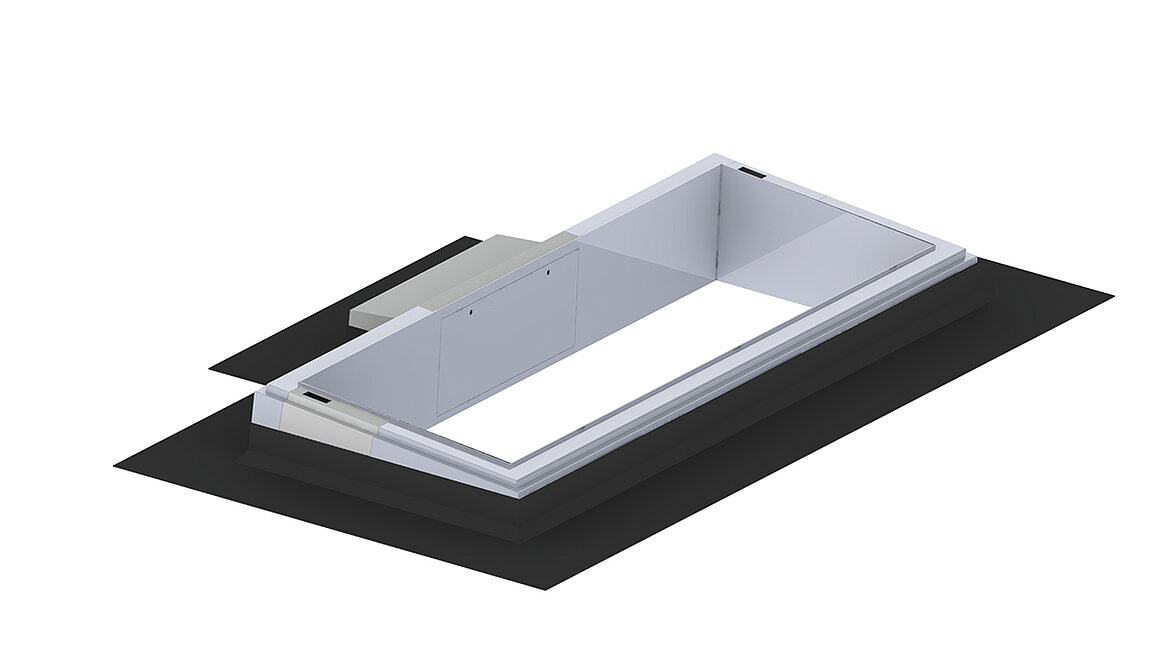 The top element (top roof edge dimensions 100 cm x 300 cm or 100 cm x 350 cm) forms the base for the construction. It provides the ideal thermal connection to the building structure. The extension element consists of a steel construction and is insulated throughout with mineral wool. The inside is covered with a coated aluminium sheet in all RAL Classic colours and the outside with white pigmented GRP. The top element complies with DIN 18234 - prevention of fire expansion on the roof without additional measures.
The height of the top element is 41 cm on the eaves side and 50 cm on the opposite long side. The inclination of the surface is 5°, which supports an ideal self-cleaning of the element.
Energy Efficiency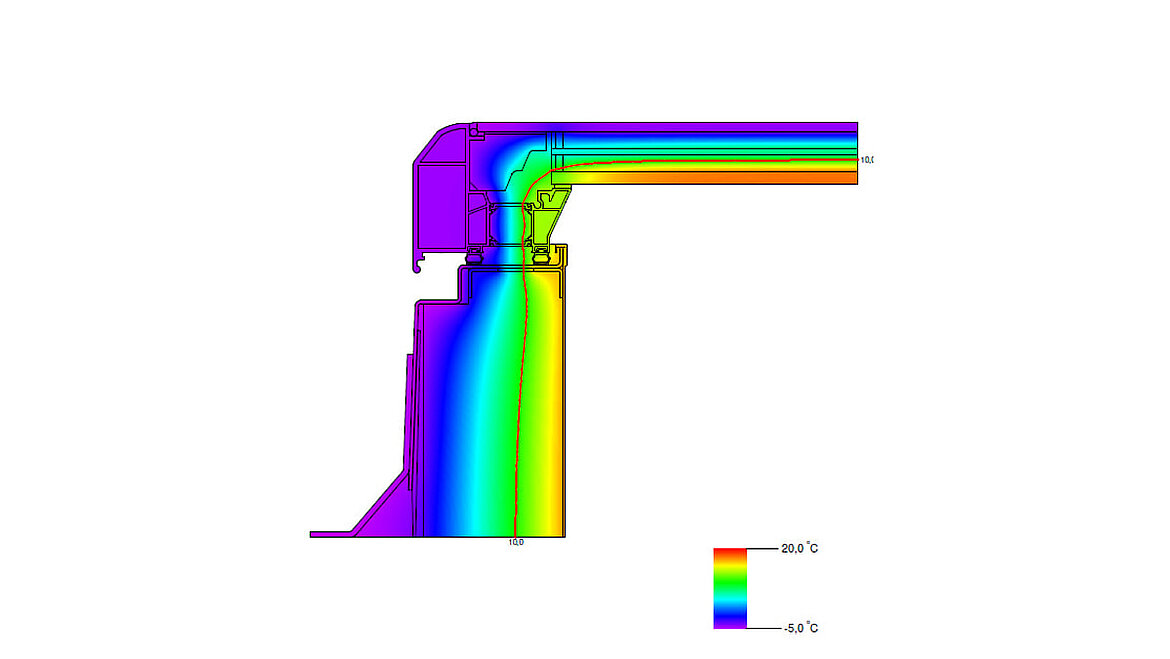 Our LAMILUX Flat Roof Exit Comfort Swing has optimal isothermal curves and thus a minimized condensation risk. The flat roof exit also has high thermal insulation in the joint area.