LAMILUX Building Control Systems - Preventive fire protection
Control Solutions for your Fire Protection, Smoke Extraction and Safety Requirements
---
COMPLETE SMOKE EXTRACTION SOLUTIONS
As a system integrator, we interlink and automate elements and smoke extraction solutions as part of preventative fire protection and climate optimisation. We connect these to the central fire alarm systems and central control systems in the building.

Our control solutions range from simple, natural building and staircase smoke extraction systems to mechanical smoke extraction solutions for all types of projects. We also offer special solutions for pressure smoke extraction and smoke pressure systems as a complete service.

Complete analysis and implementation of:
NSE – Natural smoke extraction systems
MSE – Mechanical smoke extraction systems
SPS – Smoke pressure systems (e.g. for staircases)
FD – Fire dampers (control)
SC – Smoke curtains (control)
NSE – NATURAL SMOKE EXTRACTION WITH DAYLIGHT AND VENTILATION FUNCTIONS
LAMILUX BUILDING CONTROL SYSTEMS
---
In addition to certified smoke and heat exhaust ventilation systems, LAMILUX provides a range of planning expertise regarding integration into your building's control in order to support natural smoke extraction.

Safety
Emergency exits will not fill with smoke completely
Automatic and manual triggering of systems
Development and installation of electrical and electro-pneumatic SHEV control systems
Opening and smoke extraction without long-lasting energy supply
Energy efficiency
Natural ventilation/night-time cooling in normal operation
Natural daylight incidence as an additional benefit
System details:
Integration of fire detectors, manual and thermal triggers as well as advanced fire alarm systems
Electrical and pneumatic control of opening units as well as SHEV flaps in roofs and façades
Control units come as stand-alone solutions or can be connected/ integrated into central building control systems
Integration of own or on-site safety power supplies
Complete installation and wiring
MSE – MECHANICAL SMOKE EXTRACTION FOR BASEMENTS AND MEZZANINE FLOORS
LAMILUX BUILDING CONTROL SYSTEMS
---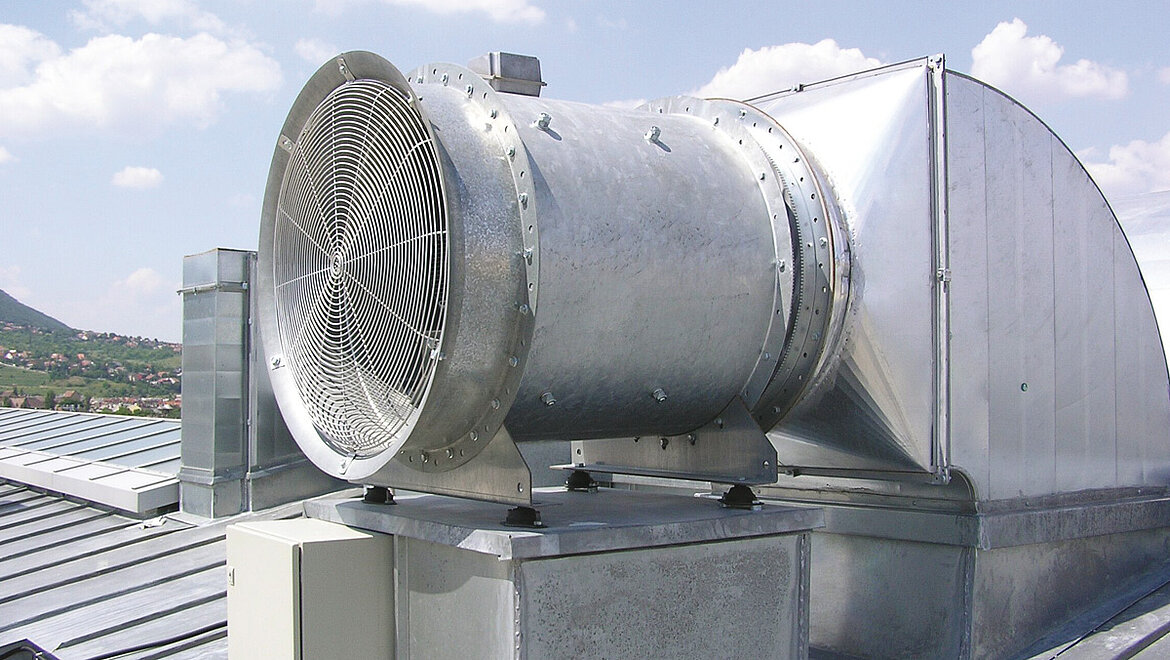 LAMILUX uses smoke extraction ventilators and own control solutions for mechanical smoke extraction (MSE). The technology has proven to be an effective smoke extraction solution many times (in practice). Above-all, these MSE systems ensure that, in the event of fire, toxic smoke gases will be extracted quickly, especially in highly interconnected buildings and interior building sections. MSE and NSE systems can be combined and interconnected at any time and is sometimes necessary.

Safety
Efficient smoke extraction from interior building sections
Removal of high volume flows
Use as cold smoke extraction
Forced guidance of fumes (e.g. removal from escape areas)
System details
Configuration of smoke extraction fans
Configuration of mechanical/ natural air supply
Project planning of control system for all smoke extraction fans, fire dampers, air supply elements
Dimensioning for the wiring
SPP – SMOKE PROTECTION PRESSURE SYSTEMS AS THE SAFEST SMOKE EXTRACTION SYSTEM IN STAIRCASES AND FIRE SERVICE LIFTS WITH INCREASED SAFETY REQUIREMENTS
LAMILUX BUILDING CONTROL SYSTEMS
---
The installation of a demonstrably and reliably well-functioning system for discharging smoke from staircases and fire service lifts is an important requirement in German state building regulations. In particular, staircases with increased protection objectives or special structural conditions (interior staircases, staircases which are part of a high-rise or the only escape route, etc.) require a particularly safe smoke extraction solution. LAMILUX has a complete system for air supply and SPP systems which is always designed according to individual building requirements.

Safety
Building-related pressure loss and flow volume calculation for system design (ventilator, channels, ducts)
Off-grid functionality through safety power supply and cables with functional endurance
Complete system solution (from the ventilator to control unit and the corresponding inflow and outflow elements)
Increased system availability or redundancy according to structural requirements

Energy efficiency
Natural ventilation via staircase outflow element

System details
Ventilator(s)
Control with ventilator speed configuration
Safety power supply
Pressure sensors and actuators
Drive technology for on-site outlet flaps
Inflow flaps for outflow ducts
Outflow elements for staircase and outflow ducts as tested smoke extraction units for very large cross sectional areas
The projects range from simple industrial buildings to major projects on a global scale.