What is fibreglass reinforced plastic?
Plastic is everywhere. Whether it's a lunch box, mobile phone case, ballpoint pen or sunglasses: The material that all these things are made of is commonly referred to as plastic. Anyone who gets a little deeper into the topic, however, quickly realizes: Plastic is not all the same. So: What exactly is fibreglass reinforced plastic (FRP)?
FRP – A fibre-plastic composite
FRP is also commonly referred to as fibreglass. It stands for fibreglass reinforced plastic (FRP). FRP consists firstly of fibres, namely glass fibres, and secondly of a plastic matrix surrounding the glass fibres. This matrix consists of either thermosets or thermoplastic material. Thanks to the combination of glass fibres and plastic matrix, FRP is a light and very robust material.
The choice of the plastic matrix
Plastics have different physical properties depending on the choice and composition of raw materials, the manufacturing process and the addition of additives. In thermal and mechanical speak, we distinguish between thermosets, thermoplastics and elastomers.
Thermosets
Thermosets are plastics that, once hardened, cannot be deformed by heat or pressure. Examples of items made of thermosetting plastic are cooking spoons and sockets. Thermosets must also prove stability at strongly fluctuating temperatures. They cannot be melted without decomposition.
Thermoplastics
Thermoplastics can be deformed and reshaped over and over again, even after hardening, in a certain temperature range. Anyone who has already filled a PET bottle or yogurt cup with hot water will notice how easy it is. The bottle can be reformed by heating and this process can be repeated as often as desired. Decomposition of the material only occurs if the temperature is too high.
Elastomers
Elastomers can be deformed by heat, tension or pressure, but always return to their original form after pressure. As the name suggests, they are elastic but dimensionally stable. They are used, for example, in tyre production or in the manufacture of sealing tapes.
For fibre composite FRP, thermosets such as unsaturated polyester resin, epoxy resin and vinyl ester resin are usually used as matrices.
Fascination of fibre optics
However, not only the choice of matrix system has a major impact on the properties and areas of application of the FRP, but also the design of the glass fibres. In everyday life, for example, we know fibre optics when it comes to data transmission. They increase bandwidth over electrical transmission and allow a great deal of data to be transferred in a short time. But why is glass used in a composite material? When we think of windowpanes or drinking glasses, glass is not necessarily known as a particularly robust material. Fibreglass, however, has a completely different property to the solid material and gives the FRP the necessary stability. A distinction is made between short, long and continuous fibres depending on the length. And the longer the fibre, the more robust the material. For FRP, glass fibres are usually available as cut mats, fleece and fabrics. The plastic matrix then encloses the glass fibres and gives the FRP its shape.
The combination possibilities of the two components are almost endless – the last step is to find the right mix of fibre and matrix for every application.
What makes GRP so special?
Glass-fibre reinforced plastic (GRP) is a composite material made of a plastic matrix and glass fibres. But what makes this material so special? Low weight with high mechanical strength, resistance to chemicals, corrosion and UV radiation are just some of its properties. Learn more in the white paper:
The most important properties of GRP sheets
The main advantages of GRP sheets
How to use the material profitably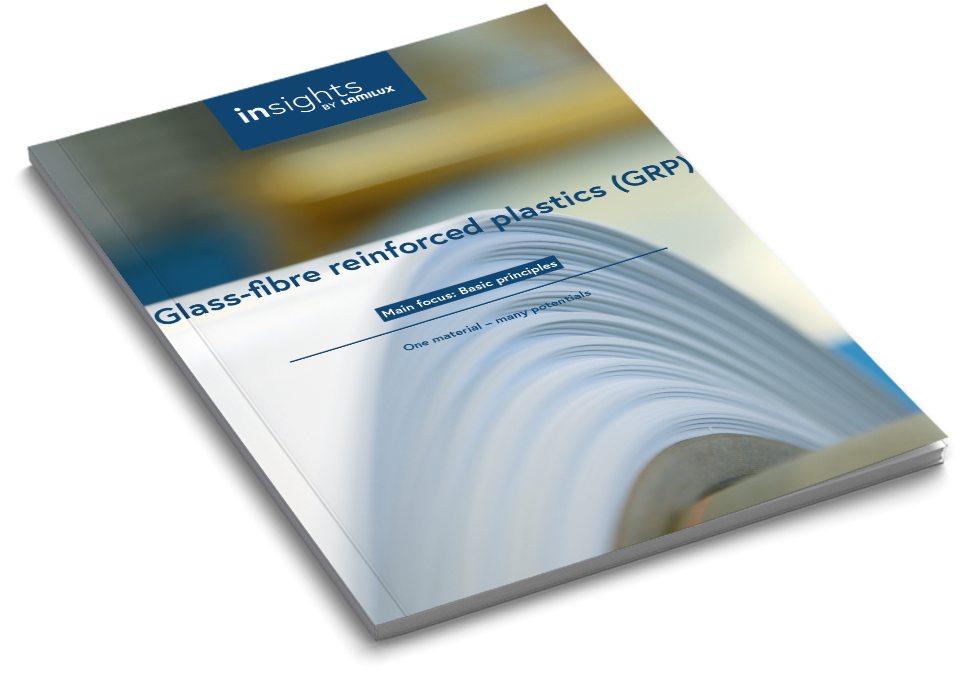 FRP can be made in different production processes. LAMILUX Composites is one of the world's leading manufacturers of FRP. The company produces the material on six self-designed and state-of-the-art flat sheet lines in a continuous lamination process. The company name therefore also includes the manufacturing process, because "LAMI" comes from "laminating".
FRP shines – not only visually, but also with its benefits. Because FRP is:
long-lasting
light
robust
resistant to rain and hail
corrosion-resistant
easy to clean
impact-resistant
easy to repair
maintains its shape
rustproof
resistant to chemicals
producible in all colours
non-conductive
easy to process
temperature-resistant
a visual highlight
damp-proof
well insulating
paintable
printable
Thanks to the many advantages of the material and the possibilities for further processing, FRP now replaces many traditional materials such as wood, steel or aluminium and is used in countless sectors. Common applications include the commercial vehicle industry, the caravan industry, the construction industry and the medical sector. FRP can also be sawn, drilled or glued without any problems and retains all the aforementioned advantages. Is FRP also the right material for your application? Try it out and order a free sample or contact the LAMILUX Composites sales team!