Application areas of glass fibre-reinforced plastics
Glass fibre-reinforced plastics combine many properties that strongly influence the lifecycle of a product. Although the initial investment is somewhat higher that processing other materials, over the entire service life, not only do you save money, but also a great deal of trouble associated with subsequent repairs. Glass fibre-reinforced plastics can be used in a wide range of applications, as the material combines the following properties:
Durability, lightness and robustness
Resistance to weathering and hail
Corrosion resistance
Easy cleaning and repair
Can be produced in all colours
Due to its durability, lightness and weather resistance, the material is very popular in the caravan, bus, commercial vehicle and construction industry. Further properties and precise information on the composition and manufacture of GRP can be found in the article "Glass fibre-reinforced plastic - A definition".

GRP in the caravan industry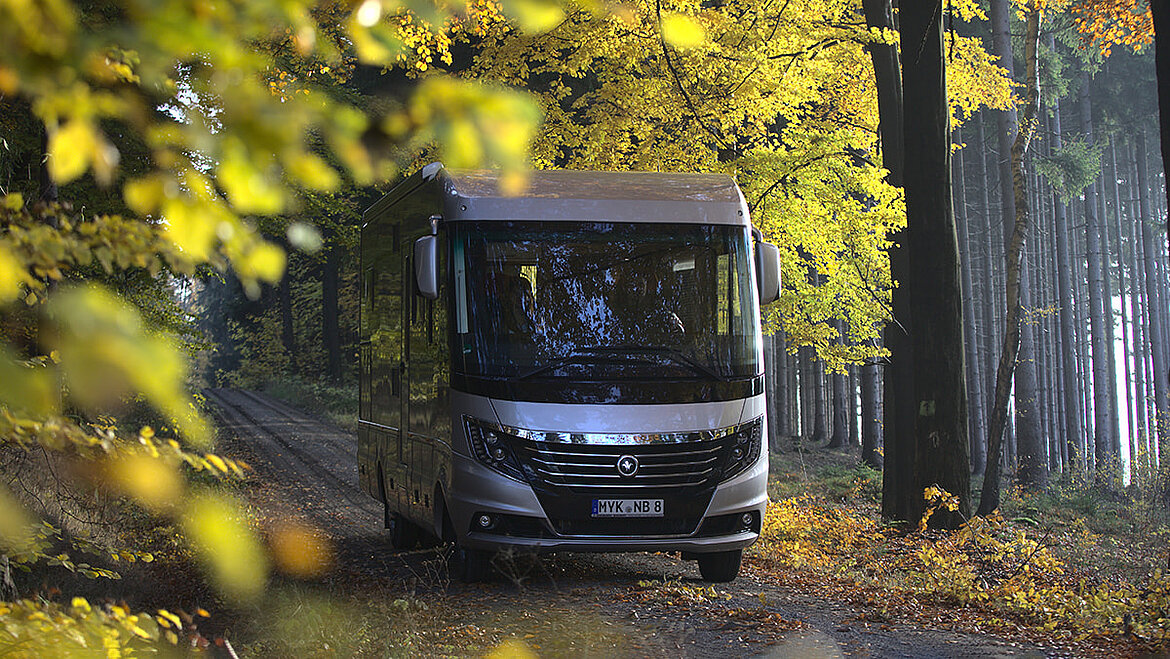 Whether camping holidays over the weekend or a trek around the globe - no matter how long the camping trip lasts, the van's four walls are the camper's home for this period. Above all, a caravan must combine the following: Functionality and homeliness.
However, these properties are not just applied to the interior design and decoration of the mobile home, but incorporated right from the start into the design of the vehicle. Here, standards are already set for how functionally and visually appealing the interior and exterior walls, floors and interior of the mobile home are.

Application areas in caravans
GRP can be found as a multifunctional material in many application areas in caravan and mobile home construction. The material makes the mobile home more durable and stable, which saves annoying visits to the workshop for subsequent repairs.
1. Roof and outer walls
Almost the entire outer shell of motor homes is now made of plastic. Glass fibre-reinforced plastic is particularly suitable for this purpose. Installed as an external layer in the roof of a motor home, the material proves its capability. GRP is not only very resistant to UV radiation, weathering and hailstorms, but is also resistant to corrosion.
GRP is installed in caravans in the side wall as a sandwich panel. As an outer face sheet in the outer wall, GRP offers the advantage of being a light, very stable construction material with an elegant appearance. Colours and designs are virtually unlimited as GRP can be produced in any colour.
2. Interior wall cladding and floor
The variety of colours is not only an advantage in the outer shell, but also in the interior of the camper van. GRP facilitates individual interior design here thanks to a wide range of design options. GRP also has many advantages when installed in the floor. On the one hand, the material's extreme lightness saves unnecessary weight, thus increasing the efficiency of the caravan. On the other hand, GRP is available as a decorative PVC surface, which facilitates an individual appearance for the floor.
Special glass fibre-reinforced plastics such as LAMILUX Anti Slip are also available for use as a floor in the cargo bay or as a ramp for a caravan. The glass fibre-reinforced laminate combines the good mechanical properties and resistance of glass fibre-reinforced plastics with an effective and abrasion-resistant non-slip coating. Stowed luggage or provisions can therefore not slide around and cause unnecessary damage to the inner wall.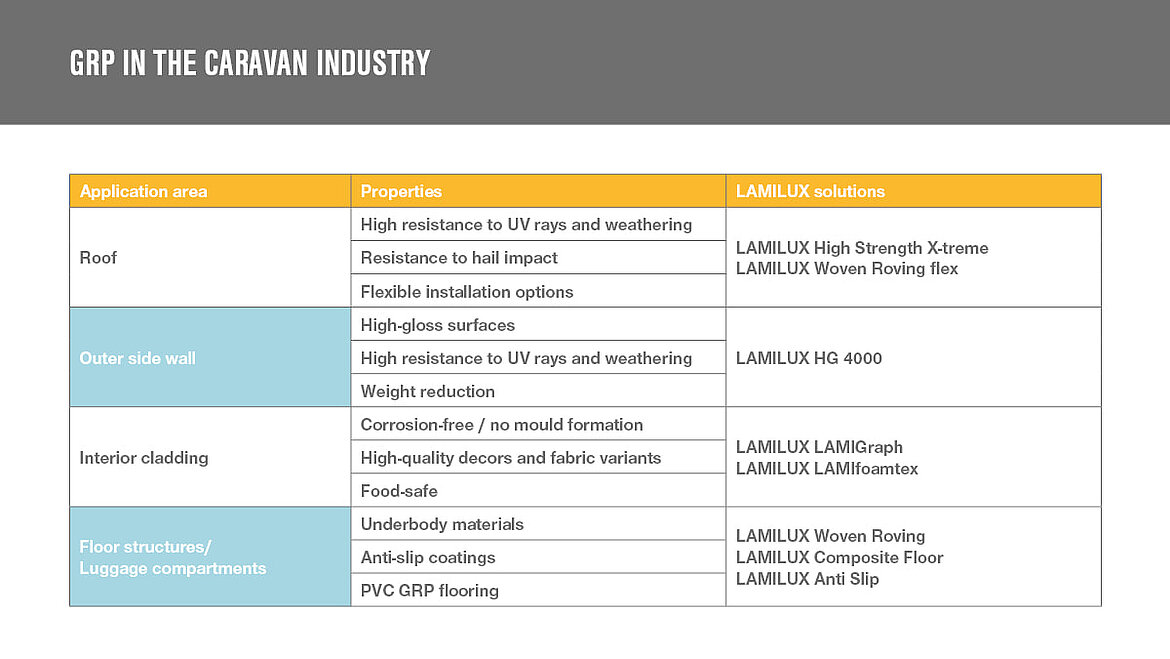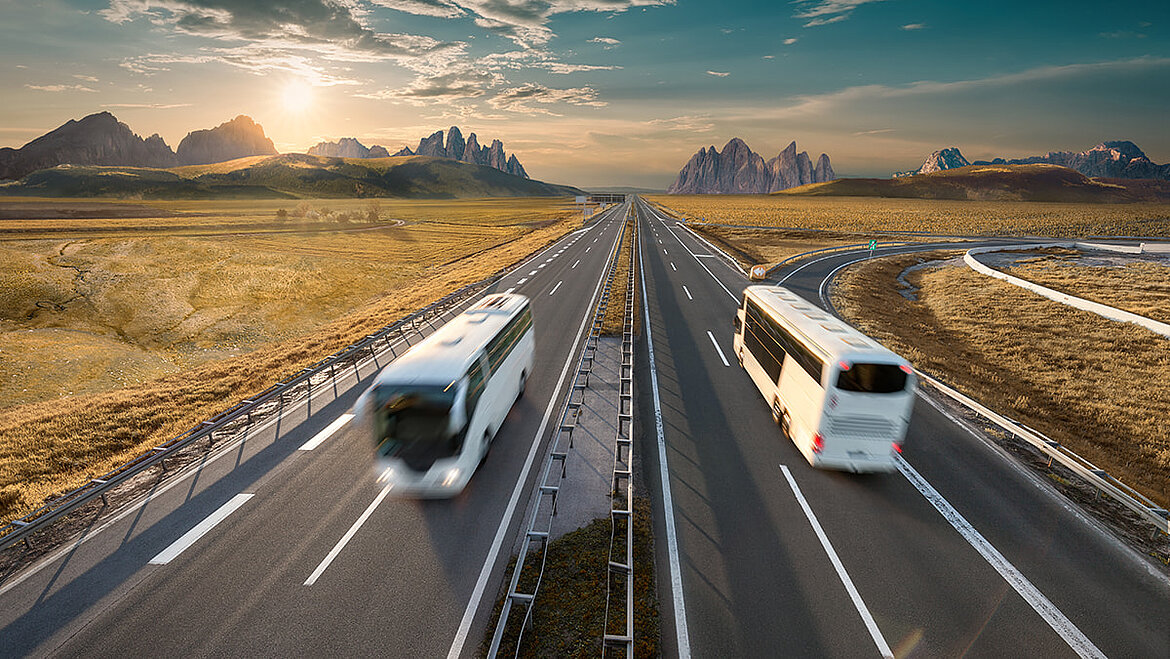 Similar to a caravan, a bus gets around a lot - it is exposed to a wide range of influences, from snow, hail and ice in winter to sun, salt water and heat in summer. A bus, whether a long-distance bus or city bus, must be able to withstand a lot, including the interior.
Passengers' luggage is often struck carelessly against the inner and outer walls of the bus, which can quickly cause dents or scratches in the material. The floors in buses are stressed by people boarding and alighting on a daily basis, bringing dirt, moisture and stones into the bus. To ensure that no major damage occurs, a bus must be optimally equipped so that it retains its beautiful appearance for a long time.

Application areas in buses
GRP is used both internally and externally in buses. Sheets made of fibre-reinforced plastic form the outer face sheets of the bus roofs and side walls. On the other hand, other product variants provide the option to clad inner walls or construct and coat floors.
1. Roof and outer walls
GRP as a large-surface, hailstorm-resistant face sheet with very low linear expansion qualifies extremely well as a material for the roof and outer walls of a bus. In addition, glass fibre-reinforced plastic as an external face sheet offers an elegant, high-gloss surface which is both extremely strong and light.
LAMILUX High Strenth X-treme is perfect for the outer side walls of a bus. The construction material offers a pore-free surface in all colours as well as individual colours and metallic effects, outstanding UV and weather resistance thanks to Gelcoat sealing, extremely robust behaviour against frontal forces and fast and easy repairability in the event of damage and cracks.
2. Inner wall cladding and floor structures
GRP is particularly suitable as a decorative and colour-coordinated material for an attractive interior design inside the bus. With LAMILUX LAMIGraph, the bus interior can be individually designed whilst also ensuring that no condensation penetrates the material structure. The pore-free surface is also easy to clean.
Similar to the caravan, GRP is also particularly suitable for floor structures in buses. Glass fibre-reinforced plastic as a flooring is extremely durable, resilient, abrasion-resistant and can be produced in many colour variants, such as the PVC GRP LAMILUX Composite Floor.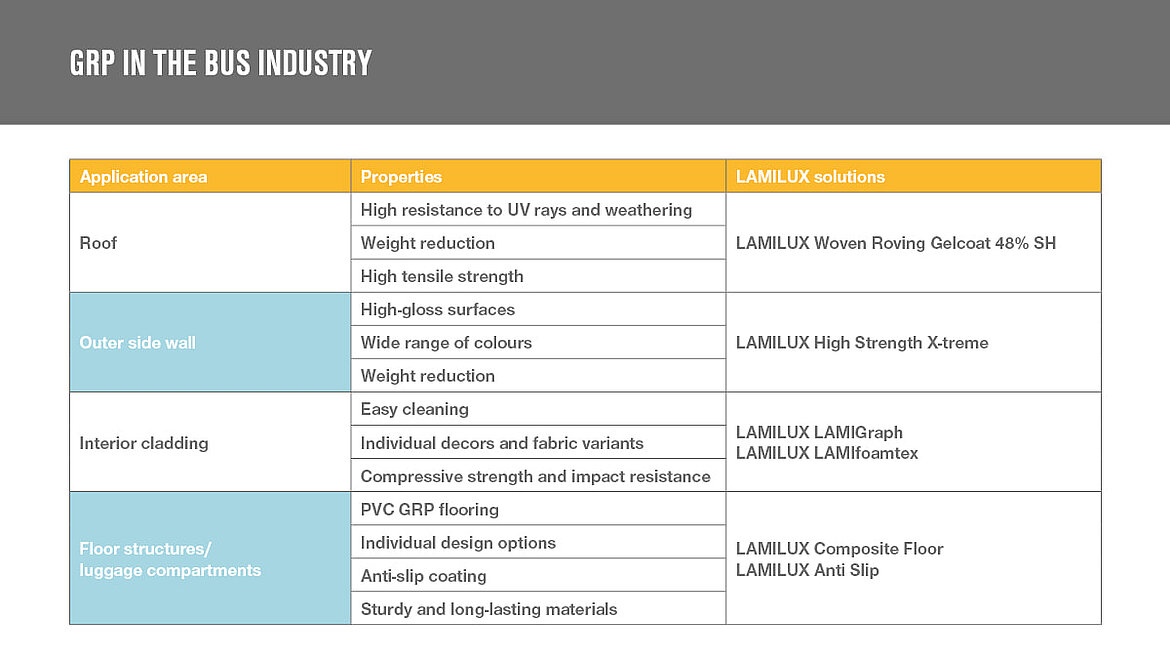 GRP in the commercial vehicle industry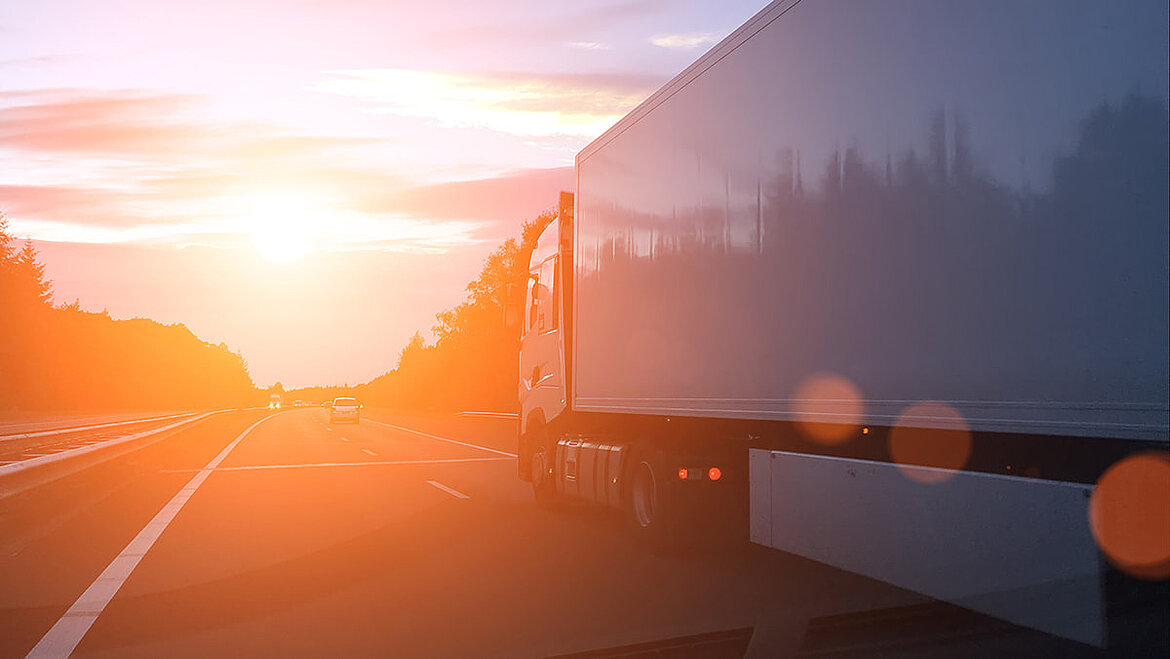 Whether trucks or last mile delivery vehicles - regardless of the size of the delivered goods, the delivered products are part of the design of the vehicle. GRP must withstand particularly high loads here and ensure that goods are also well protected.
The low weight combined with high stability makes the use of fibre-reinforced plastics suitable for all applications, such as roof and wall cladding as well as in floors. In particular, its stability and long life-cycle under daily loads and the design for heavy mechanical loads make GRP the perfect material for truck bodies and delivery vehicles.

Application areas in trucks and delivery vehicles
GRP panels are particularly suitable for manufacturing long side walls of trucks, as they facilitate one-piece manufacture without the need for a seam in the side wall. LAMILUX Composites is a manufacturer specialising in the continuous production of GRP panels. The continuous manufacturing process enables the production of glass fibre-reinforced plastic in thicknesses between 0.3 – 5.0 mm, in widths of up to 3.20 m and as rolls up to a length of 300 m.

1. Roof and outer walls
The roof of a commercial vehicle should not only be weather-resistant, but also particularly robust and long-lasting. LAMILUX Woven Roving is suitable as an external layer. It has high tensile and flexural strength and is well suited for large-surface roof applications due to its low linear expansion coefficient. In addition to the roof, the outer side wall of a truck also has to withstand a great deal. GRP is also a good solution here – GRP is extremely impact-resistant with a high resistance to frontal impact loads.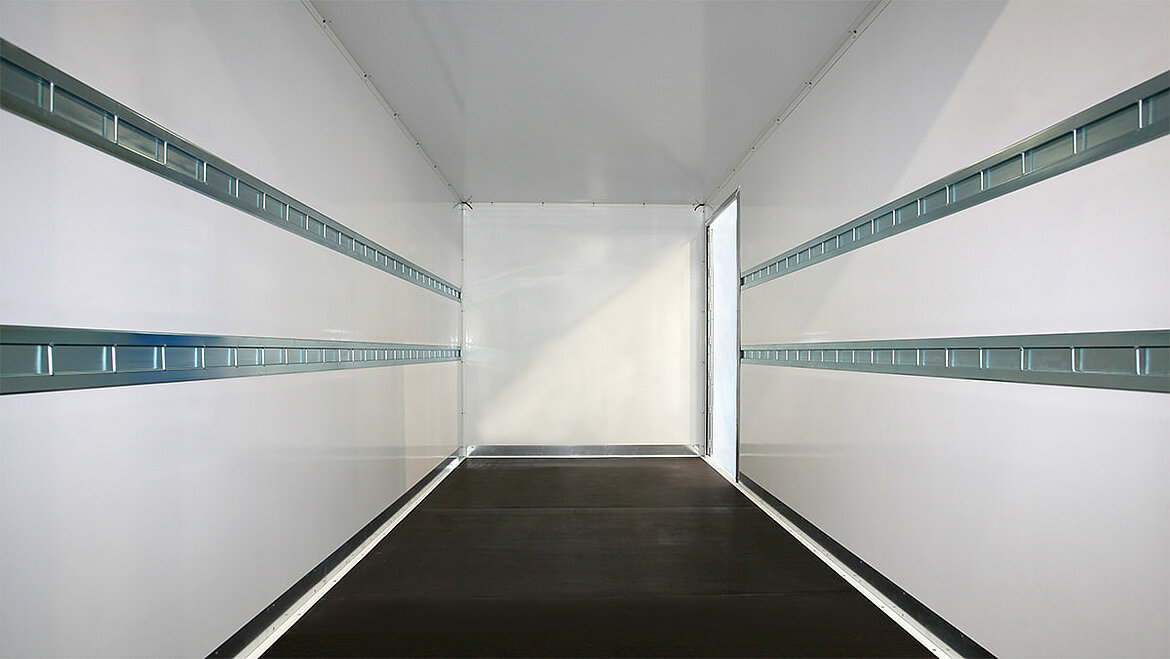 2. Inner wall cladding and floor structures
Just like in buses and caravans, GRP also offers individual design options for truck interiors. Not only are the decorative designs of GRP beneficial, but it is also a surface-hardened, food-grade and easy-to-clean material. Fibre-reinforced plastic with anti-slip surface is also recommended as an upper face sheet for the floor in trucks. In addition, the floor in commercial vehicles is equipped with a stabilising GRP as a lower layer and with a wooden or foam insert in between. This means that the floor can withstand any load and the vehicles are even PIEK-compatible.

Hygiene plays a particularly important role in refrigerated and food transporters. LAMILUX AntiBac provides an antibacterial effect in the interior of a commercial vehicle. The fibre-reinforced plastic has a special nanosilver surface that kills germs in just a few hours. This property is also a great advantage when transporting COVID-19 vaccines. Vaccines must be transported from production to the vaccination centres safely, refrigerated and hygienically and stored there in perfect condition. LAMILUX GRP can help prevent impacts, impurities and temperature fluctuations in transport vehicles and containers and thus help to safely transport vaccines from A to B.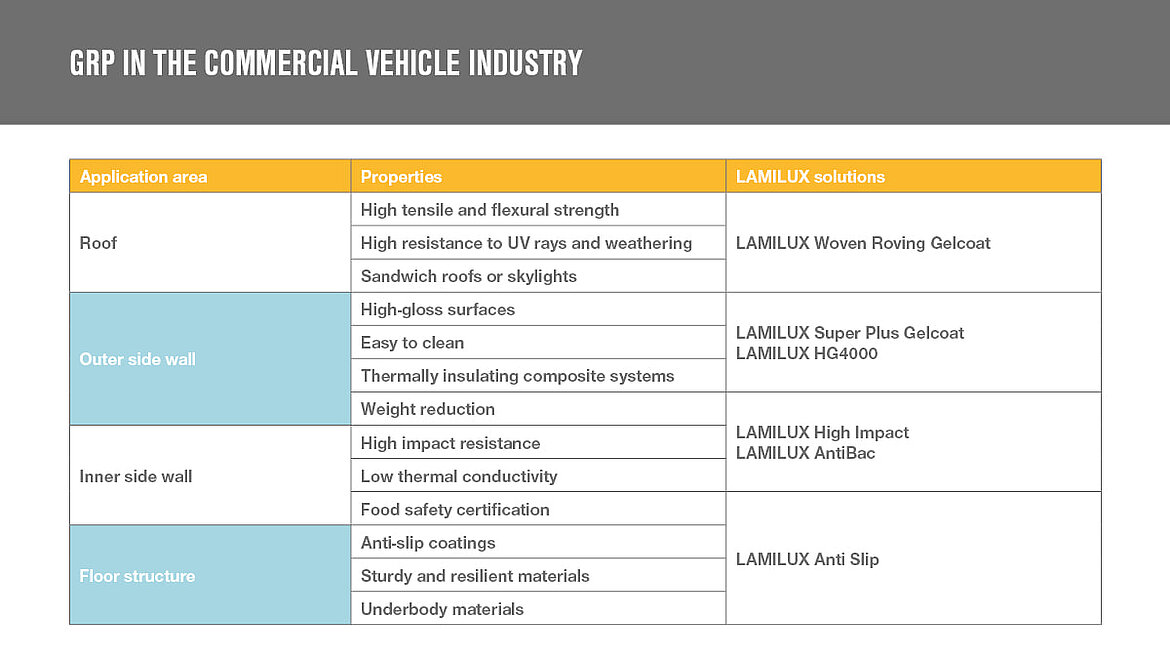 GRP in the construction industry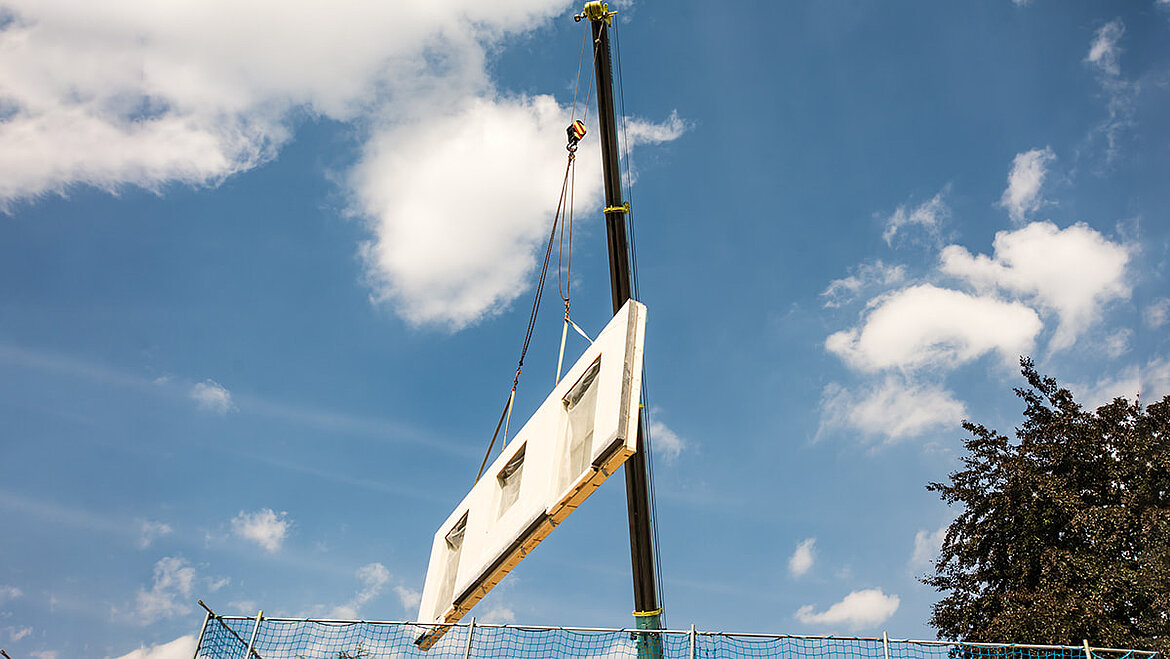 Fibre glass-reinforced plastic is not only used in vehicle construction, but also in the construction industry.
Suspended, ventilated facades made of fibre-reinforced plastic panels are increasingly used in modern architecture.
Architects and planners are also increasingly using glass fibre-reinforced plastics for room solutions or halls in agriculture, as GRP can be adapted to any building.

Application areas in the construction industry
Glass fibre-reinforced plastics can be used in a wide range of construction areas as they combine optical and physical benefits in a single material. They can be semi-transparent, diffusely illuminated or ventilated.
1. Facades
As a cladding sheet, glass fibre-reinforced plastic enables visually appealing facade cladding in a wide range of colours. The LAMILUX façade panel combines aesthetics and design with efficiency and function.
The range of colours, the implementation of appealing backlighting effects and the creative design freedom through different element dimensions enable architects and builders to design the facade cladding to be project-specific. There is sufficient scope to adapt the building envelope to the aesthetic ideas and property-specific building characteristics by using fibre-reinforced plastic panels.
However, the cladding sheet not only looks good, but also makes a major contribution to optimised thermal insulation in the context of ever-increasing building energy efficiency requirements. This is achieved by the rapid implementation of ventilated facades on a delicate substructure.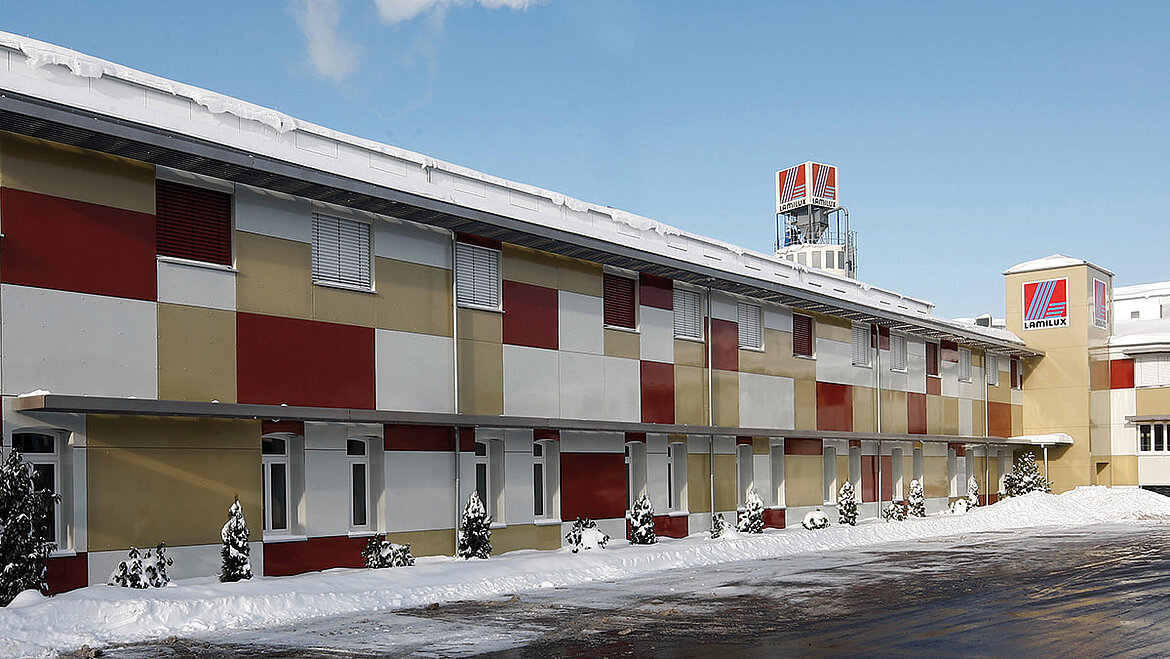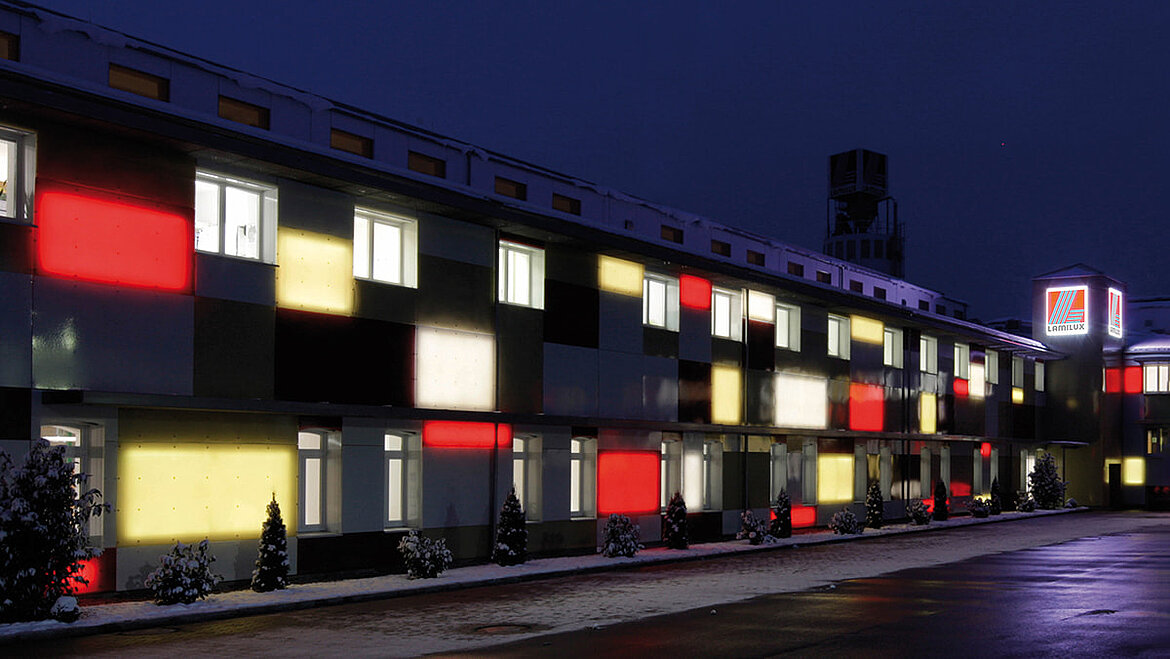 2. Room solutions
Glass fibre-reinforced plastic also sets new standards in cold stores, agricultural halls, mobile units and secondary houses. As wall face sheets in cold stores, GRP ensures hygienic walls and creates an easy-to-clean surface. The easy-to-clean surface of GRP also scores highly in agricultural halls and livestock halls, where it helps combat bacteria. GRP also offers versatile and convenient room solutions for emergency accommodation in crisis areas, for construction site containers, office and sanitary containers or flexible housing units for kindergartens and schools.
In addition to the LAMILUX façade panel sheet, LAMILUX Texture Wall is also suitable for use in the construction industry. The glass fibre-reinforced laminate combines the mechanical properties of composite materials with an attractive and durable rendered facade finish, which can also be individually designed.
3. Other application areas in the construction industry
Doors / gates
Industrial and hall doors
Furniture making
Trade fair construction
Waste water treatment plant construction