LAMILUX Modular Glass Skylight MS78: Market launch as of 01 August
---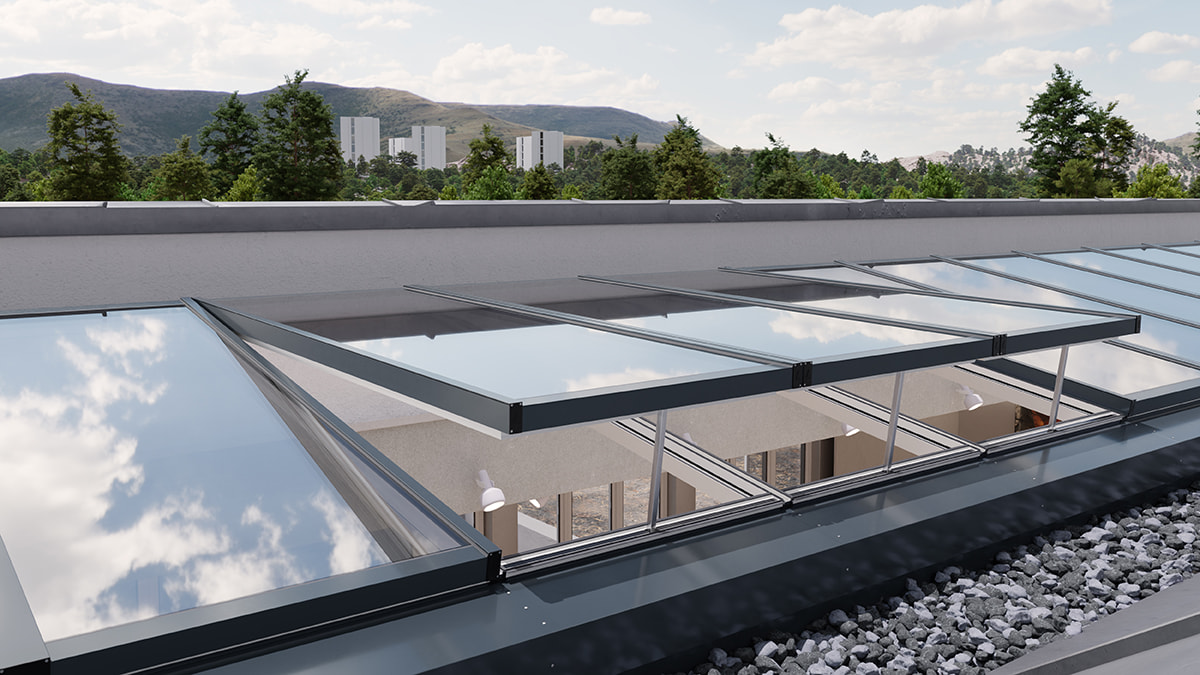 LAMILUX announces the market launch of the Modular Glass Skylight MS78
LAMILUX, a leading manufacturer of skylights, is pleased to announce the launch of its groundbreaking product, the Modular Glass Skylight MS78. The new modular glass Skylight system will be available to customers in Germany and Austria from 01 August 2023. The LAMILUX Modular Glass Skylight MS78 offers a wide range of benefits that make it an outstanding daylight solution in modern architecture.
Optimum design freedom and outstanding performance
The LAMILUX Modular Glass Skylight MS78 offers architects incomparable design freedom. It is available in a width of up to 3.00 metres with variable length and can be installed with an inclination between 5° and 30° as required. The combination of a level glass surface and an eaves-side frame profile ensures optimum water drainage and avoids dirt edges, resulting in cleaner glass surfaces. With a high proportion of glass in the modules and vents without a clamping frame, the LAMILUX Modular Glass Skylight MS78 allows optimised daylight incidence and maximum ventilation area, ensuring an excellent supply of fresh air and oxygen in buildings.
Innovative design and first-class safety
The LAMILUX Modular Glass Skylight MS78 not only sets new standards in terms of design, but also impresses with first-class safety. Native vent integration (NFI) creates a homogeneous appearance of vents and fixed elements both from inside and outside. The invisible drives of the vents additionally contribute to a reduced design in the interior. With a butt-covering drainage profile (SEP), the Modular Glass Skylight MS78 offers maximum safety from the first sealing level. It also meets the best quality standards thanks to its high degree of prefabrication and durable, easy-care materials and surfaces.
Outstanding efficiency, simple installation and optimal building connection
The LAMILUX Modular Glass Skylight MS78 offers a range of benefits for architects and roofers. Thanks to lean and automated processes, short delivery times can be guaranteed. The system's own connection technology enables simple and secure roof integration, while innovative load converters allow for direct mounting on load-bearing substrates such as concrete, wood and steel without the need for additional profiles. This unique construction enables a stable and secure connection of the glass Skylight while at the same time compensating tolerances in the substrate. This saves time and costs during installation and increases flexibility in terms of substrate requirements.
Niklas Braun, Technical Manager at LAMILUX, emphasises: "With our new Modular Glass Skylight MS78, we enable architects to develop their visions in modern architecture completely unrestricted. They benefit from a simpler and more efficient realisation of their projects, while at the same time the highest demands on quality and stability are met. The Modular Glass Skylight MS78 thus offers an optimal solution for seamless integration into a wide variety of building structures and ensures a harmonious transition between indoor and outdoor areas."
The official market launch of the Modular Glass Skylight MS78 by LAMILUX will take place on 01 August 2023 in Germany and Austria. From this date, customers can order the modular glass roof system and benefit from its numerous advantages.
Also customers can customise the Modular Glass Skylight MS78 by LAMILUX in the manufacturer's product configurator and see all the details of the innovation there.