LAMILUX Glass Skylight FE
The new Glass Skylight FE – functions that also shine optically
---
Advantage at a glance
Glass Skylight FE: Aluminium profile
---
Design
Award-winning:
German Design Award, reddot design award, Plus X Award
Uniform appearance
Aesthetic, classical and elegant design language
Avoidance of dirt on the glass surface
Variety
Large range of sizes
Customisation to the overall concept
Various glazing types
Various drive options
Quality
Passivhaus standard certified skylight in Passivhaus efficiency class phC
Overall structure free of thermal bridges
Water tightness under driving rain to DIN EN 1027 = E (1950)
Optimised soundproofing and minimised rain noise
Long service life
Permeability to air in line with DIN EN 1026 = Class 4
Life-cycle assessment made easy: There is a comprehensive Environmental Product Declaration for the Glass Skylight FE in accordance to ISO EN 15804
Use
Our Flat Roof Window FE is BIM-Ready - Download at bimobject.com
Fully pre-assembled
Simple installation
Efficient maintenance
Versatile adapter frame
Safety
Fall-proof according to DIN EN 18008-6
Flat Roof Window with general building inspection approval in "Structural Glazing" construction method - certified by the German Institute for Construction Technology in Berlin (DIBt)
Smoke exhaust opening
Resistance against wind load in line with DIN EN 12211 = C5
Resistance to external fire exposure from flying sparks and radiant heat with classification B,roof(t1) according to DIN EN 13501-5
Product configurator
Create an individual product variant, guided by a dynamic dialog with 3D preview in real time. Then share, request with one click or download BIM objects, 2D and 3D CAD models, images, dimensional drawings or data sheets in the desired file format.
Highlight for all planners
With BIM or without – the PDF data sheet with all technical properties including active 3D model, dimensional drawing and link back to configuration is the ideal all-in-one document of your desired product variant. Generate it yourself now 24/7.
Variants
Glass Skylight FE: Aluminium profile
---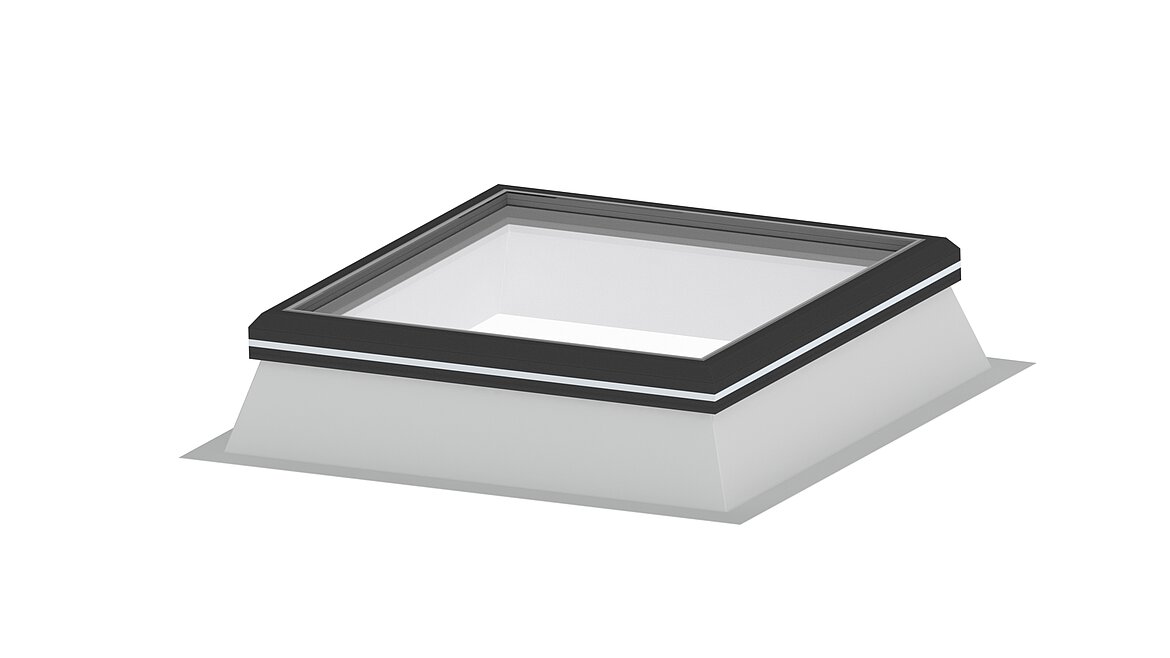 Glazing types
Our range of glazing takes different aspects on an individual basis into account
Incidence of daylight – Transparency and light diffusion
Energy efficiency / thermal insulation
Sun protection / protection against heat
Sound insulation
Self-cleaning
Permanently fall-through protection
*TSG: (toughened safety glass) Has increased shock and impact resistance due to special thermal treatment in the manufacturing process. In the event of breakage, the glass breaks into many small pieces without any sharp edges, thereby minimizing the risk of injury.
**MLF: (Matt Light-Coloured Film) By using an opaque film, the incident light is diffused, and a direct blinding effect is avoided.
LAMILUX jointless GRP upstand
Accessories
Glass Skylight FE: Aluminium profile
---
The following models are available, depending on size and weight of the glass:
Technical details
Glass Skylight FE: Aluminium profile
---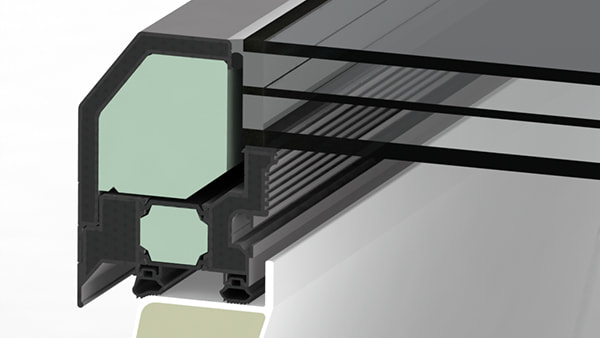 Design details
Thermo active design
A patented structural ribbing uses the heat energy of the room air below the base for the glazing. This increases the surface temperature in the aluminium frame.
The result: A flawless isothermal line and minimised risk of condensation.
GRP upstand
Stability and heat insulation in many models
The upstand forms the base for the construction. It provides the ideal thermal connection to the building structure. Manufactured by LAMILUX, using fibre-reinforced composite, our upstands are CFC-free, solid white in colour and thermally insulated with polyurethane hard foam. They include a weatherproof sealing and are classified as non-flammable components with no burning droplets. LAMILUX upstands have a closed box section, which makes them very stable and warp-resistant. Different metal inserts can directly be laminated into the structure. Secure anchorage for fittings and personal protective equipment (PPE) is guaranteed.
LAMILUX upstands can be manufactured in an extremely large number of variants with regard to height and inclination angle. They also offer many options for customised roof connections. Example: Thermal insulated base flange – variable insulation thicknesses also available on request.
DIN 18234 – Prevention of fire spread on flat roofs
The GRP upstand and the aluminium surrounding frame profile render further safety measures unnecessary on flat roofs. Surface protection in the form of gravel fill is not required.
Downloads
Glass Skylight FE: Aluminium Profile
---