LAMILUX Glass Skylight FE Circular
Elegant glass element – modern, energy-efficient and design-focussed
---
Advantages at a glance
Glass Skylight FE Circular
---
Energy efficiency
High daylight incidence with numerous glazing types
Available with double or triple glazing, TSG on the outside and LSG on the inside (LSG can be fitted with a clear or light-coloured matt film) with Ug-values of 1.1 to 0.6 W/(m²K)
Outstanding airtightness thanks to the balloon double-sealing system: Performance class 4 – tested in accordance with EN 12207
Optimal thermal insulation thanks to the overall structure free of thermal bridges
Intelligent controls for natural ventilation
Life-cycle assessment made easy: A comprehensive environmental declaration as per DIN EN 15804, DIN EN ISO 14040, DIN EN ISO 14044 and DIN EN ISO 14025 is available for the LAMILUX Glass Skylight FE
Comfort
NEW: Upstands with 5° inclination for optimised self-cleaning available
Pleasant indoor climate thanks to natural ventilation
Effective soundproofing of glazing types (DIN EN ISO 140-3 up to 45 dB)
Daylight element and upstand are fully pre-assembled at the factory and locked. This means they can be retrofitted with an opener system at any time.
Safety
Approved fall-through protection
Minimised risk of condensation on the glazing's interior and on the frame profile
Anti-burglary protection: Also available with resistance class 2
Resistance to external fire exposure from flying sparks and radiating heat with classification B, roof (t1) as per DIN EN 13501-5
Design
Discreet appearance from inside and outside
Wide variety of colours based on RAL system (surrounding profile)
The variants
Glass Skylight FE Circular
---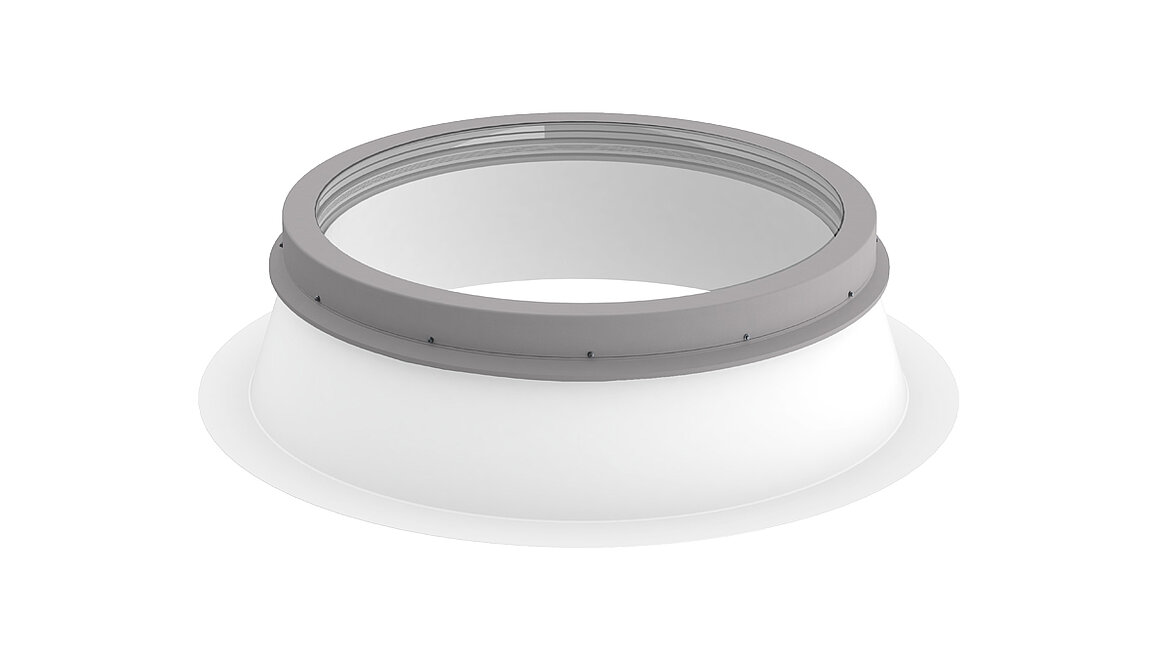 Available sizes
| Order Sizes (Top Roof Edge Size Ø) | |
| --- | --- |
| 90 cm | 180 cm |
| 100 cm | 200 cm |
| 120 cm | 220cm |
| 150 cm | |
Upstands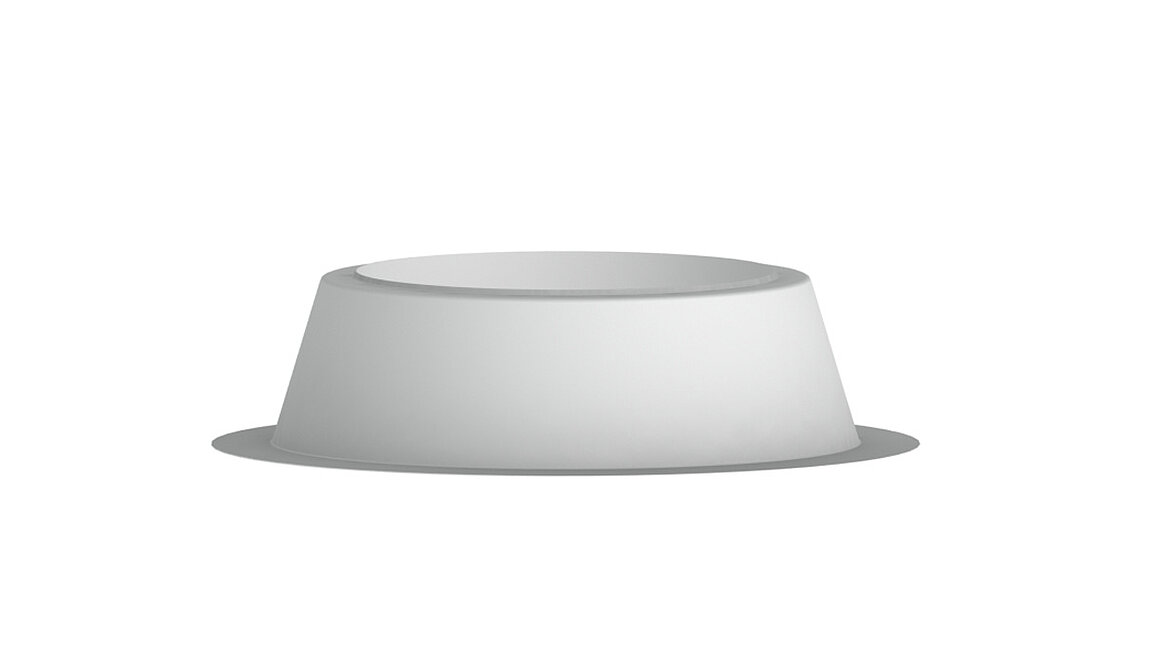 Available upstand heights: 30 cm, 50 cm and 70 cm
Seamless upstand
Complies with DIN 18234 without additional measures
Optionally available with a concealed chain drive for a smooth interior
Glass Skylight pre-mounted on the upstand ex works
Accessories
Glass Skylight FE Circular
---
Technical details
Glass Skylight FE Circular
---
Design details
1 - "Warm edge" (spacers between the panes, made of materials with low thermal conductivity), as a standard feature
2 - TAD – Thermo Active Design: Kink-free isothermal curve in the profile system
3 - Aluminium border frame with optimised insulation core
4 - Heat-insulated upstand made of glass-fibre reinforced composite: Manufactured without joints (optional) and with a continuous insulation core made of PU foam, 50 mm thick
Energy efficiency
Isothermal characteristics – Thermal protection made visible
Optimised isothermal lines for consistent thermal insulation zones without any weak spots provide superior thermal protection in all sections throughout the structure, presenting evidence of optimum energy efficiency. LAMILUX calls this thermal bridge-free product concept
TIP – Totally Insulated Product
The Glass Skylight F100 offers complete and optimal thermal insulation in a single compact unit which is free of thermal bridges. The Uw-value of 1.3 to 1.0 W/m²K is calculated according to EN ISO 10077-1 for a reference element with Ø 120cm and is dependent on the type of glazing selected.
Downloads
Glass Skylight FE Circular
---