LAMILUX Continuous Rooflight S​ energyline
The first standard ridged continuous rooflight designed for on-site power generation
---
Benefits at a glance
Continuous rooflight S energyline – continuous rooflight with photovoltaics
---
The LAMILUX Continuous Rooflight S​ energyline combines the benefits of the shed roof version of our Continuous Rooflight S (30°/60° incline) with those of a flat roof photovoltaic system. With this skylight system we guarantee permanent energy cost savings!
New
Combination of skylight and green energy generation through sophisticated photovoltaic modules
Northern light shed roof with 30° incline of the PV, opaque rear of the shed roof and 60° incline in the northern light side: This allows you to take advantage of the optimum sun angle of 30° (other dimensions available on request)
The world's first Continuous Rooflight with certified watertightness in heavy rain and during storms (DRI 3.0 m/s²)
The use of cutting-edge materials ensures that the product is completely thermally separated to meet the highest energy efficiency standards for modern industrial and administrative buildings
Due to innovative system components, the Continuous Rooflight can withstand the strongest wind and snow loads
Wide range of glazing options
Energy efficiency
Mullion and transom construction and flap systems are thermally separated
Isothermal Load Converter (ITL) – a component designed to incorporate highly thermally insulating materials in the base profile
Northern light side: Composite glazing adapted to building-specific energetic requirements (panel thickness between 10mm and 32mm) with low heat transmission coefficients of up to 1.2 W/(m²K)
Energy-efficient, natural ventilation
Life cycle assessment made easy: There is a comprehensive Environmental Product Declaration for the Continuous Rooflight S in accordance with ISO EN 15804
Safety
Bionically Dynamic Tensioning Technology (BDT) in the ridge area for flexible force/ tension compensation in the event of heavy wind and snow loads
Active Expansion Absorber (AEA) for absorbing expansion differences between seals and tensioning belts in the glazing bars
Dynamic Torque Control (DTC) to ensure perfect tensioning and secure mounting of the glazing in the flap systems
Modular flap systems in various sizes for perfectly dimensioned smoke extraction areas
Linear Burn-through Protection (LBP) to prevent the spread of fire on the roof
Integration of smoke and heat exhaust ventilation systems (SHEVs) and SHEV control panels
Design
The structure features a ridged roof design which is appealing from an architectural point of view
Modern overall impression, innovative construction
Variants
Continuous rooflight Senergyline – continuous rooflight with photovoltaics
---
GLAZING TYPES (NORTH LIGHT SIDE)
Northern light side: Translucent glazing; shed roof side with PV modules: opaque
Standard glazing consists of multi-layered, opal polycarbonate sheets up to 32mm in thickness
Highly sound insulation and chemical-resistant glazing variants are available
Glass-fibre reinforced polyester ensures high resistance to UV light and weathering
Blue translucent gelcoat guarantees a total energy transmission of approx. 33 percent
For the northern light shed roof version: The rears of the shed roofs can also be fitted with opaque GRP panels
Note: Ug value is determined as per DIN EN 673 (vertical installation). The profile structure's actual heat transmission values, including those of base profiles, gable wall profiles and flap profiles, are used to calculate the Continuous Rooflight's energy values.
Flap system for shev and ventilation
| Top roof edge size | Dimension x | Dimension y | Opening surface Ageo | Aerodynamically effective opening area |
| --- | --- | --- | --- | --- |
| 100 | 100 | 53 | 0.53 m² | 0.32 m² |
| 100* | 120 | 53 | 0.63 m² | 0.38 m² |
| 150 | 100 | 82 | 0.82 m² | 0.49 m² |
| 150* | 120 | 82 | 0.97 m² | 0.58 m² |
| 200 | 100 | 111 | 1.11 m² | 0.64 m² |
| 200* | 120 | 111 | 1.31 m² | 0.76 m² |
| 250 | 100 | 140 | 1.40 m² | 0.80 m² |
| 250* | 120 | 140 | 1.65 m² | 0.92 m² |
| 300 | 100 | 169 | 1.69 m² | 0.95 m² |
| 300* | 120 | 169 | 1.99 m² | 1.09 m² |
Accessories
Continuous rooflight Senergyline – continuous rooflight with photovoltaics
---
Other available accessories: Roof exit
Performance
Continuous rooflight Senergyline – continuous rooflight with photovoltaics
---
Performance
Top roof edge width
Top roof edge length
6 m
10 m
15 m
20 m
25 m
30 m
1 m
1.50 kWp
2.25 kWp
3.00 kWp
3.75 kWp
4.50 kWp
1.75 m
1.50 kWp
2.50 kWp
3.75 kWp
5.00 kWp
6.25 kWp
2.2 m
3.00 kWp
4.50 kWp
6.00 kWp
7.50 kWp
9.00 kWp
3.4 m
4.50 kWp
6.75 kWp
9.00 kWp
11.25 kWp
13.50 kWp
3.7 m
3.00 kWp
5.00 kWp
7.50 kWp
10.00 kWp
12.50 kWp
- custom dimensions and performance assessment per building
Technical details
Continuous rooflight Senergyline – continuous rooflight with photovoltaics
---
Bionically dynamic tensioning technology – BDT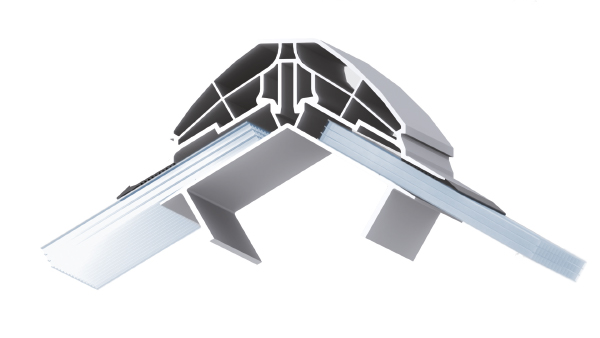 Effect: In areas which consist of several materials in a hybrid construction, there are ridged, elastic and semi-elastic sections in the ridge. In addition to clamps and static latches, the components are also connected with friction fasteners, for example. The result is a lasting elastic and positive locking construction.
Benefit: In the event of vertical and horizontal compressive and tensile loads, the components are prevented from drifting apart or pushing together excessively with the result that they remain connected within defined movement and displacement boundaries. The Continuous Rooflight system will remain torsion-resistant and therefore watertight and secure even in the event of high wind and snow loads.
BDT – Flexible force/ tension compensation
Positive-locking connection of the ridged section consisting of elastic, rigid and semi-elastic zones
Bionic design principle combines form and function
Continuous Rooflight system can withstand very strong wind and snow loads
Active expansion absorber – AEA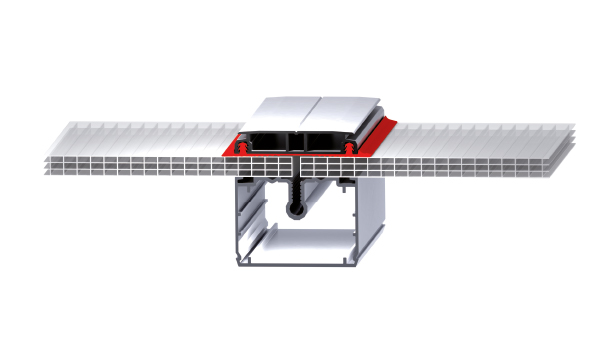 Effect: The Active Expansion Absorber compensates the tension and expansion which occurs when under loads. This is achieved through the continuous, shear-resistant connection between the seals and the cover strips.
Benefit: Optimal protection of the construction in the event of snow, ice, wind and excessive heat development.
Safety aspects in detail
The glazing is watertight and is positively fitted to the cover strips and glazing bars
The cover strips have integrated guide rails for mounting fittings, sun protection devices and maintenance equipment
The clamp is made even safer through an extended adhesive area
Isothermal load converter – ITL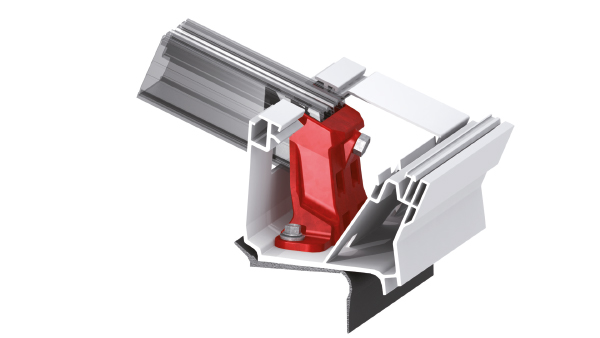 Effect: The Isothermal Load Converter (ITL) channels the load on the Continuous Rooflight into the substructure. Since this frees the base profile from loads and tensions, there is no need for metal material. This allows the use of high-quality composite with excellent thermal insulation values for the base profile.
Benefit: ITL technology means that we can guarantee optimised temperature profiles and thus ensure a low incidence of condensation on the base profile of the Continuous Rooflight.
Benefit from optimum energy efficiency
Excellent Uf values in the base profile and even better thermal insulation
Improved load bearing capacity in the base profile
Significantly reduced risk of condensation
Optimised rebate base ventilation
Smooth interior with few edges which ensures less dirt and grime
Cross section of torsion-resistant profile
Linear burn-through protection – LBP
Effect: In most cases, the roofing membrane, which is attached to a substructure such as a frame, is pulled up to the upstand and is led under the base profile of the Continuous Rooflight. In the event of a fire inside the building, the roofing membrane on the inside of the upstand will often catch fire and will tend to burn like a "fuse" to the outside of the roof.
Linear Burn-through Protection (LBP) can be understood as an intelligent system which restricts the spread of the fire at the roof penetrations. The profile of the Continuous Rooflight plays an important role: It is made of a thermoplastic composite which softens on the upstand in the event of high temperatures and spreads directly over the burring edge of the roofing membrane. This process seals the burning joints, cutting off the supply of oxygen and extinguishing the flames in the area.
Benefit: The LBP prevents flames from spreading to the roof. Despite it softening at high temperatures, the base profile remains stable during the fire because it is cooled and strengthened by the metal profile of the glazing bead.
Sophisticated fire protection technology
Prevents fire from spreading onto the roof through roof penetrations in accordance with specifications in DIN 18232-4
No need to place gravel around the Continuous Rooflight
Patented technology
Energy efficiency
Optimised isothermal lines
In the LAMILUX Continuous Rooflight S, the 10°C isothermal line runs consistently through the entire structure. Our guarantee: A minimised risk of condensation forming on the inside of the structure.
The comprehensive thermal protection technology throughout the structure ensures the best Uw values in the European-approved Continuous Rooflight. The energy efficiency properties have been tested. This ensures that the consistent insulation properties in the Continuous Rooflight profile are documented.
Roof mounting variants include mounting on steel sheeting upstands, on wooden trusses or reinforced concrete upstand beams.
Stability is of primary concern with LAMILUX's own steel sheet upstands; LAMILUX complies with the requirements of the German Institute for Building Technology (Deutsches Institut für Bautechnik), according to which sheet steel upstands must be manufactured using high steel grades S 280 GD + Z 275 or S 320 GD + Z 275.
Downloads
Continuous rooflight Senergyline – continuous rooflight with photovoltaics
---