GRP in the commercial vehicle industry
With functional lightness for environmentally friendly mobility
---
LAMILUX Composites is Europe's leading developer and manufacturer of fibre-reinforced plastics. Using the knowledge and experience from 60 years of plastic production, we manufacture sheets and panels from high-strength, sturdy and extremely light fibre composite materials based on polyester and epoxy resin on five production lines. The high-performance and custom-producible high-tech materials provide a range of advantages, especially in the automotive and transport segment.

Our fibre-reinforced plastics are used in side walls, roofs, doors, flooring, translucent roofs, non-slip flooring or as interior wall cladding for commercial and delivery vehicles. The high quality and material properties ideally aligned to the specific field of application set new standards in the commercial vehicle industry.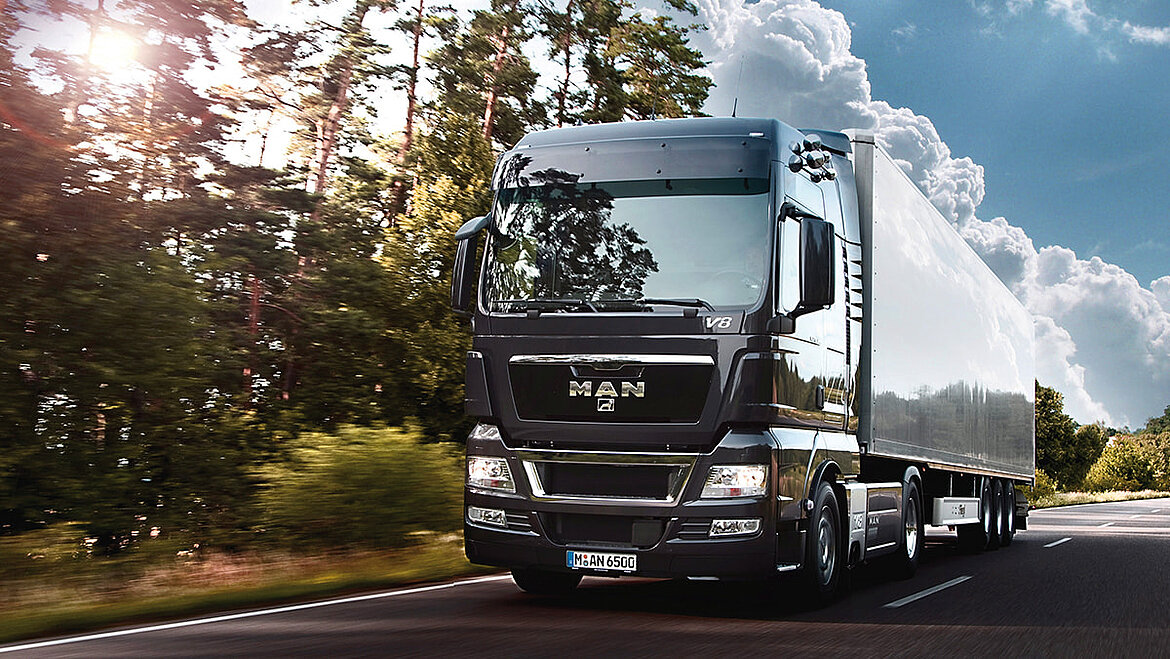 Fields of application in commercial and delivery vehicles
Lightweight construction materials for every application
---
Whether a last mile delivery vehicle or a truck – LAMILUX Composites offers products for every size of commercial vehicle that support the vehicle in the daily delivery of goods. Glass fibre-reinforced plastics (GRP) are characterized by their ability to withstand particularly high loads and secure goods so that they reach their destination undamaged. The low weight combined with high stability makes the use of fibre-reinforced plastics suitable for all fields of application, such as roof and wall cladding as well as in the floor.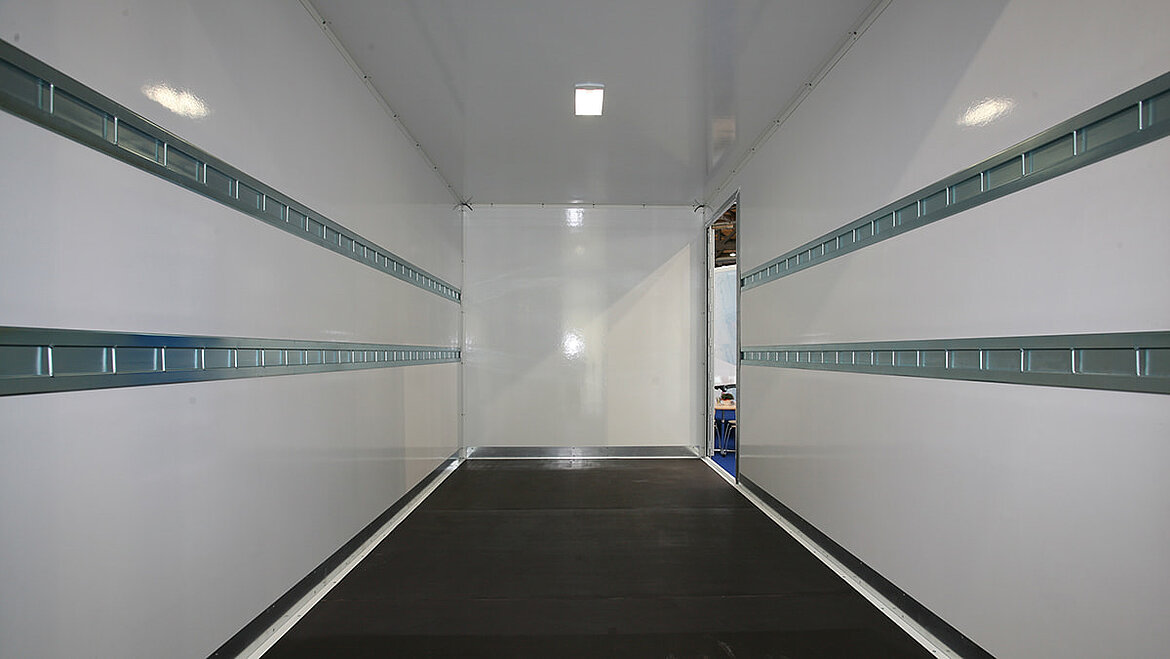 Hygiene is paramount for the interior of refrigerated and food transporters. LAMILUX has the solution to this problem - a fibre-reinforced plastic with a special nanosilver surface that kills germs within just a few hours. The product provides an antibacterial effect in the interior of commercial and delivery vehicles.
Another challenge exists when loading and unloading commercial vehicles, as damage to the interior wall is quickly caused. GRP combines outstanding impact resistance and strength and protects the commercial vehicle interior wall from scratches and cracks.

Most important features
High impact resistance
Low thermal conductivity
Food safety certification
Our favorite composite for the interior side wall: LAMILUX High Impact & LAMILUX AntiBac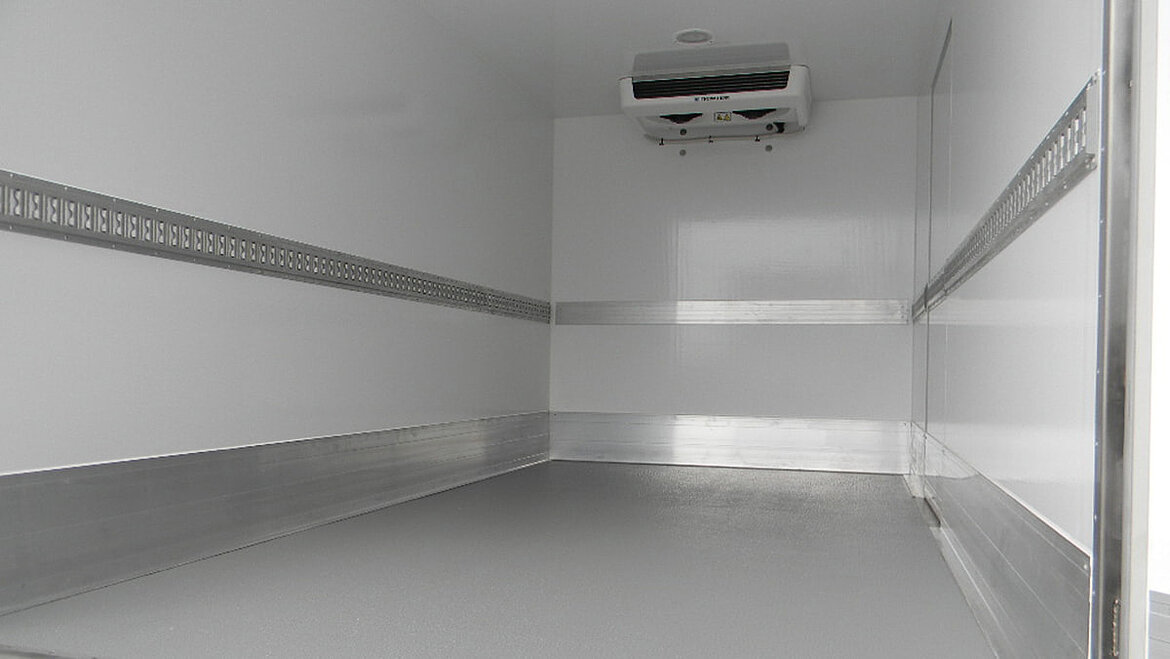 As a floor structure in commercial vehicles, stability and load capacity are of particular significance. The properties of GRP qualify the composite material for use as a flooring material. Especially with a special anti-slip coating, a stabilizing GRP as a lower layer and a wooden or foam insert in between, the floor is prepared for every load and even makes the vehicles PIEK-compliant.

Most important features
Anti-slip coatings
Sturdy and resilient materials
Underbody materials
Our favorite composite for flooring applications: LAMILUX Anti Slip

TÜV-tested LAMILUX quality
---
LAMILUX composites are manufactured using a continuous production process on five flat sheet production lines, each over a hundred metres long. Due to the high degree of automation, which ensures that the different material variants can be reproduced at any time, the systems are the most modern of their kind in Europe. Throughout the entire production process, the high production standards are safeguarded by seamless quality management. LAMILUX also has the majority of its laboratory and testing facilities voluntarily tested by TÜV Süd Germany to provide you with consistent 100% quality.
The most important things at a glance
LAMILUX Composites
---
In thicknesses of 0.3 mm to 5.0 mm (product-dependent)
In widths up to 3.2 m
As panels up to 12 m or sheeting up to 300 m in length
Glass mats, Woven Roving or non crimp fabrics
Gelcoat layer for excellent UV and resistance to weathering, anti-slip coating
In a range of colours: RAL, NCS, translucent, dual colour, metallic or custom
Fibre structure, woven roving structure, high-gloss, matt, decor, dual colour
Smooth, corona-treated, roughened