LAMILUX Glass Skylight FE Pyramide / Hipped
Flat roof window pyramid or hipped roof – beautifully shaped individual elements for flat roofs
---
Benefits at a glance
Flat roof window pyramid / hipped roof: aluminium frame
---
Energy efficiency
High daylight incidence with numerous glazing variants
Optimal thermal insulation due to thermal-bridge-free overall structure
Intelligent controls for natural ventilation and sun protection blinds
GRP upstand thermally insulated over its entire surface with a U-value of < 0.9 W/m²K
Thermally optimised structural attachment, such as a thermally insulated base flange
Outstanding air-tightness due to a balloon double sealing system: Performance class 4 – tested in accordance with EN 12207
Life-cycle assessment made easy: There is a comprehensive Environmental Product Declaration for the LAMILUX Flachdach Fenster FE Pyramide / Hipped in accordance to ISO EN 15804
Comfort
Pleasant indoor climate due to natural ventilation and sun protection
High sound insulation (EN ISO 140-3 up to 45 dB)
Convenient wireless remote control for ventilation and sun protection system
Daylight element and upstand are fully pre-assembled at the factory and locked – they can thus be retrofitted with an opener system at any time
Design
Discreet appearance from inside and outside with slim, elegant cross-bar profiles
Sleek, uncluttered view of the overall structure with no visible screws
Wide variety of colours based on RAL system (surrounding profile)
Safety
Permanent fall-through protection (DIN 18008-6)
Minimised risk of condensation on the glazing's interior as well as on the frame and cross-bar profiles
Resistance to external fire exposure from flying sparks and radiant heat with classification B,roof(t1) according to DIN EN 13501-5
Variants
Flat roof window pyramid / hipped roof: aluminium frame
---
Glazing types
Our range of glazing takes into account different aspects on an individual basis
Daylight incidence – Transparency and light diffusion
Energy efficiency / thermal insulation
Sun protection / thermal protection
Sound insulation
Self-cleaning
Safety – Fall-through protection
| Description | Ug-value | Light transmission | Total energy permeability | Sound insulation |
| --- | --- | --- | --- | --- |
| W102 double insulating glazing TSG | 1,1 W/m²K | 80 % | 62 % | 38 dB |
| W103 double insulating glazing TSG (with matt-light film) | 1,1 W/m²K | 54 % | 59 % | 38 dB |
| S109 double insulating glazing TSG (sun protection 60/30 neutral) | 1,1 W/m²K | 61 % | 30 % | 38 dB |
| W111 double insulating glazing TSG (self-cleaning effect) | 1,1 W/m²K | 80 % | 62 % | 38 dB |
| W110 triple insulating glazing TSG | 0,6 W/m²K | 72 % | 51 % | 39 dB |
| W303 triple insulating glazing TSG (with matt-light film) | 0,6 W/m²K | 49 % | 50 % | 39 dB |
| S117 triple insulating glazing TSG (sun protection 60/30 neutral) | 0,6 W/m²K | 55 % | 28 % | 39 dB |
| W311 triple insulating glazing TSG (self-cleaning effect) | 0,6 W/m²K | 72 % | 51 % | 39 dB |
LAMILUX jointless GRP upstand
Connection technology used in LAMILUX upstands
Upstand connection details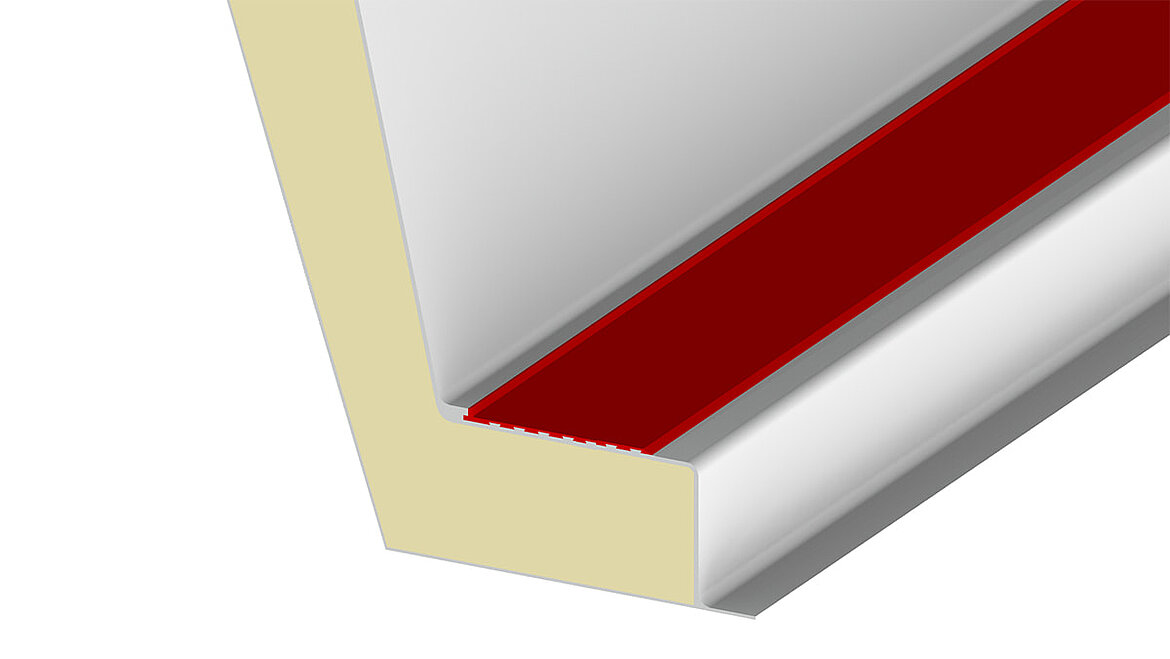 Widened LAMILUX rigid PVC connecting rail
The rigid PVC connecting rail is optionally laminated onto the base flange at the factory and seal-welded in the Corners. High-polymer roof sheeting made of PVC and VAE can be connected even more easily directly onto the base flange thanks to the widened connecting rail by means of solvent welding or hot air welding. Depiction with thermally insulated base flange.
LAMILUX Staircase smoke extraction
The simple alternative for staircases
Our standard sets for smoke removal from staircases offer simple and easy staircase smoke extraction without costly SHEV calculations. Click here for more info.
Accessories
Flat roof window pyramid/ hipped roof: aluminium frame
---
Ventilation units
The following models are available, depending on the size and weight of the glass:
Roof exit hatch
With gas pressure spring
For double glazing up to a size of 100cm x 100cm and an inclination of 30°
For triple glazing up to a size of 90cm x 90cm and an inclination of 30°
Technical Details
Flat roof window pyramid/ hipped roof: aluminium frame
---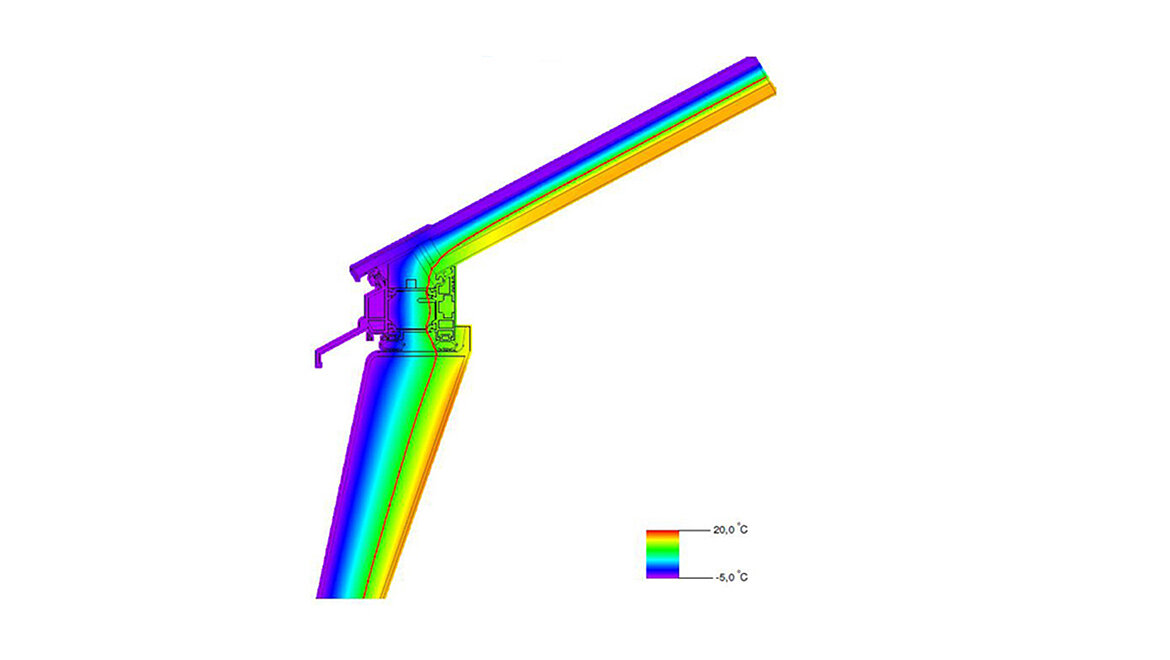 Isothermal lines indicate points featuring the same temperature and reveal a measurable customer benefit in a thermal diagram. The 10° isothermal line, for example, is a measured variable used in building physics to ensure protection against condensate. If this line wanders outside the confines of a structure, condensate or even hoar frost will form precisely at this point.
GRP Upstand
Stability and thermal insulation in many models
The upstand forms the base for construction. It provides a thermally optimum attachment on the building structure. Manufactured by LAMILUX, using fibre-reinforced composite, our upstands are CFC-free, solid white in colour and thermally insulated with polyurethane hard foam. They include weatherproof sealing and are classified as non-flammable components with no burning droplets. LAMILUX upstands feature a closed box section, which makes them very stable and warp-resistant. Different metal inserts can be directly laminated into the structure. Secure anchorage for fittings and personal protective equipment (PPE) is guaranteed.
LAMILUX upstands can be manufactured in an extensive range of variations with regard to height and inclination angle. They also offer many options for customised roof mounts. Example: Thermally insulated base flange – variable insulation thicknesses also available on request.
DIN 18234 – Prevention of fire spread on flat roofs
The GRP upstand and the aluminium surrounding frame profile render further safety measures unnecessary on flat roofs. Surface protection in the form of gravel fill is not required.