LAMILUX Flat Roof Access Hatch Comfort Solo
Individual luxury - daylight at its best
---
The benefits at a glance
LAMILUX Flat Roof Access Hatch Comfort Solo
---
Design & Comfort
Winner of the German Design Award 2017 in the Category Special Mention
generous daylight incidence
convenient access to the roof terrace via stairs (on-site)
Self-cleaning due to 6° inclined upstand
Infinitely variable ventilation position of the leaf
Clear optics: no interfering edges and no visible drive units in the interior
Variety of colours according to RAL card (edging profiles)
leaf system, motor opener and upstand are completely pre-assembled at the factory
opening side DIN left or DIN right selectable when ordering
Energy efficiency
as a standard 3-pane insulating glass with Ug-value 0.6 W/m²K
Complete construction without thermal bridges
Completely thermally insulated upstand
Can be equipped with the highest quality functional glass (on request)
Minimized risk of condensation
Safety
Emergency stop function during closing process monitored by light barrier
Closing and opening from outside possible via optional key switch (min. IP54)
Complies with DIN 18234 without additional measures (prevention of fire expansion on the flat roof)
As a standard: Outer pane TSG, inner pane LSG
Resistance to external fire exposure from flying sparks and radiant heat with classification Broof(t1) according to DIN EN 13501-5
Fall-through proof according to DIN 18008-6
Product configurator
Create an individual product variant, guided by a dynamic dialog with 3D preview in real time. Then share, request with one click or download BIM objects, 2D and 3D CAD models, images, dimensional drawings or data sheets in the desired file format.
Highlight for all planners
With BIM or without – the PDF data sheet with all technical properties including active 3D model, dimensional drawing and link back to configuration is the ideal all-in-one document of your desired product variant. Generate it yourself now 24/7.
Equipment Variants
Flat Roof Access Hatch Comfort Solo
---
Glazing
| Designation | Ug-value | Translucency | Total energy transmission | Soundproofing |
| --- | --- | --- | --- | --- |
| W110 | 0,6 W/(m²K) | 72 % | 51 % | 39 dB |
Opening drive
2 pieces 24 V linear drives weatherproof with central unit
Protection class IP 65, 1A Current consumption per motor
Infinitely variable ventilation with push-button function
Closing edge protection via sensor
Upstand - Stability and thermal insulation
The seamlessly manufactured upstand (top roof edge dimensions 120 x 350 cm) forms the base for the construction. It provides the ideal thermal connection to the building structure. The LAMILUX upstands made of glass-fibre reinforced plastic are CFC-free, completely pigmented white and thermally insulated with rigid polyurethane foam. They have a weatherproof seal and are not considered to be burning drips and comply with DIN 18234 without additional measures. LAMILUX upstands have a closed box cross-section - this makes them very stable and torsion-resistant.
The continuous insulation, at least 55 mm thick, ensures an excellent heat transfer coefficient of 0.6 W/m²K. The upstand is 35 cm high on the eaves side and rises by 6° to 68 cm on the ridge side. This supports the self-cleaning of the element.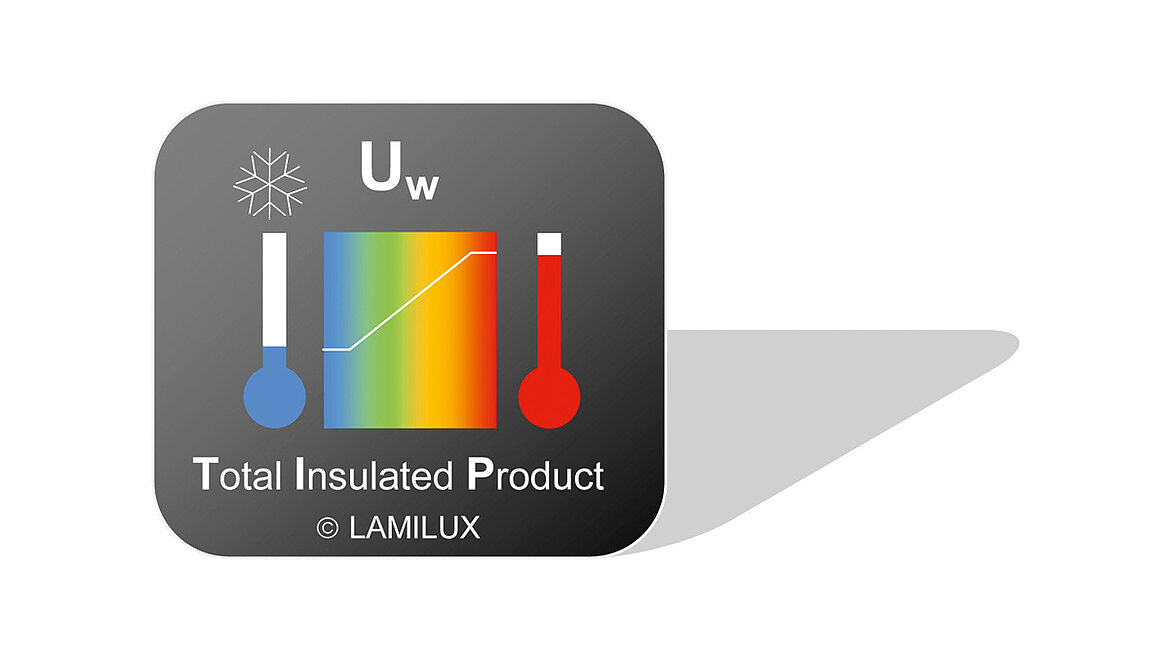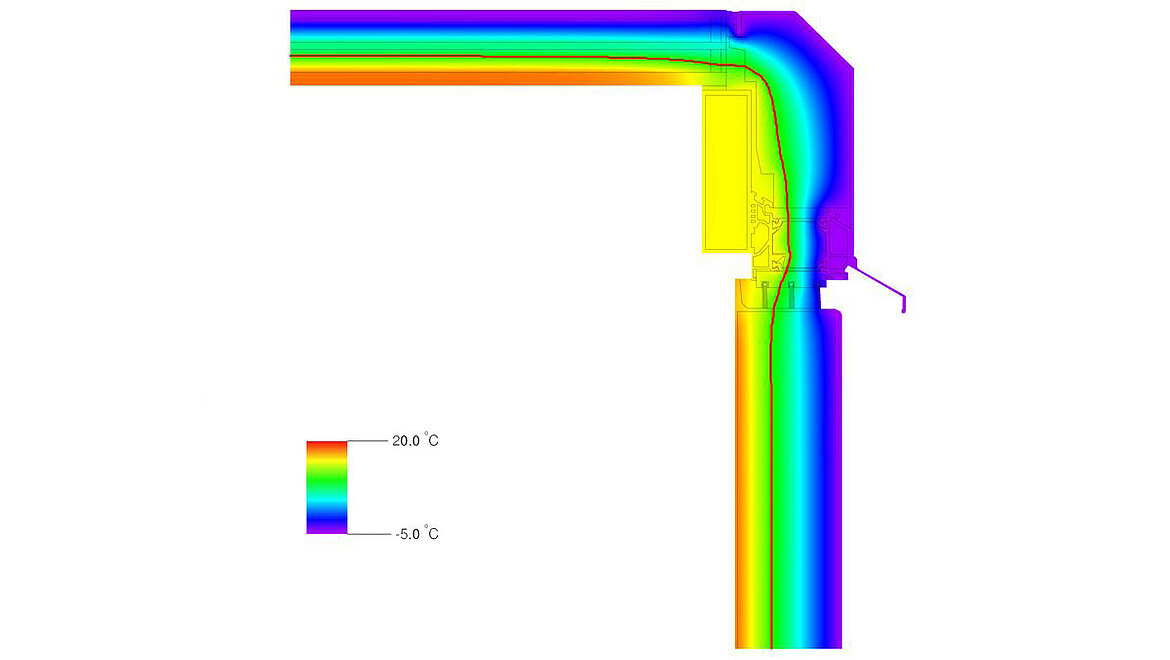 Our LAMILUX Flat Roof Access Hatch Comfort Solo features optimum isothermal curves and thus a minimised condensation risk. The Flat Roof Access Hatch also has high thermal insulation in the joint area.
Downloads
Flat Roof Access Hatch Comfort Solo
---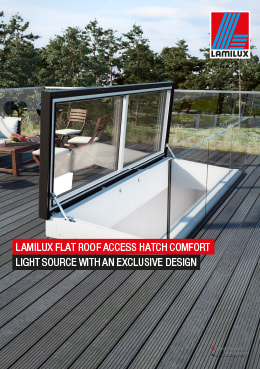 Flat Roof Access Hatch Comfort
Brochure
en-us-gb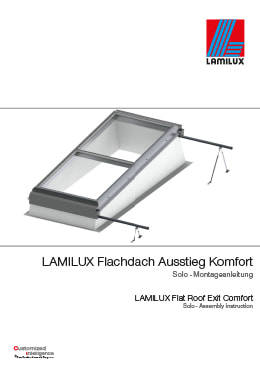 Flat Roof Exit Comfort Solo
Assembly instruction
en-us-gb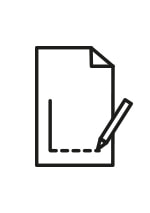 Flat Roof Exit Comfort Solo
DWG drawing
en-us-gb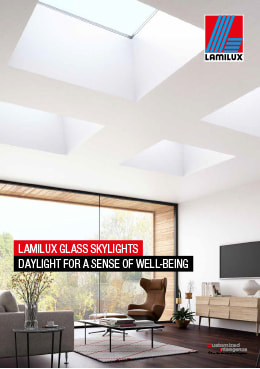 Glass skylight
Brochure
en-us-gb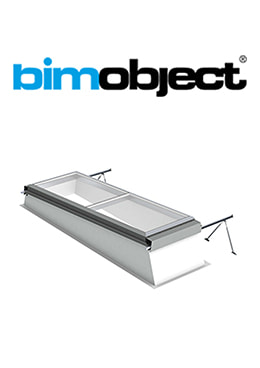 Roof Exit Hatch Comfort - single flap
BIM Download
cz, en-us-gb, fr, nl, pl, ru