LAMILUX Glass Skylight F100 Circular
Glass Skylight for administrative, educational or residential buildings
---
Advantages at a glance
Glass Skylight F100 Circular
---
Energy efficiency
Available in double or triple insulating glazing with TSG on the outside and LSG on the inside (LSG can be fitted with a clear or matt-light film) with Ug-values of 1.1 to 0.8 W/m²K
Structure completely free of thermal bridges with a Uw-value between 1.1 and 0.76 W/m²K, depending on the glazing (as per EN ISO 10077-1)
Thermally insulated, jointless GRP upstand, with a height of 70, 50 or 30cm with U-values ≥ 0.68 W/m²K
Outstanding air-tightness due to the new balloon double sealing system: Performance class 4 – tested in accordance with EN 12207
Life cycle assessment made easy: There is a comprehensive Environmental Product Declaration for the LAMILUX Glass Skylight F100 Circular in accordance with DIN EN 15804, DIN EN ISO 14040, DIN EN ISO 14044 and DIN EN ISO 14025
Comfort & Design
NEW: Chain drives which are invisibly integrated into the upstand, available – Awarded the German Design Award 2020 in the category Winner
NEW: 5° inclined upstands available for an ideal self-cleaning effect
Flat drainage surface: The newly designed frame profile provides a smooth transition between the glazing and the border frame, creating an unobstructed drain for rainwater
Permanently clear view and generous daylight through scratch-resistant glazing
Our Glass Skylight F100 Circular is BIM-ready – Download at bimobject.com
Generous daylight incidence and lasting clear views due to scratchproof glazing
White, silk-matt appearance inside – no additional drywall construction required
Stability
Tested watertightness, even in high wind speeds (driving rain impermeability, in accordance with EN 12208, Class E 1950)
Very high load-bearing capacity due to optimised profiles
Approved fall-through protection
Excellent stability under wind and snow loads
UV-resistant edge bond
Safety
The first building approved glass skylight in "Structural Glazing" design – certified by the German Institute for Structural Engineering (Deutsche Institut für Bautechnik, DIBt) in Berlin
Condensation resistant between glass panels due to thermally decoupled edge bond, unlike plastic domes
Preventive fire protection: Compliance with DIN 18234 – to prevent fire spread on the roof without additional measures such as gravel fill
Can be used as an SHEV system in staircases
Delivery of Glass Skylight F100 completely pre-assembled on the upstand
Product configurator
Create an individual product variant, guided by a dynamic dialog with 3D preview in real time. Then share, request with one click or download BIM objects, 2D and 3D CAD models, images, dimensional drawings or data sheets in the desired file format.
Highlight for all planners
With BIM or without – the PDF data sheet with all technical properties including active 3D model, dimensional drawing and link back to configuration is the ideal all-in-one document of your desired product variant. Generate it yourself now 24/7.
The variants
Glass Skylight F100 Circular
---
Available Sizes
| Order sizes (top roof edge size Ø) | | |
| --- | --- | --- |
| 60 cm | 120 cm | |
| 80 cm | 150 cm | |
| 90 cm | 180 cm | |
| 100 cm | | |
Upstands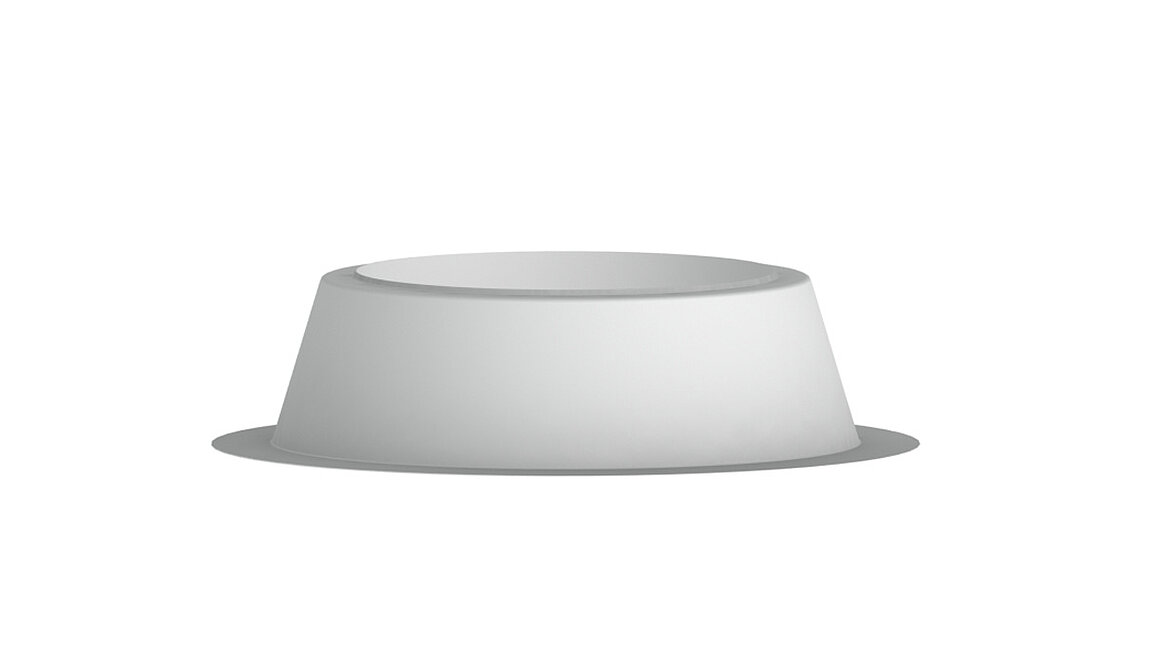 Available upstand heights: 30cm, 50cm and 70cm
Jointless upstand
Complies with DIN 18234 with no additional measures required
Glass Skylight pre-assembled on the upstand, ex works
Accessories
Glass Skylight F100 Circular
---
The following models are available, depending on the size:
24 V - spindle opener solo
24 V - spindle opener tandem
230 V - chain drive tandem concealed
Technical Details
Glass Skylight F100 Circular
---
Design details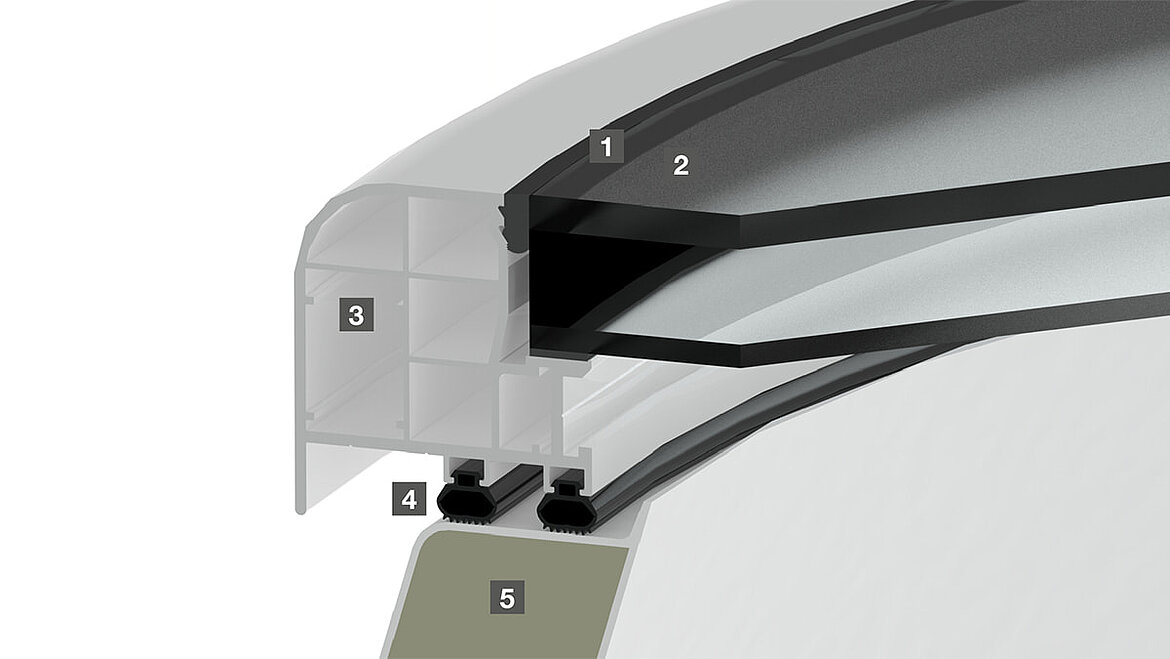 1 - Flat drainage surface: The unique frame profile provides a smooth transition between the glazing and the border frame, creating an unobstructed drain for rainwater
2 - Structural glazing design
3 - Thermally optimised PVC border frame
4 - Outstanding, certified airtightness thanks to the balloon double-sealing system
5 - Heat-insulated upstand made of glass-fibre reinforced composite: Manufactured without joints and (optionally) with a continuous insulation core made of PU foam, 50 mm thick;
Optional ventilation drives concealed in the upstand
Energy Efficiency
Isotherms – thermal protection made visible
Optimised isothermal lines for consistent thermal insulation zones without any weak spots provide superior thermal protection in all sections throughout the structure, presenting evidence of optimum energy efficiency. LAMILUX calls this thermal bridge-free product concept
TIP – Total Insulated Product
The Glass Skylight F100 offers complete and optimal thermal protection in a single compact unit that is free of thermal bridges. The Uw-value of 1.39 to 1.05 W/m²K is calculated according to EN ISO 10077-1 for a reference element with Ø 120cm and is dependent on the type of glazing selected.
Downloads
Glass Skylight F100 Circular
---