Smoke Lift Continuous Rooflight B​
preventive fire protection
---
Smoke and heat exhaust ventilation units (SHEV units) are essential components in any fire-protection concept. These life-saving, asset-protecting systems are compulsory requirements for "preventive fire protection". We provide for a whole range of requirements, tailored to your project's needs:
Open-only, open/ close, pneumatic, 24V, 230V; certified to EN 12101-2, SHEV designed and dimensioned in accordance with DIN 18232-2, regional building regulations and industrial construction guidelines – for rooflight domes, opaque flaps, individual flaps, continuous rooflights, glass roof constructions, staircases, elevator shaft smoke extraction and wall glazing.
Product description
Arched continuous rooflight SHEV unit
---
Benefits at a glance
Meets all requirements of DIN EN 12101-2 as smoke and heat exhaust device
Many flap combination for market-leading smoke and heat exhaust values
Integration as single or double flap possible
Fast opening in case of fire via thermal, thermal and CO2 remote or electric remote release
Pneumatic or electrical control of the SHEV flap systems for ventilation function
Stable overall system even under strong wind loads, at cold temperatures down to -25°C inside temperature or under the influence of snow load (up to SL 1100)
Technical details
Arched continuous rooflight SHEV unit
---
Dynamic torque control – DTC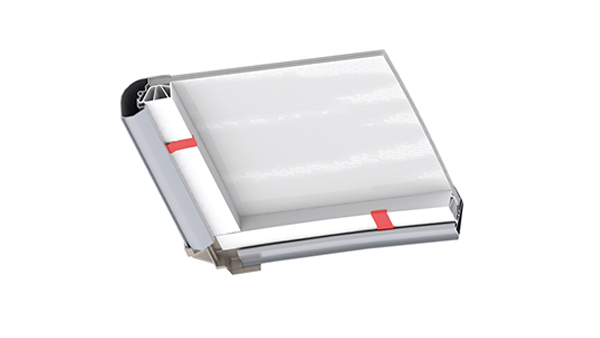 Effect: Integrated suspension beneath the glazing bar in the mounting frame (DTC spring) ensures that the glazing is perfectly tensioned. It is therefore secured in position by a specific holding force even when subjected to load.
Benefit: The glazing remains perfectly tensioned and secured in all situations, as any acting loads are optimally cushioned and absorbed by the mounting frame.
Protection in the event of heavy wind loads
High stability of flaps – even in opened condition
Even better anchorage for polycarbonate glazing
Additional flap system protection due to spring-mounted, multiple-joint traverses
Spring-mounted multiple-joint traverses
Effect: Directly attached to the flap construction, the spring-mounted multiple joint traverses ensure that the SHEV flaps are firmly held in position when open, even when exposed to strong gusts of wind.
Advantages: Smoke extraction is also ensured under adverse weather conditions, thus ensuring optimum safety.
Sizes and values
Arched continuous rooflight SHEV unit
---
Smoke Lift Continuous Rooflight B​ DOUBLE
Type

Top roof edge size
Dimension x
Dimension y
Opening area Ageo
Aerodynamically effective
opening surface
250
100
250
2.39 m²
1.48 m²
250
200
250
5.02 m²
3.26 m²
250 TS*
420
250
10.28 m²
6.37 m²
300
100
300
2.87 m²
1.78 m²
300
200
300
6.02 m²
3.91 m²
300 TS*
420
300
12.34 m²
7.40 m²
* tandem-serial smoke and heat exhaust ventilation unit
Smoke Lift Continuous Rooflight B​ ASYMMETRICAL
Type

Top roof edge size
Dimension x
Dimension y
Opening area Ageo
Aerodynamically effective
opening surface
175
100
175
1.67 m²
1.04 m²
175
200
175
3.51 m²
2.28 m²
175 TS*
420
175
7.20 m²
4.68 m²
200
100
200
1.91 m²
1.18 m²
200
200
200
4.01 m²
2.61 m²
200 TS*
420
200
8.22 m²
5.34 m²
* tandem-serial smoke and heat exhaust ventilation unit
Smoke Lift Continuous Rooflight B​ SINGLE FLAP
Type

Top roof edge size
Dimension x
Dimension y
Opening area Ageo
Aerodynamically effective
opening surface
100
100
100
0.93 m²
0.59 m²
100
200
100
1.96 m²
1.27 m²
100 TS*
420
100
4.01 m²
2.53 m²
125
100
125
1.17 m²
0.74 m²
125
200
125
2.46 m²
1.60 m²
125 TS*
420
125
5.04 m²
3.18 m²
150
100
150
1.43 m²
0.90 m²
150
200
150
3.01 m²
1.96 m²
150 TS*
420
150
6.17 m²
3.83 m²
* tandem-serial smoke and heat exhaust ventilation unit
Downloads
Arched continuous rooflight SHEV unit
---