LAMILUX Smoke Lift / Smoke Lift DH
Versatile, efficient and tested according to EN 12101-2
---
Smoke and heat exhaust ventilation units (SHEV units) are essential components in any fire-protection concept. These life-saving, asset-protecting systems are compulsory requirements for "preventive fire protection". We provide for a whole range of requirements, tailored to your project's needs:
Open-only, open/ close, pneumatic, 24V, 48V, 230V; certified to EN 12101-2, SHEV designed and dimensioned in accordance with DIN 18232-2, regional building regulations and industrial construction guidelines – for rooflight domes, opaque flaps, individual flaps, continuous rooflights, glass roof constructions, staircases, Elevator shaft smoke extraction and wall glazing.
Product description
Rooflight F100 NSHEV unit to EN 12101-2
---
The basis for the LAMILUX Smoke Lift Rooflight F100 is our Rooflight F100 W and the Opaque Rooflight F100 with thermal insulated sandwich panels, plus the system required to control the SHEV function.
Function variants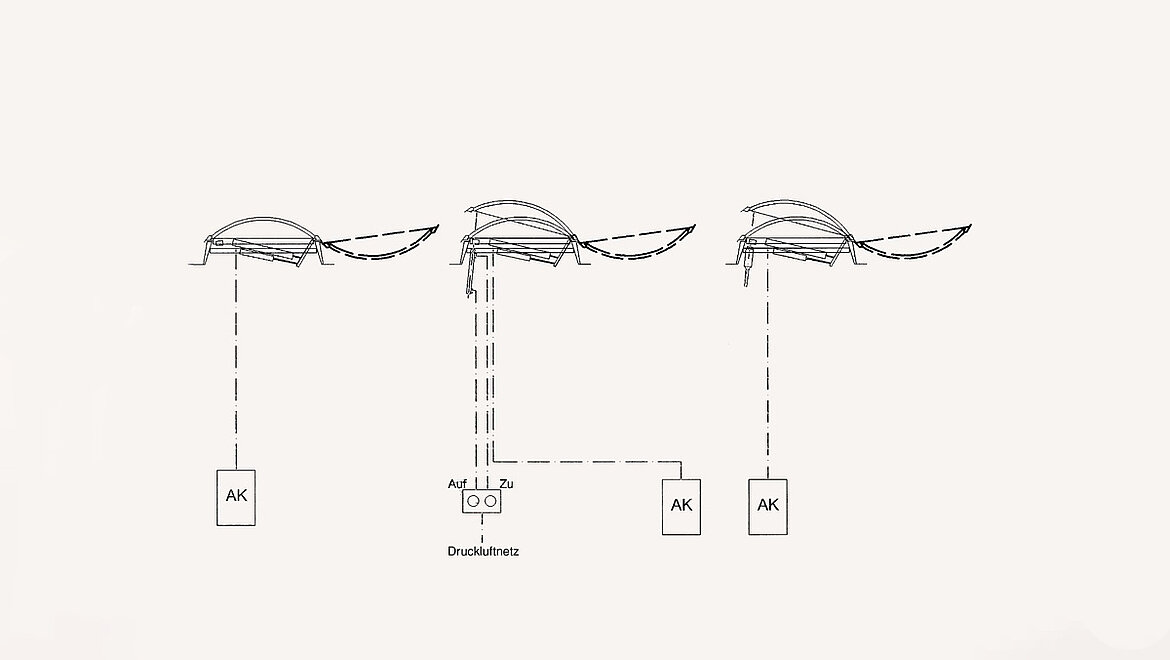 SHEV function either open-only or open/ close mode: The optional close function is used for simple, pneumatic closing after a functional test or inadvertent triggering via the alarm device. Advantage: There is no longer a need to spend time going onto the roof to close domes. This means that you can conveniently test the Smoke Lift Rooflight F100​ SHEV function at short intervals using the alarm device.
Remote release pneumatic and/or electric
Functional test for open/ close units, either CO2 or compressed air
Ventilation function either electric or pneumatic – 30cm / 50cm stroke
Glazing types
| Materials | Composite | Impact-resistant composite | GRP* |
| --- | --- | --- | --- |
| Fall-through protection when installed as per BG guidelines | no | yes | yes |
| Certified hailstorm protection as per Swiss EMPA standard | no | yes | yes |
| Building material class EN 13501) | E-d0 | B-s1, d0 | E-d0** |
* also available as an opaque flap with thermal insulated sandwich panels
** also available as "hard roofing" in accordance with DIN 4102-7
Test parameters according to DIN EN 12101-2 and test results
Our NSHEVs reliably open into the SHEV position in less than 60 seconds...
...and ensure a high smoke discharge volume
Cv from 0.60 to 0.75
Aw from 0.6 m² to 3.38 m²
...after endurance test (1,000 times in SHEV position and 10,000 times in ventilation position)
RE 50/1000 + 10.000 ventilation opening activations
...under snow load
SL 500 - 2400
...down to indoor temperature of -15 °C
T(-15)
...after exposure to wind suction (up to 150 kg/m²)
WL 1500
...when exposed to fire
B300
Upstand
Aerodynamically optimised upstand geometry to ensure effective smoke flow
Upstand for good smoke extraction values without corner spoilers
Steep upstand for enhanced smoke extraction values in combination with corner spoilers
Ideal structural connection – Click here for more information
| Upstand heights 30, 40 and 50 cm | | | |
| --- | --- | --- | --- |
| Materials | GRP | Steel sheet | Aluminium |
| Building material class (EN 13501) | E-d0 | A1 | A1 |
| Compliance with DIN 18234 possible without additional measures such as gravel fill | yes | yes | no |
Sizes and values
Rooflight dome NSHEV unit to EN 12101-2
---
Aw-values (m²)
Inclined upstand
Aw-values (m²)
Steep upstand with spoiler

Order size (cm)

CO2
24V /48V
230V
CO2
24V / 48 V
230V
100/100
0.60
0.60
-
0.75
0.71
0.75
100/150
0.90
0.90
-
1.13
1.08
1.13
100/200
1.30
1.24
-
1.50
1.44
1.50
100/240
1.56
1.51
-
1.80
1.73
1.80
100/250
1.63
1.58
-
1.88
1.80
1.88
100/300
1.95
1.83
-
2.25
2.07
2.25
120/120
0.94
0.88
0.94
1.08
1.02
1.08
120/150
1.17
1.12
1.17
1.35
1.30
1.35
120/180
1.40
1.36
1.40
1.62
1.56
1.62
120/240
1.87
1.87
1.87
2.16
2.10
2.16
120/300
2.34
2.23
2.34
2.70
2.56
2.70
125/125
1.02
0.97
1.02
1.17
1.11
1.17
125/250
2.03
2.03
2.03
2.34
2.28
2.34
140/140
1,25
1,22
-
1,43
1,41
-
150/150
1.46
1.42
1.46
1.69
1.62
1.69
150/180
1.76
1.73
1.76
2.03
1.97
2.03
150/200
1.95
1.95
1.95
2.25
2.19
2.25
150/210
2.05
2.05
2.05
2.36
2.30
2.36
150/240
2.34
2.34
2.34
2.70
2.63
2.70
150/250
2.44
2.44
2.44
2.81
2.74
2.81
150/300
2.93
2.84
2.93
3.38
3.20
3.38
180/180
2.11
2.11
-
2.43
2.37
-
180/240
2.81
2.81
-
3.24
3.15
-
180/250
2.93
2.93
-
3.38
3.33
-
180/270
3,26
3,06
-
3,55
3,50
-
180/300
3.62
3.40
-
3.94
3.89
-
200/200
2.60
2.60
-
3.00
2.92
-