Double flap ventilator
Fresh air and fire safety
---
In the heavy and automotive industries, as well as other industrial sectors, companies are often confronted with two issues: How do I ensure the air exchange and heat dissipation in my building and how do I fulfil the smoke exhaust ventilation according to the specifications of the fire protection concept? SHEV systems are in fact now obligatory as a component of modern safety technology for business premises. However, the openings in the roof can be optimally used not only for the case of fire, but also in parallel for natural ventilation.
Skylights are used in industrial buildings to provide natural light into the building, heat extraction areas and space for required smoke extraction areas. Only afterwards is thought given to air exchange and heat dissipation. Mechanical ventilation systems are often planned, which cause high costs both in acquisition and operation.
As a better and more efficient solution, a double flap ventilator offers a double benefit: It ensures fresh air in your building through daily air exchange and fulfils the requirements for fire protection, both of which are almost free of energy costs.
Natural ventilation – energy-free and efficient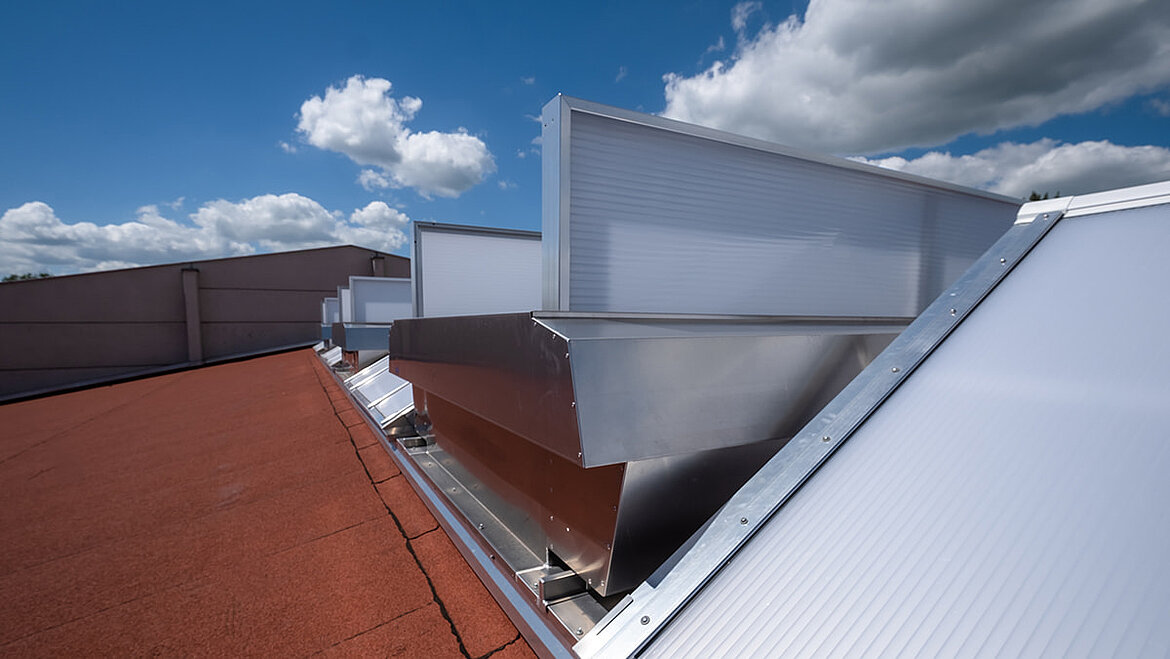 Double flap ventilators supply a building with fresh air and make use of natural ventilation. Natural or free ventilation makes use of thermal lift. This enables a high air volume exchange without any energy requirements. Natural smoke and heat exhaust ventilation systems use physical laws for ventilation in order to transport the heat load inside the building to the outside in a natural way.
Ensure maximum success in daily ventilation:
Temperature or pressure differences
Thermal lift (chimney effect)
Ventilation position of the double flap systems from 90°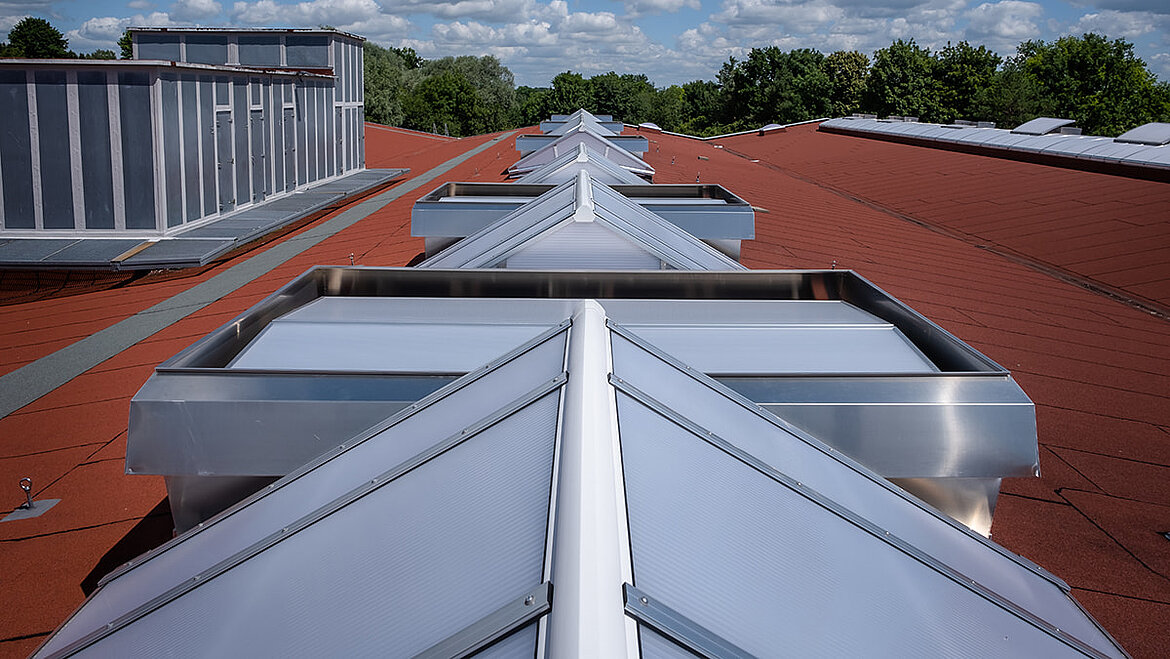 Double flap ventilators are not only used for natural ventilation, but also as fast and efficient smoke and heat exhaust ventilation units (SHEV). SHEV systems are obligatory as a component of modern safety technology for business premises. They fulfil the requirements of the legislator and standard setter and also meet the demands of building owners, as they are produced to fit precisely with pneumatic or electric drive according to requirements. roda double flap ventilators meet the requirements of DIN EN 12101-2 and VdS 2159.
Multi-talented double flap ventilator
Double flap ventilators can be customised to all requirements. The MEGAPHÖNIX multi-purpose double flap ventilator is suitable for ventilation in all weathers.
Due to the high quality of roda products and their design for a high number of opening and closing operations, the PHÖNIX and FIREFIGHTER type double flap ventilators can also be fully used for daily ventilation in addition to their function as smoke and heat exhaust ventilation.
Renovation
When retrofitting in existing buildings, roda systems can be installed without interfering with the roof cladding. This leads to maximum compatibility for the customer's inventory, even with third-party brands. If the existing SHEV system is not suitable for heat dissipation, it does not necessarily have to be completely replaced. We use the existing roof opening and extend it with a system from our roda product range to produce the required benefit. Existing continuous rooflights can be supplemented with roda double flap ventilators without replacing the complete continuous rooflight system.
Advantages of a double flap ventilator and its variants:
Ideal for flat roof area with flexible sizes
Tested according to DIN EN 12101-2 and VdS 2159
Suitable for daily ventilation
Offers the full opening cross-section with an opening of 90° in the ventilation state
CO2 cartridges in the NSHEV are not damaged during manual triggering and maintenance
Durable and low maintenance
Fall-through protection can be integrated
Insect protection can be integrated
Sound insulation
Rain-proof ventilation
Stability
roda double flap ventilators also solve difficult tasks for the system, such as use on very high buildings with increased requirements for wind and snow loads. These can be handled trouble-free due to the stable construction. Variable hood designs mean that – depending on the task (hail protection / light (in)permeability / sound insulation) – the optimum solution can always be implemented for the customer.
How you benefit:
Customised solution for your roof
Dimensionally accurate planning, possible on any roof opening
Design also possible on existing continuous rooflights
Compatible with existing control systems