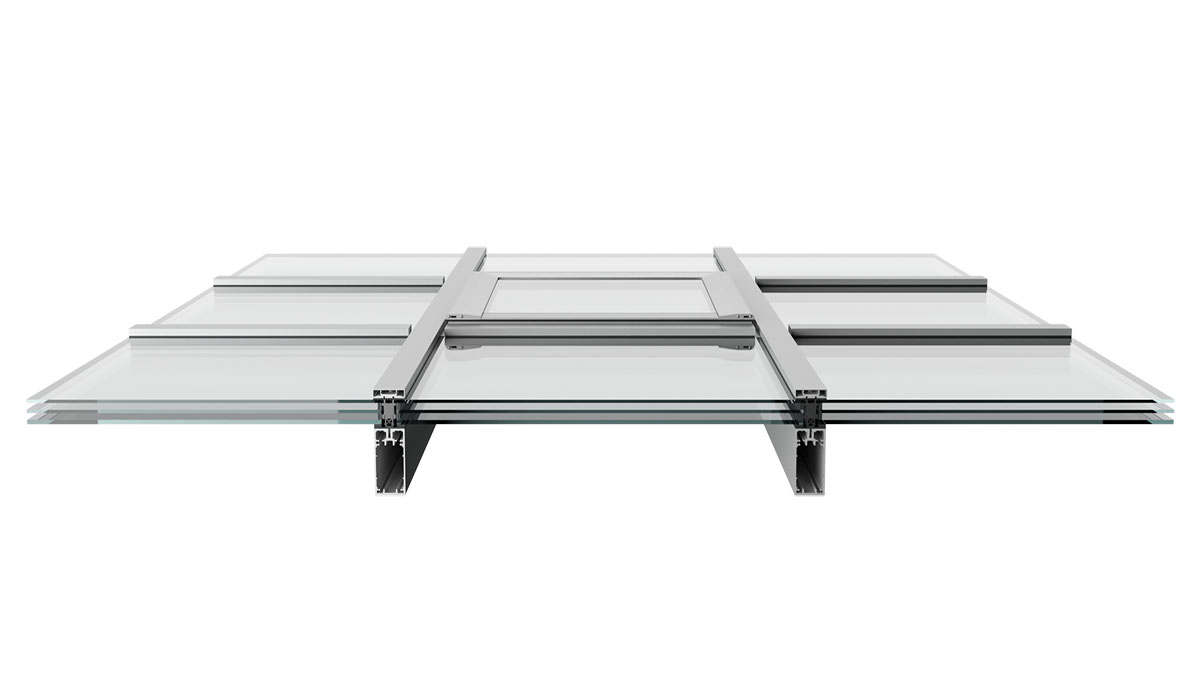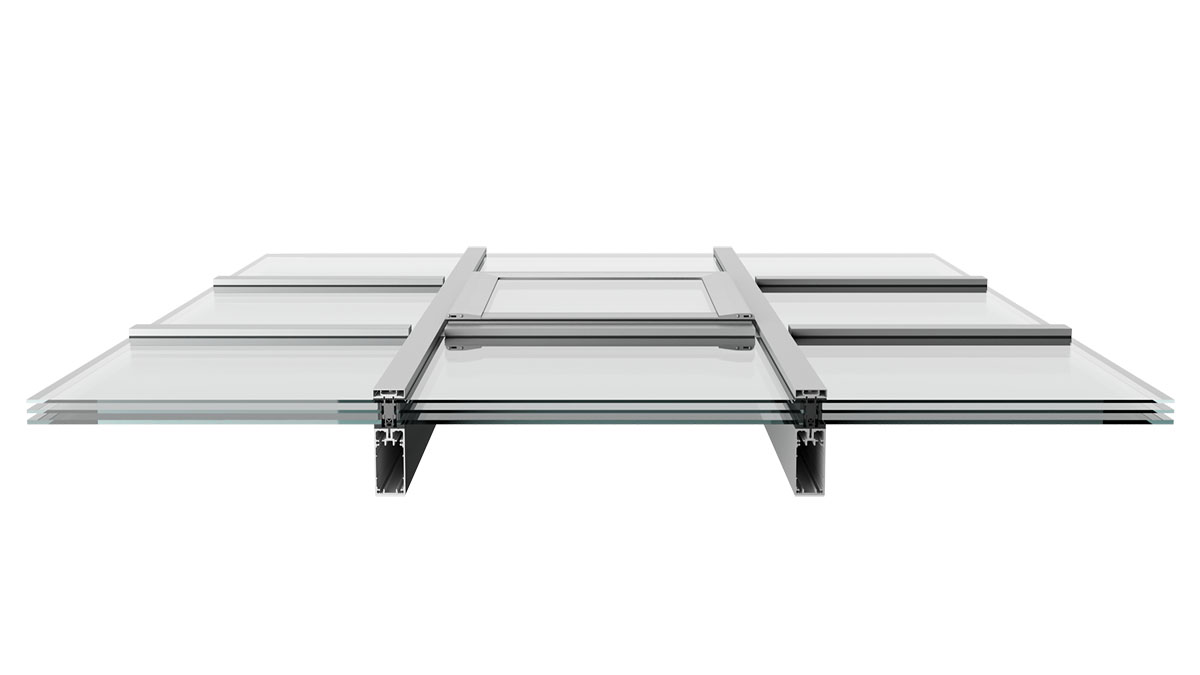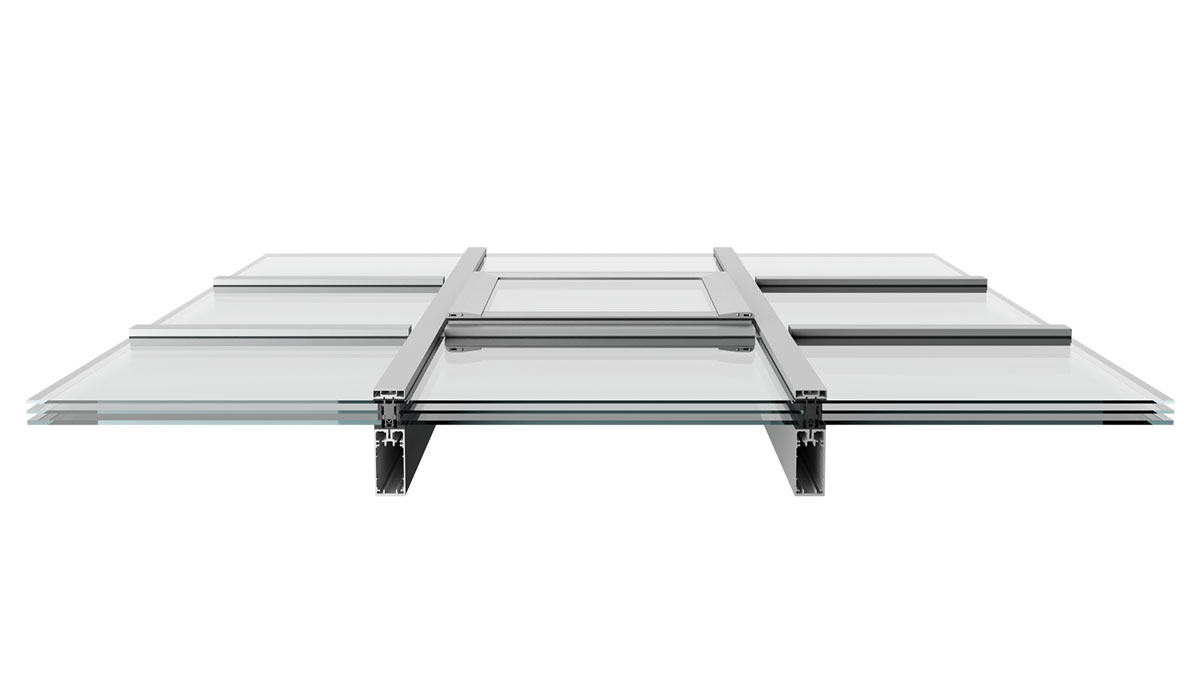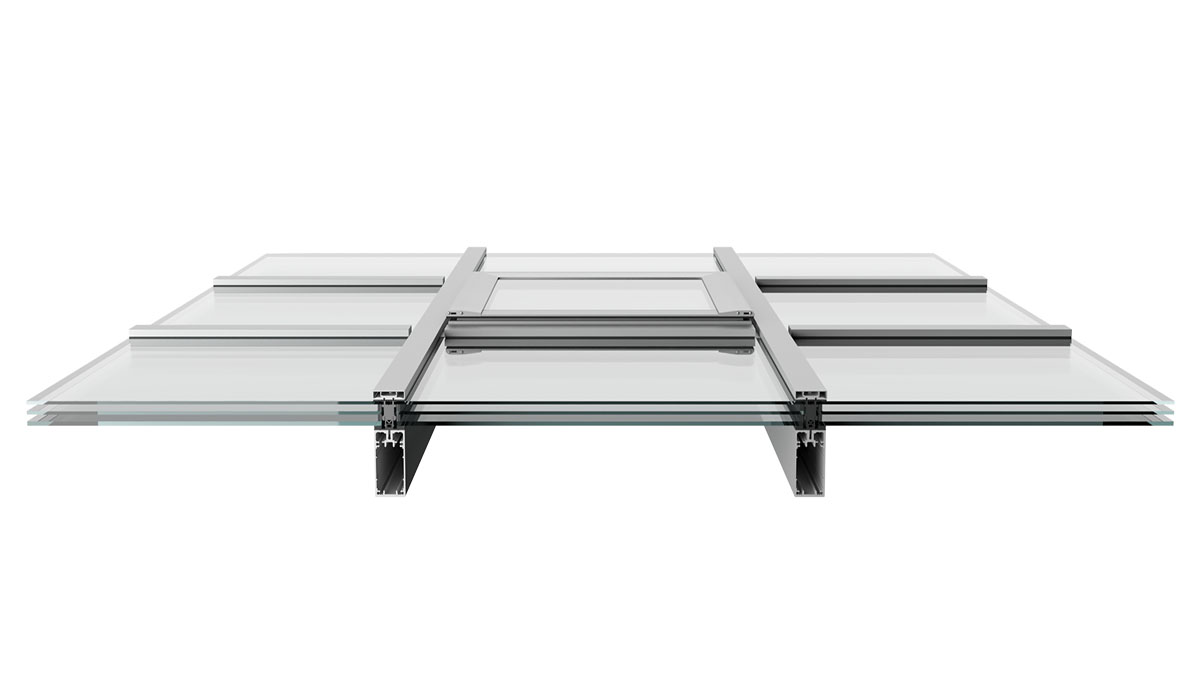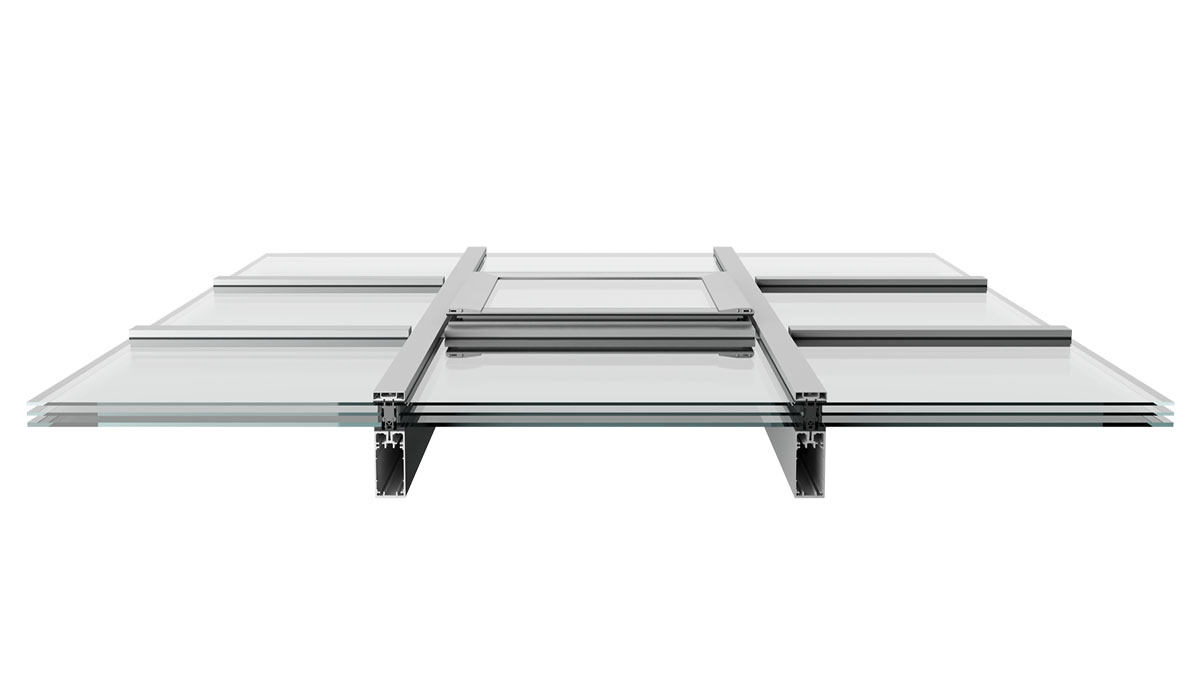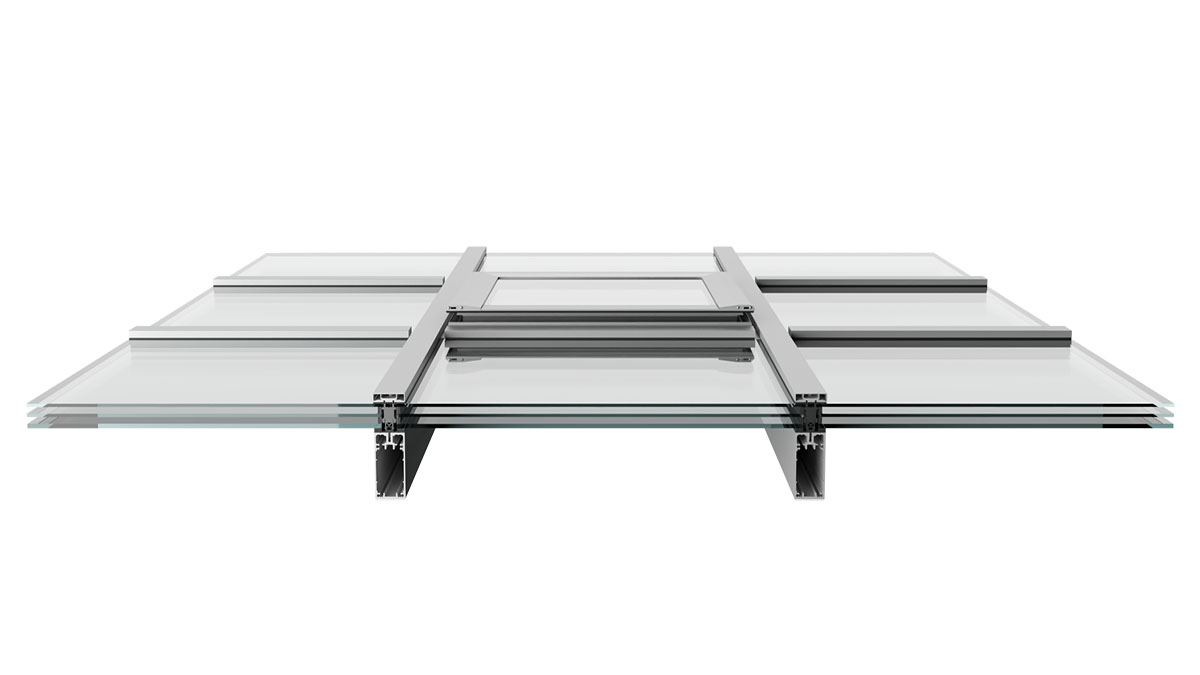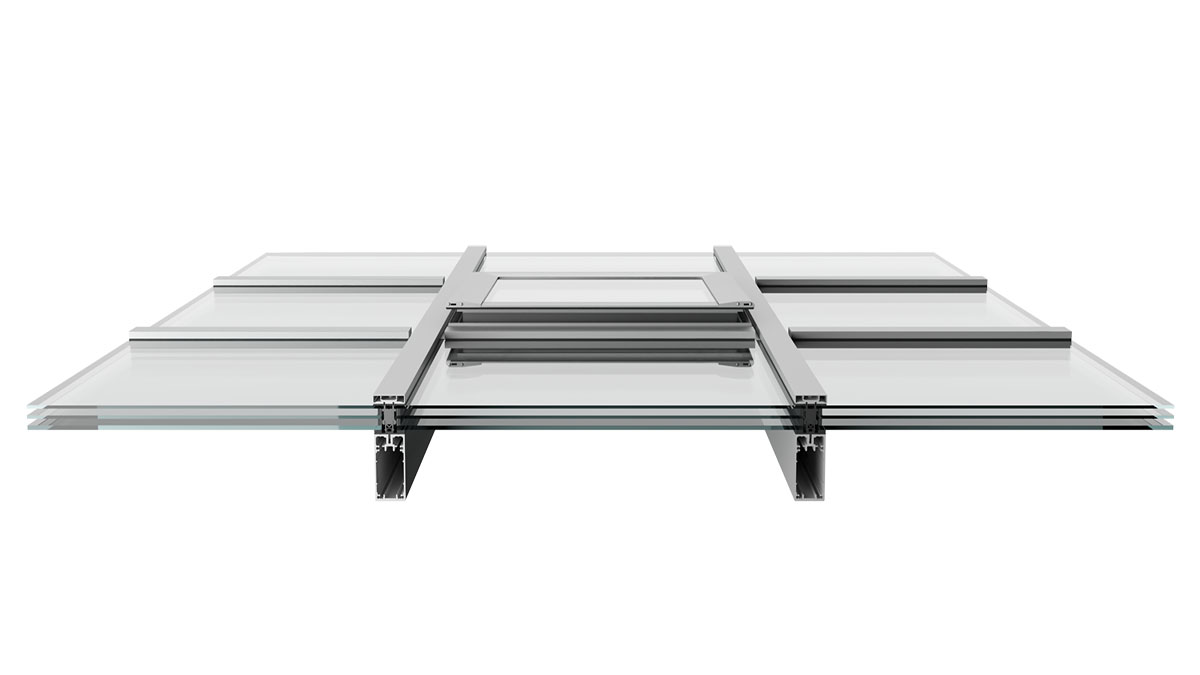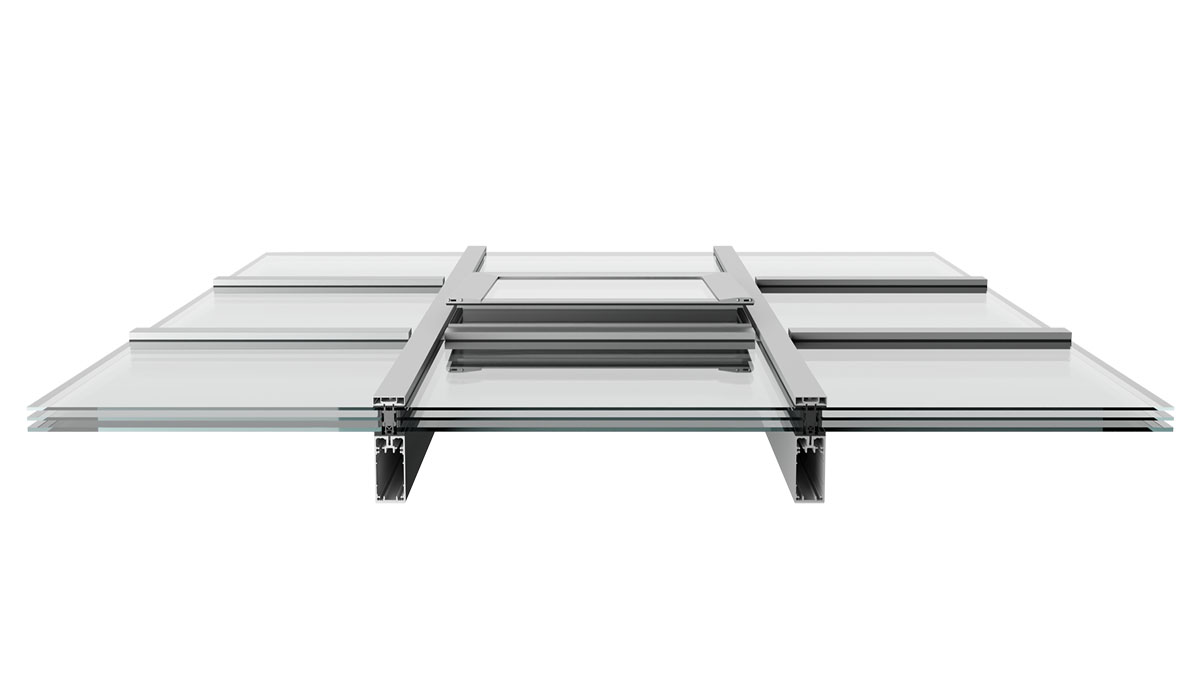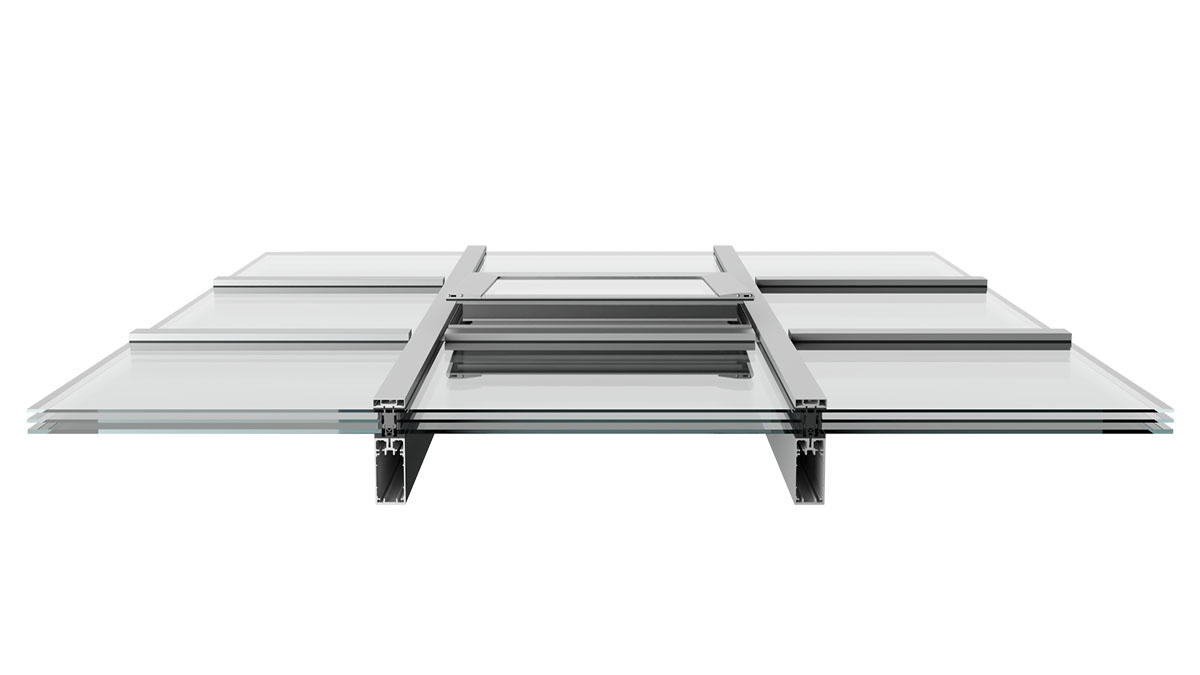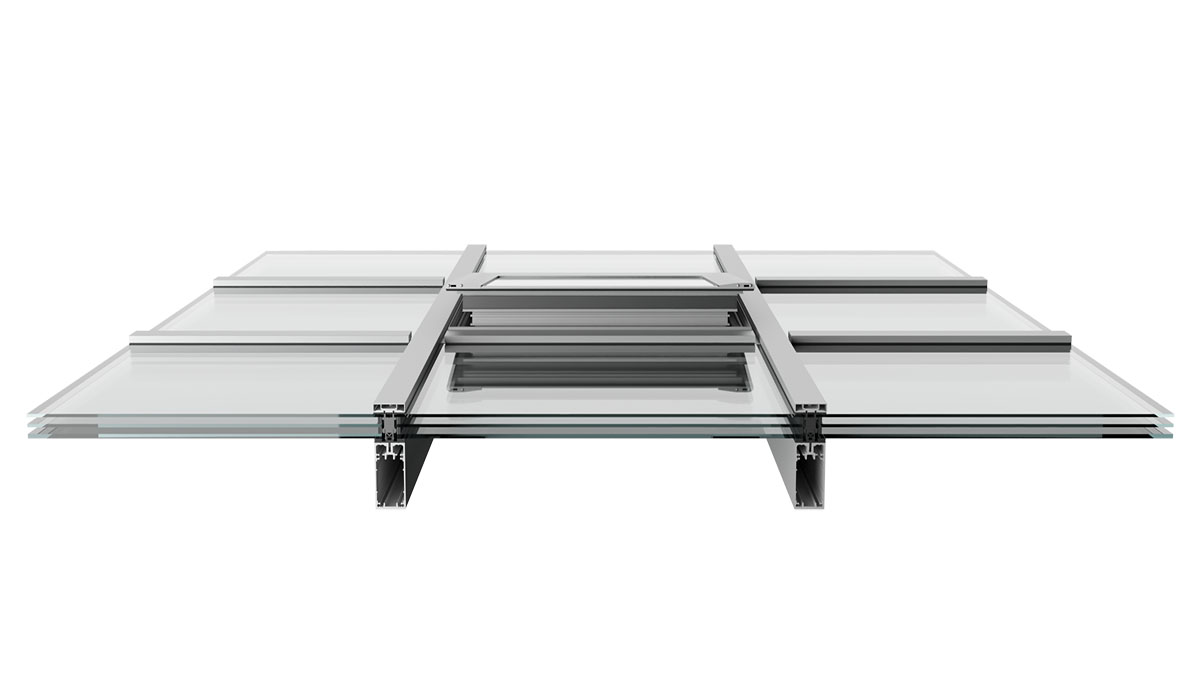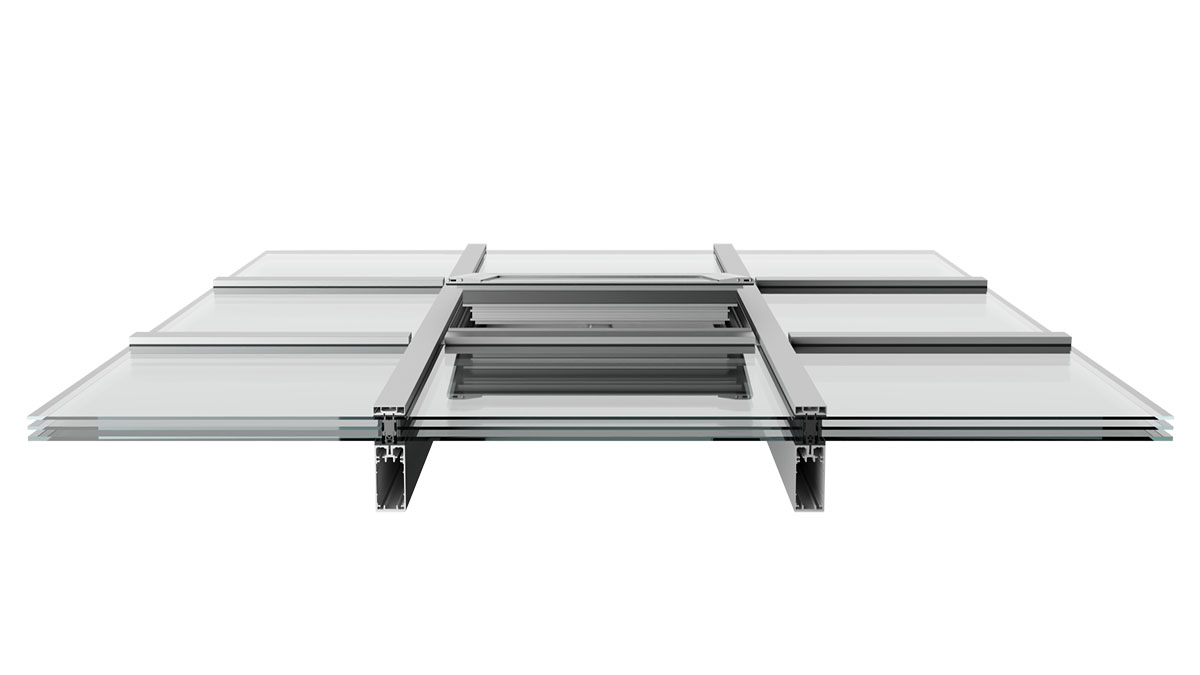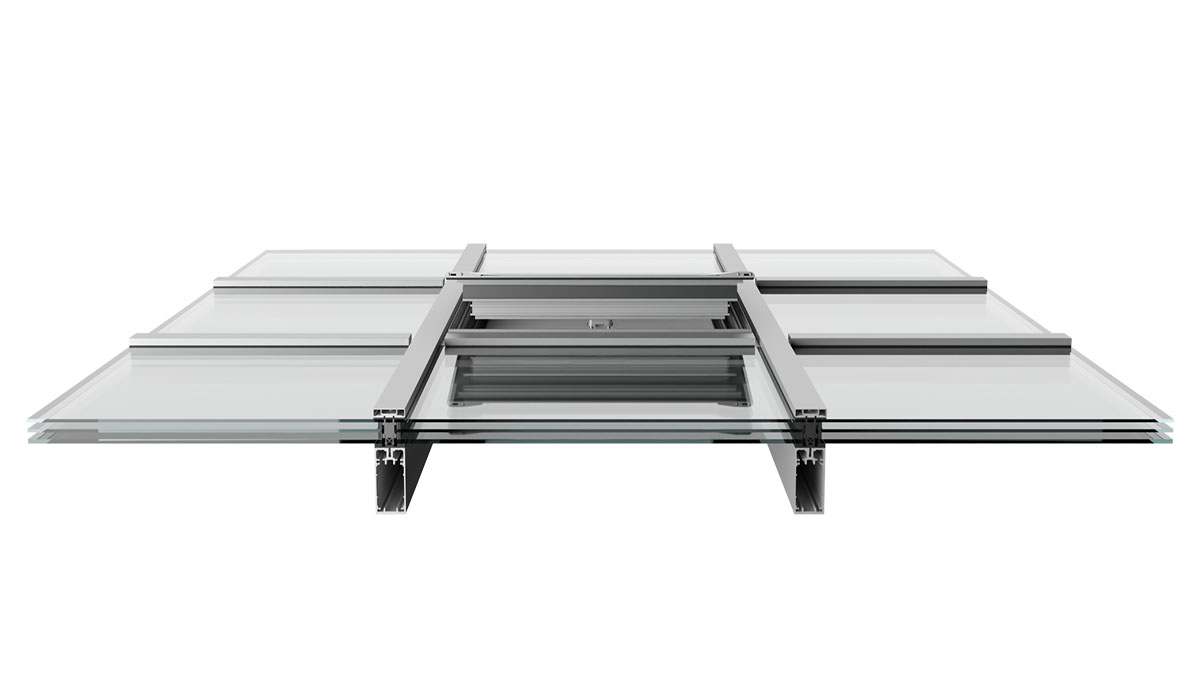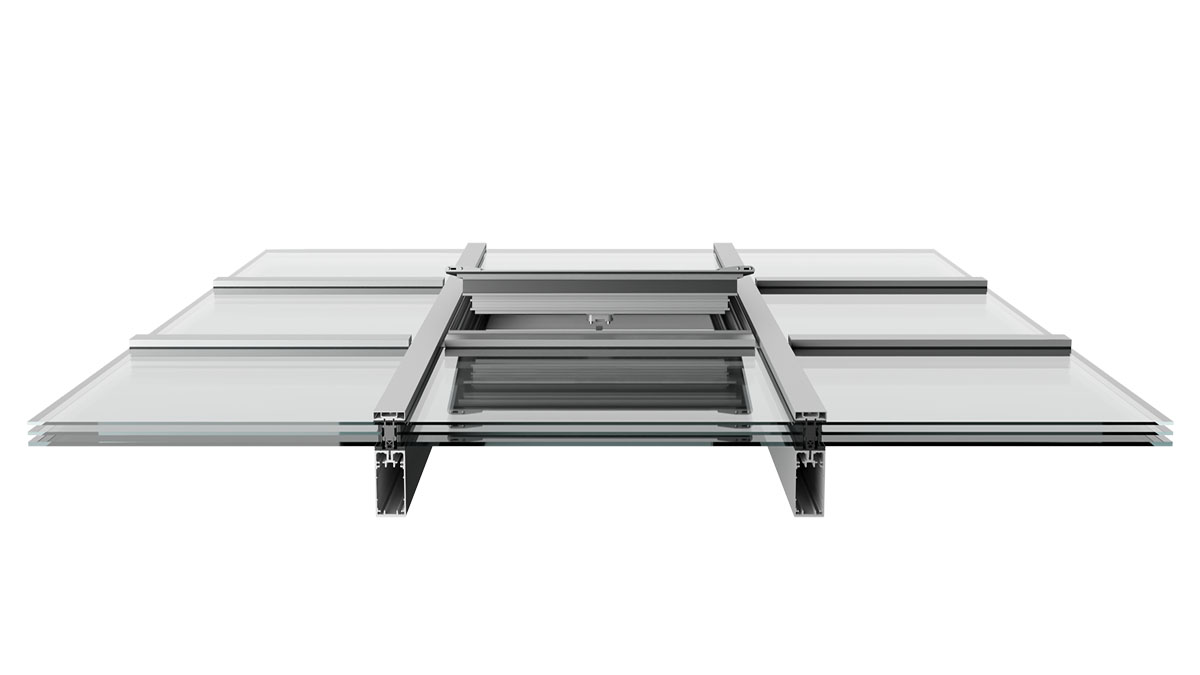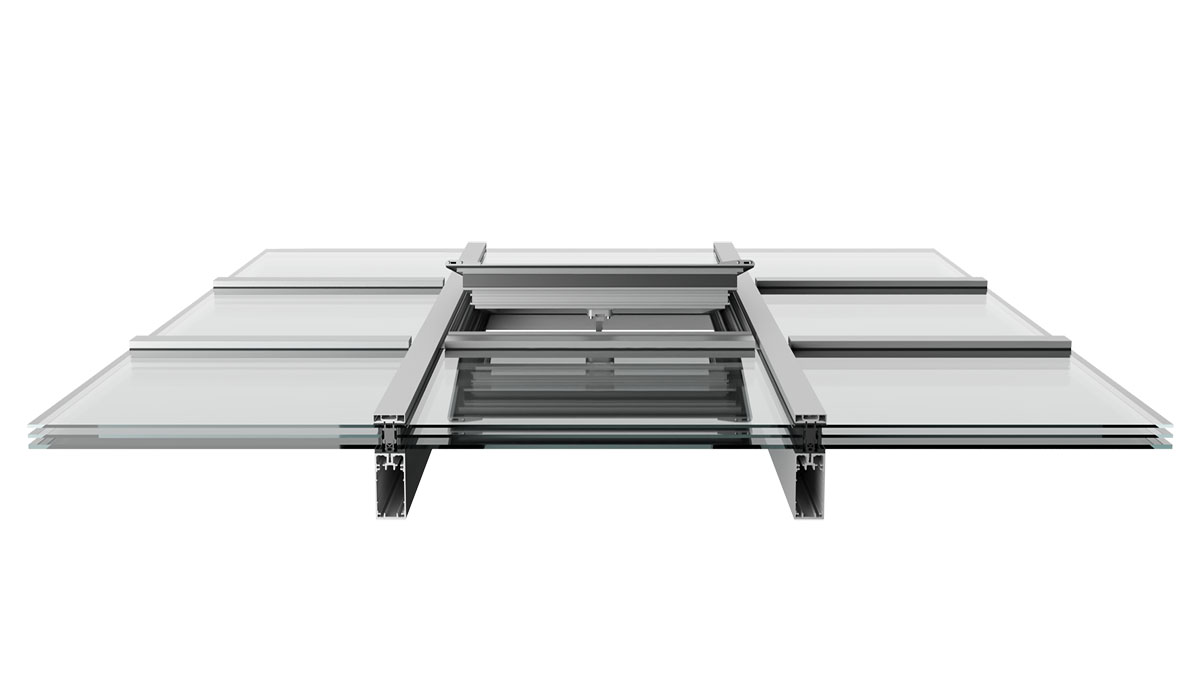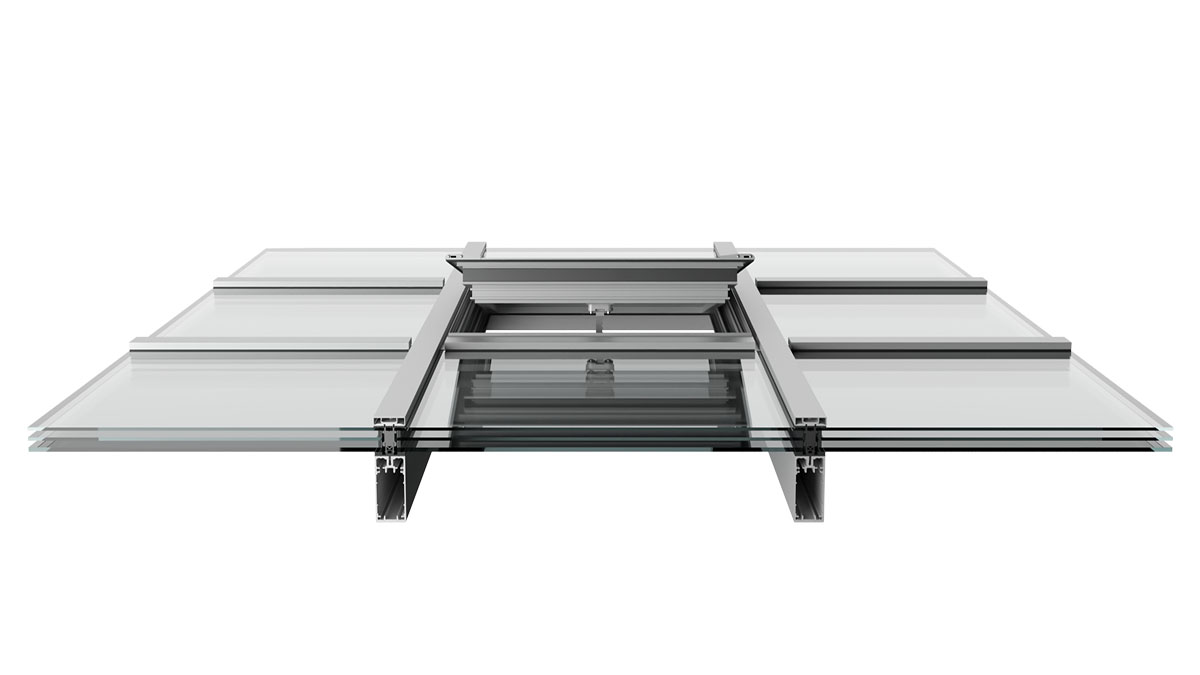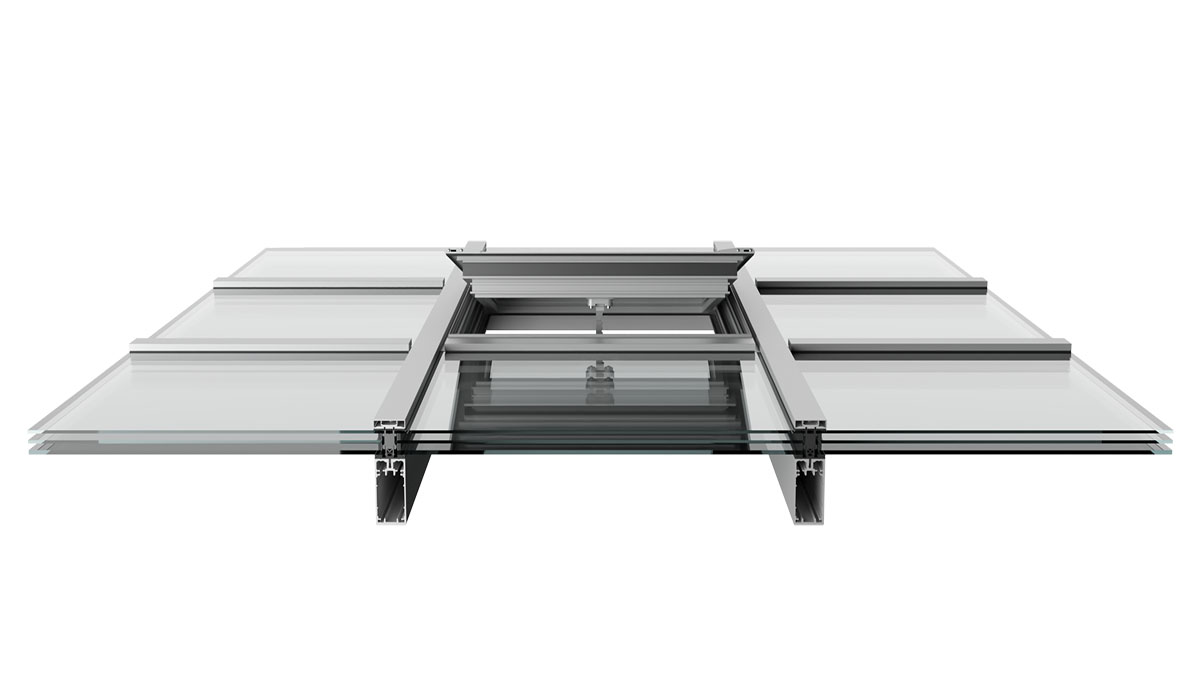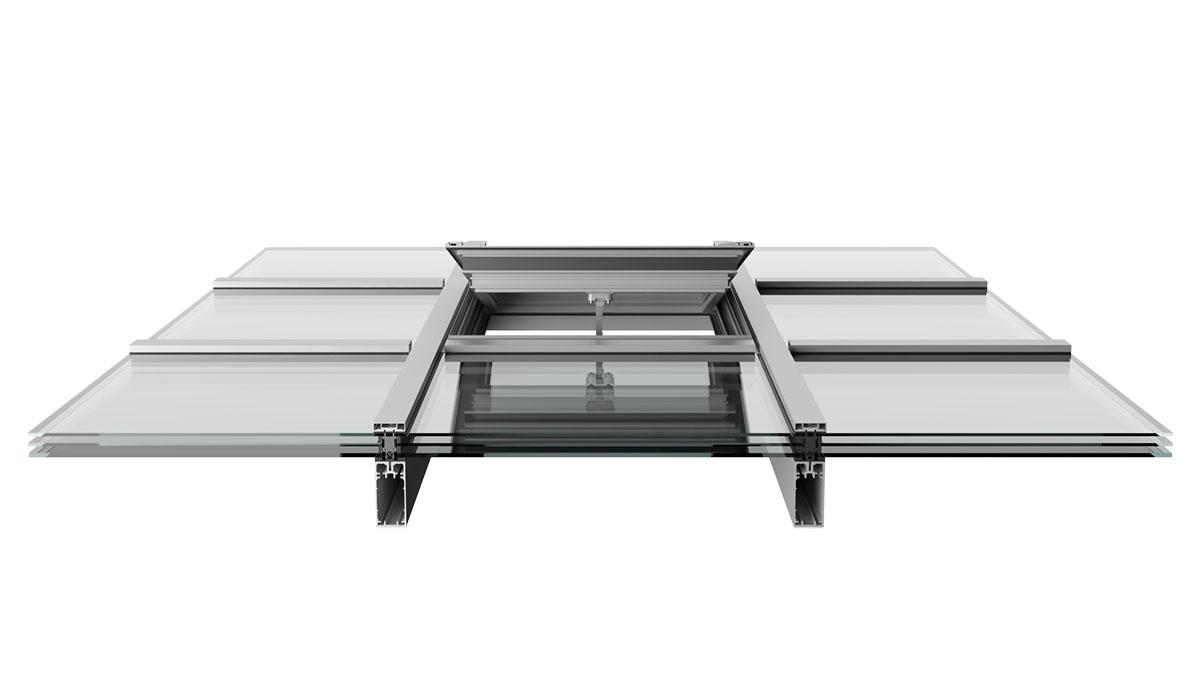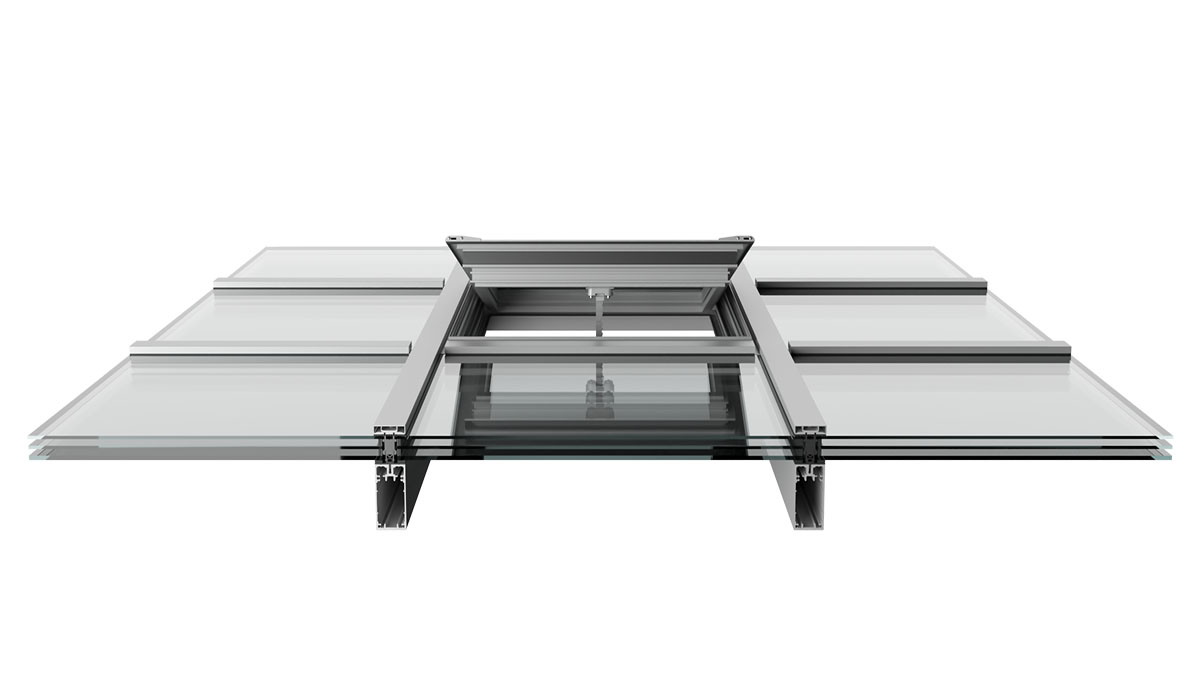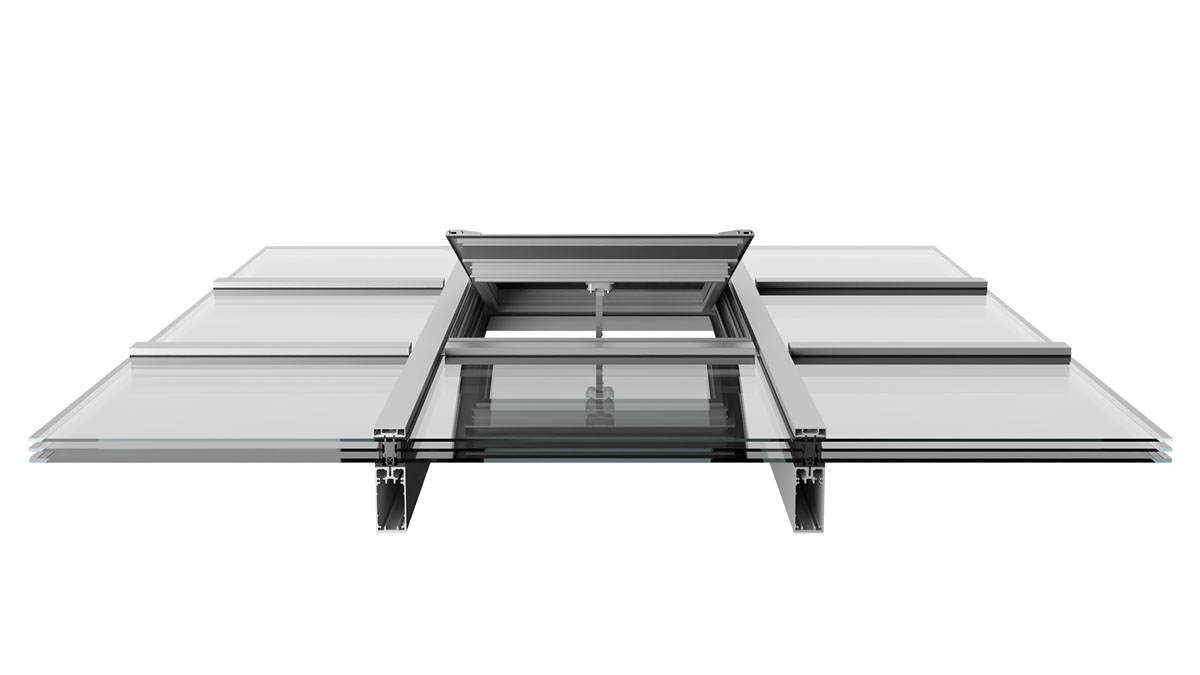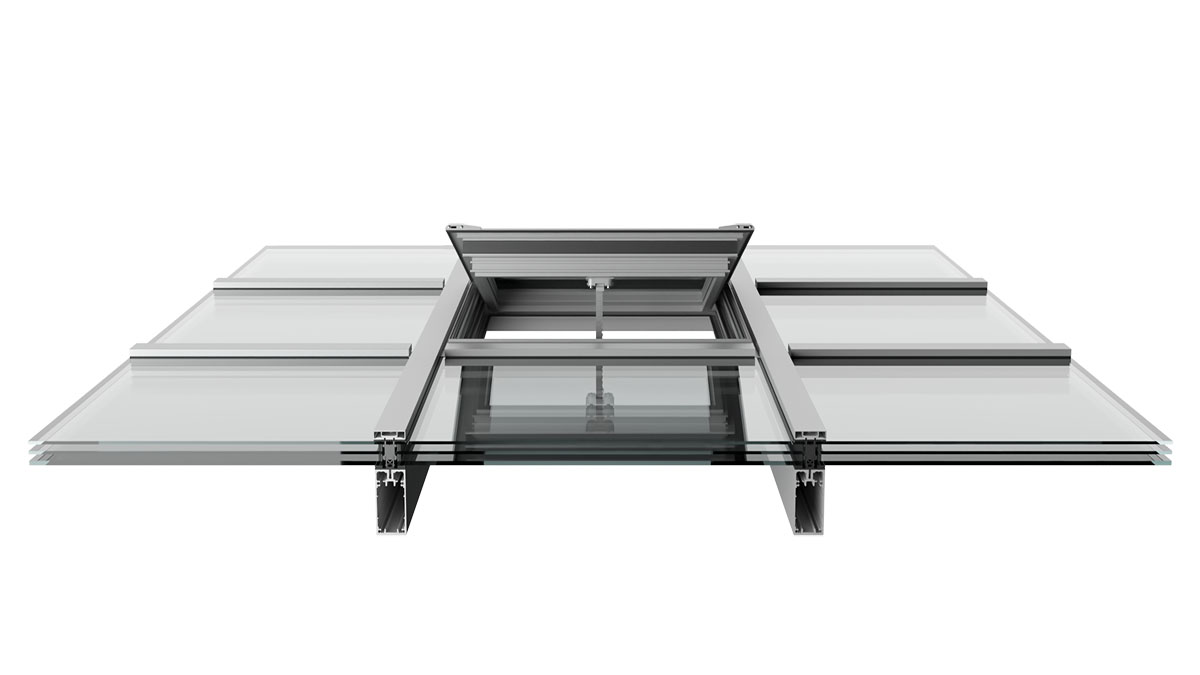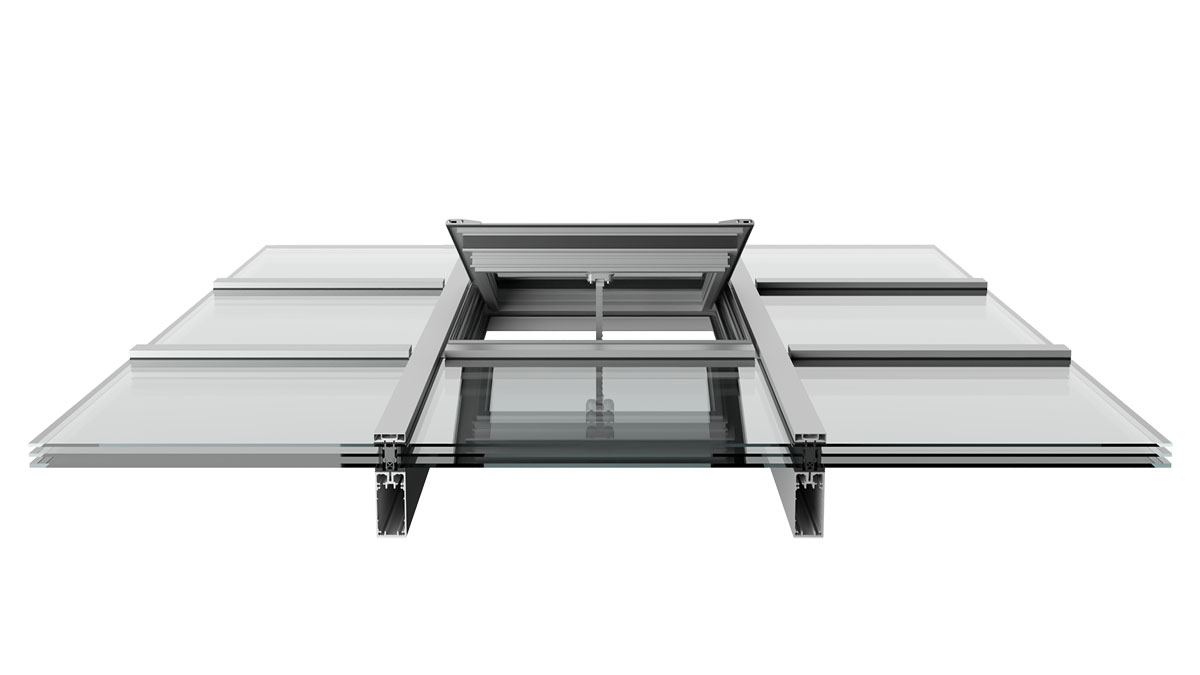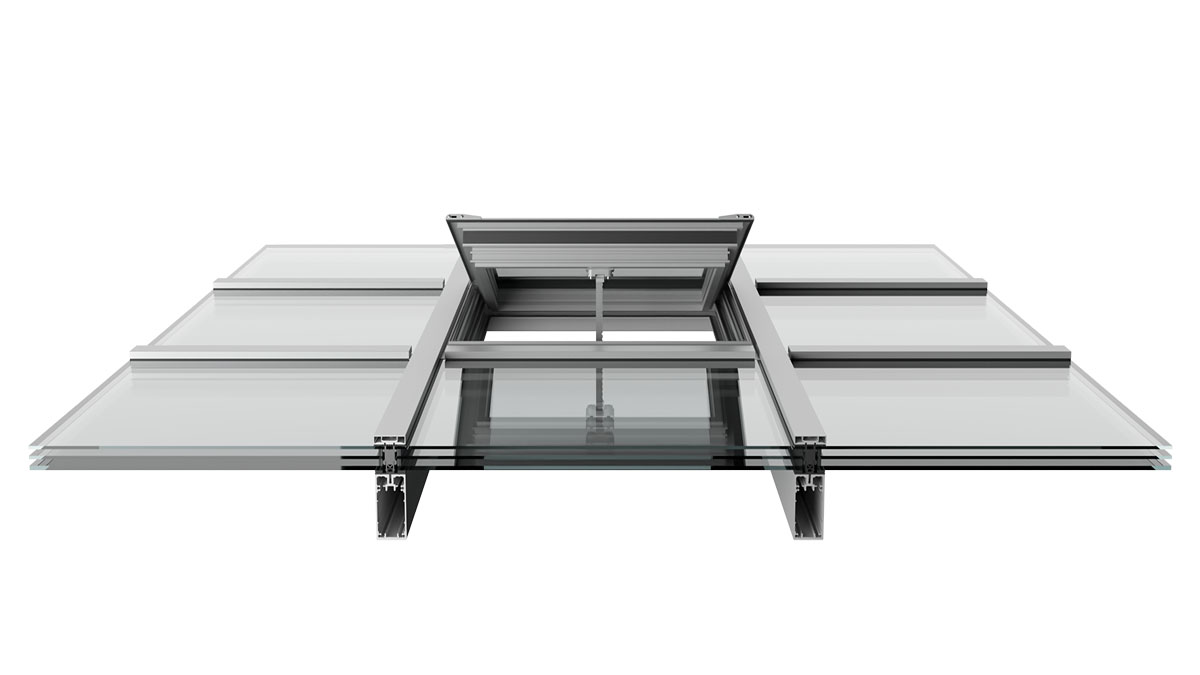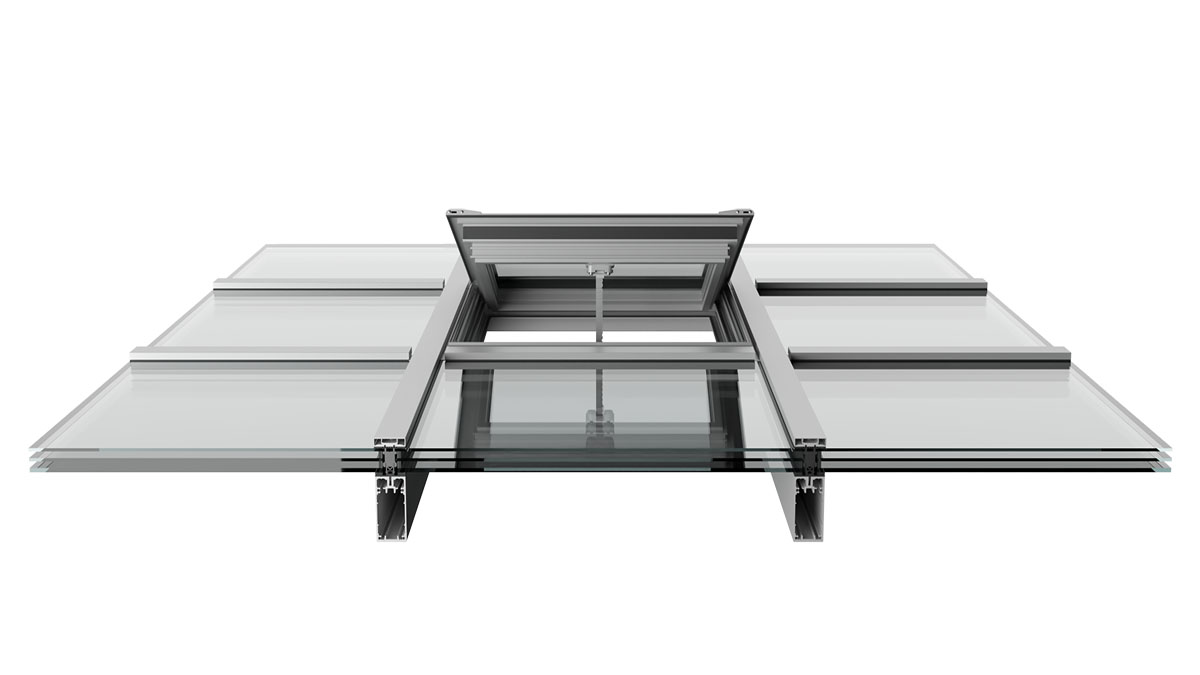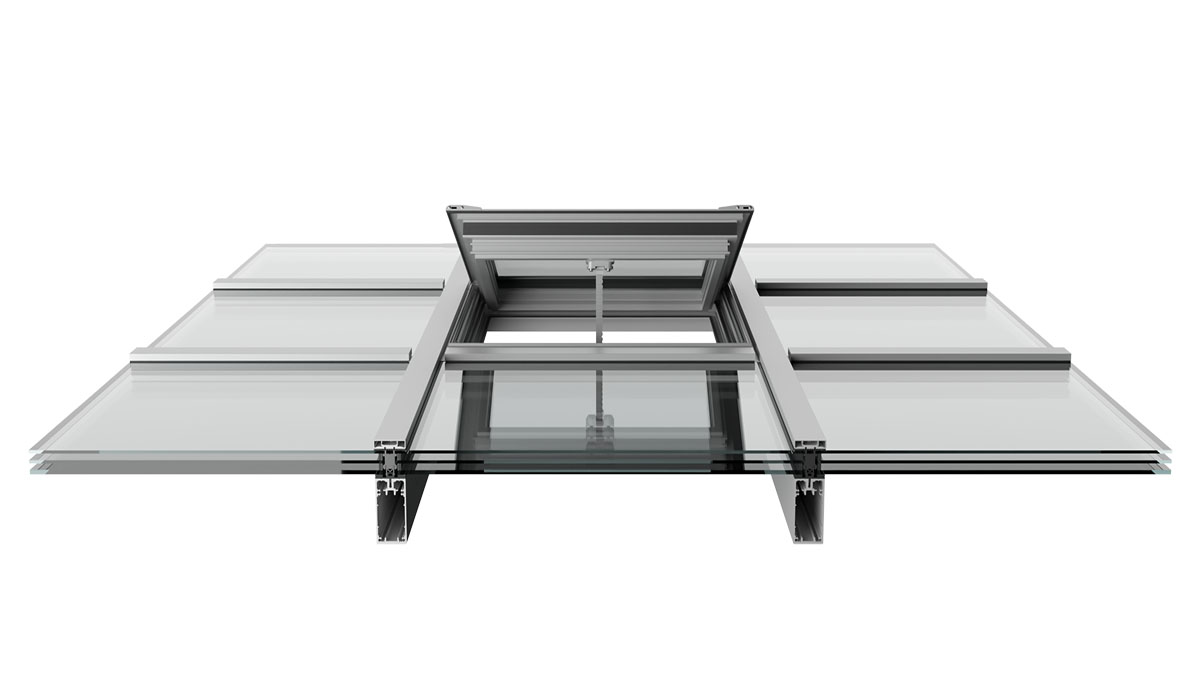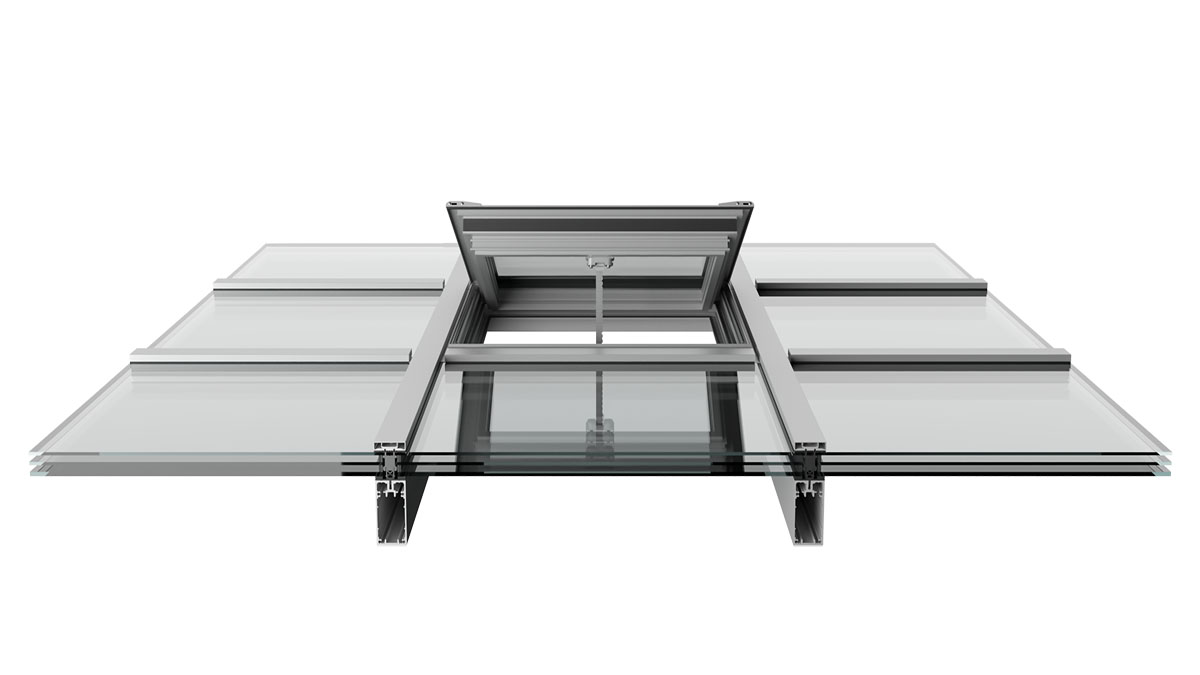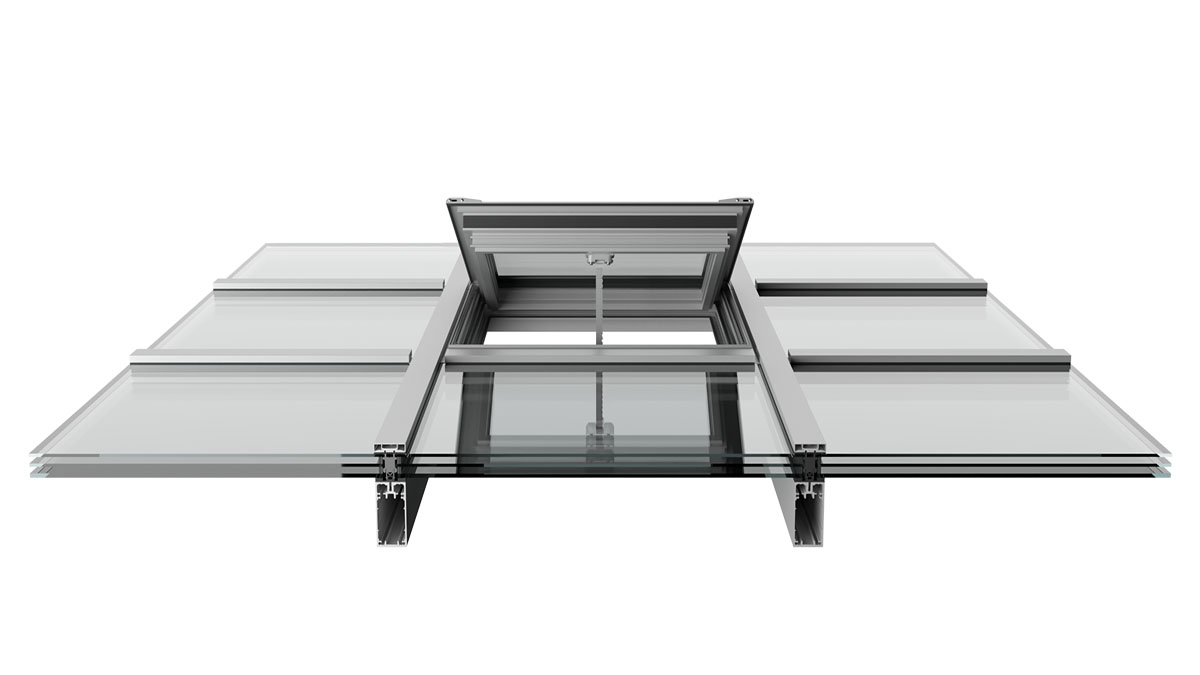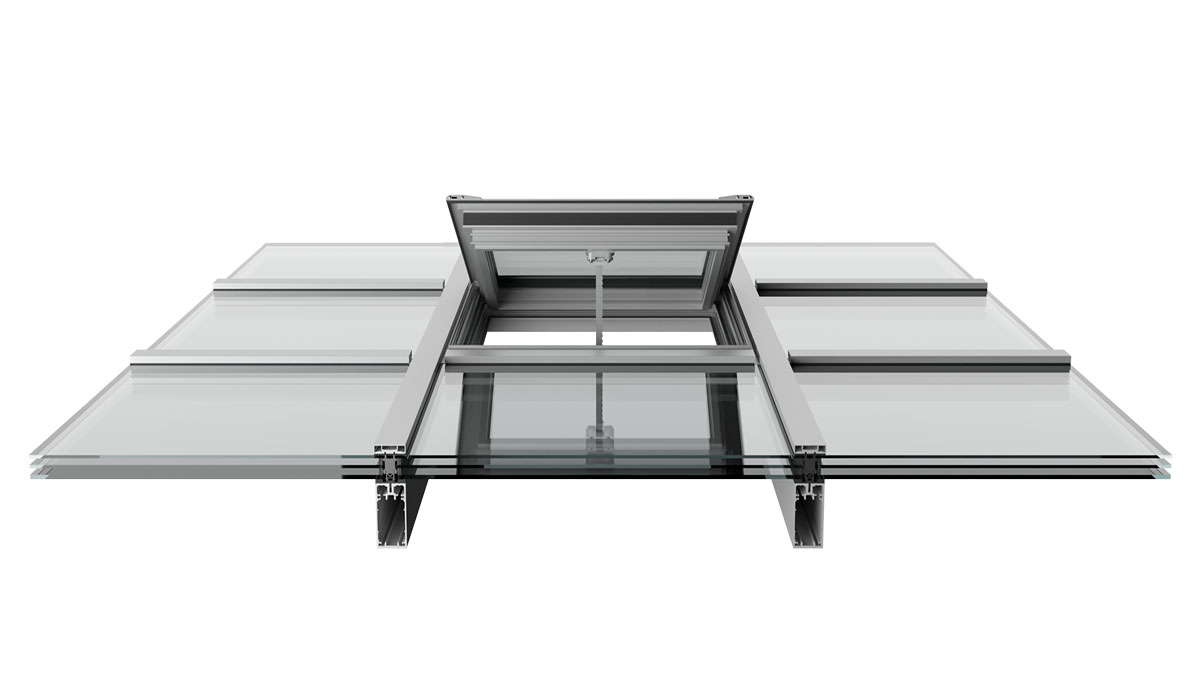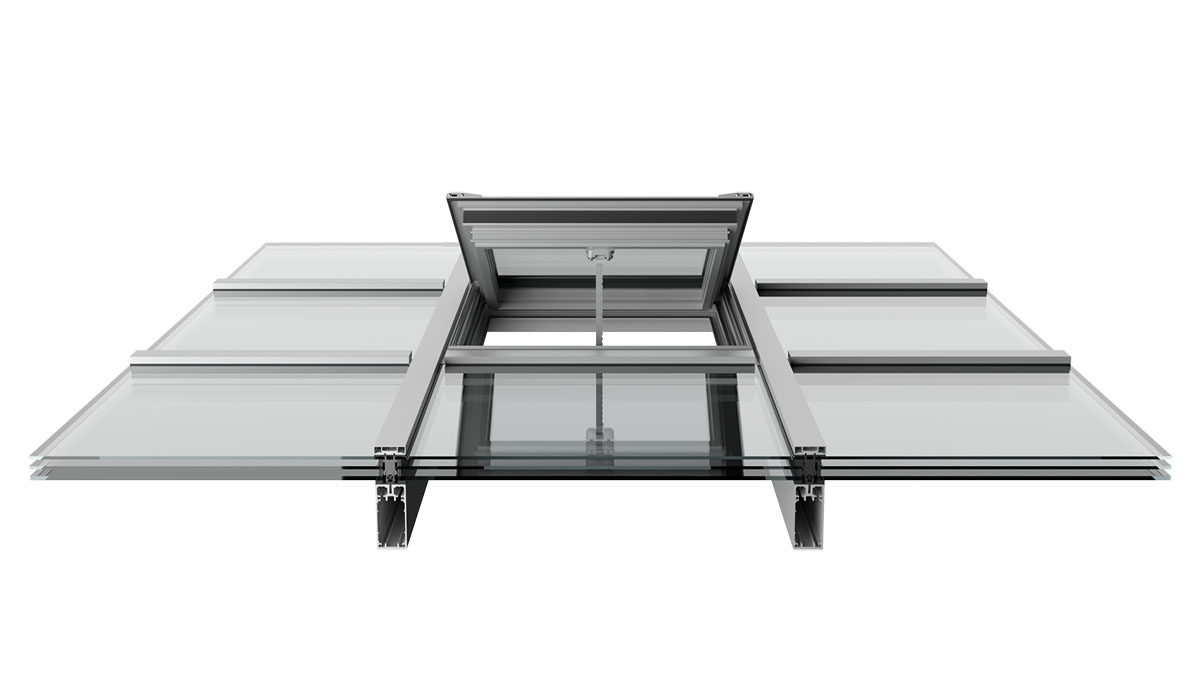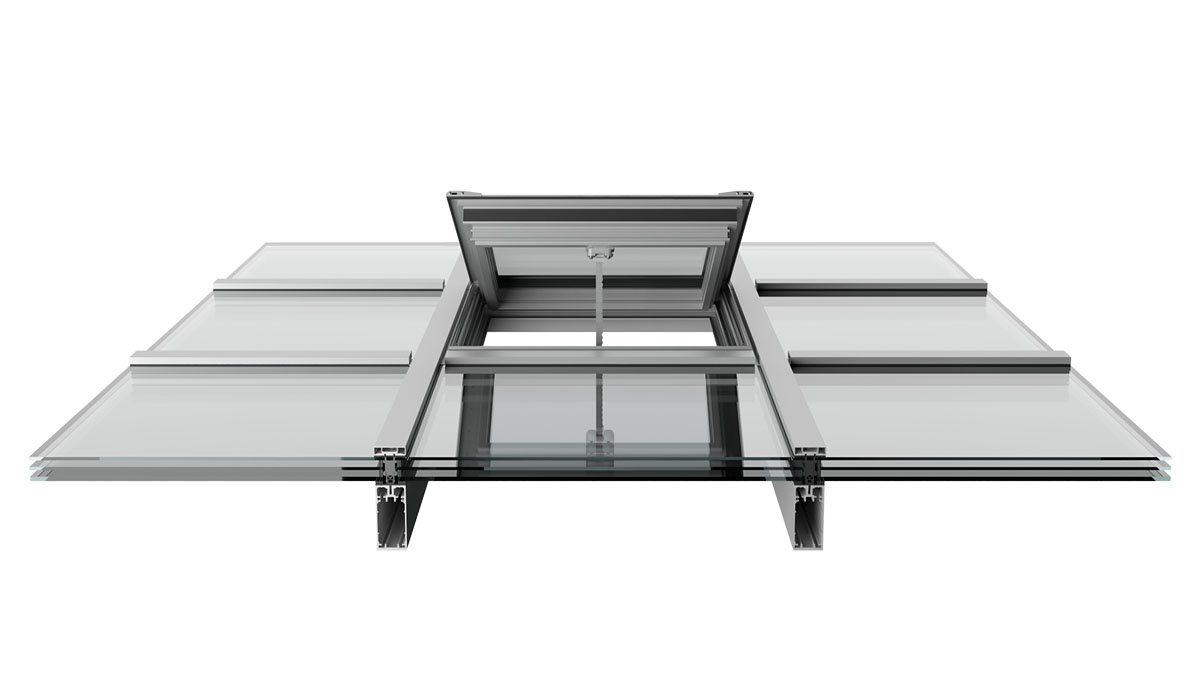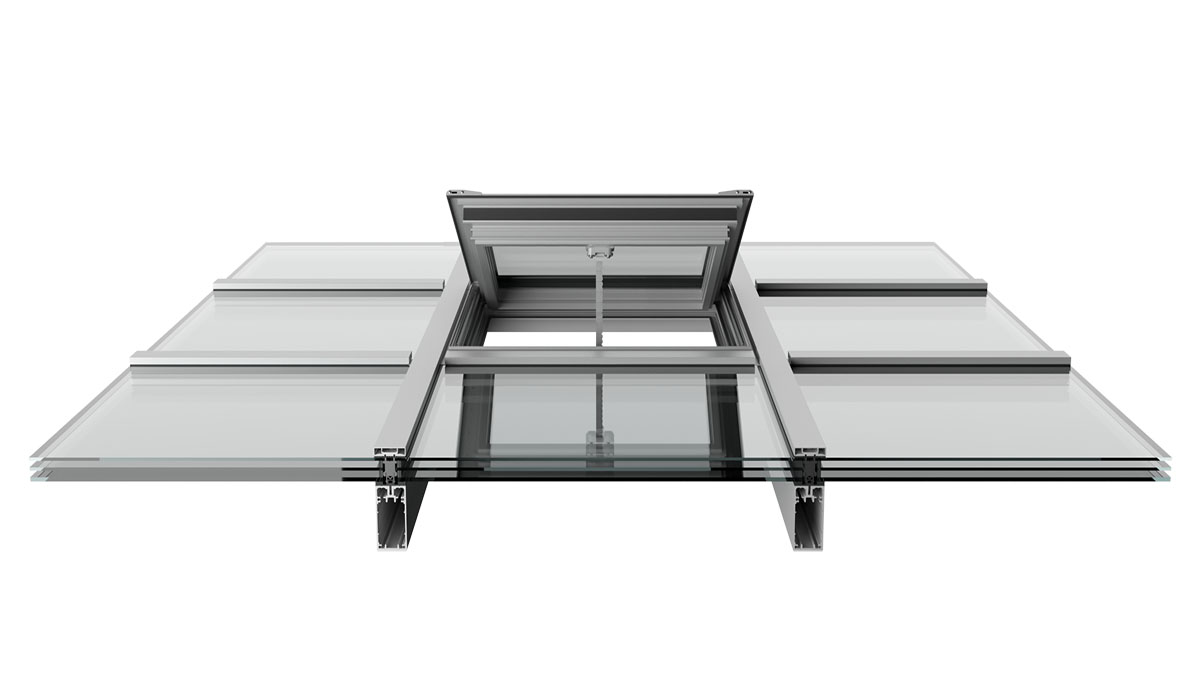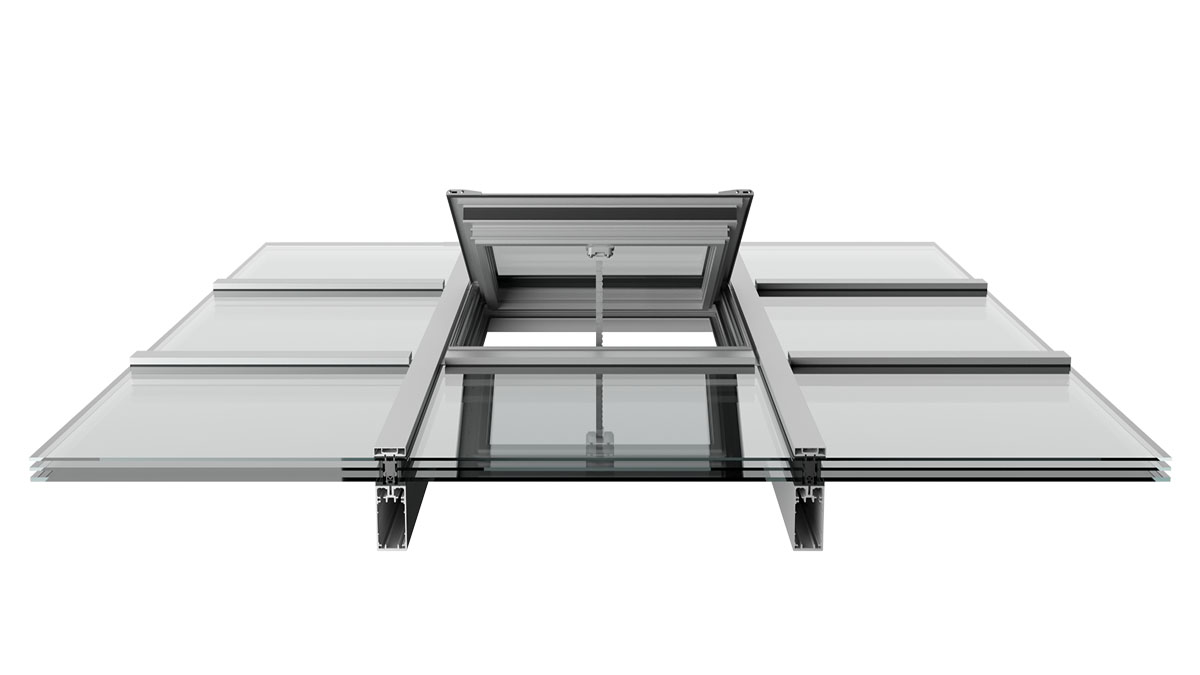 LAMILUX Glass Roof PR60
Glass roof constructions according to your wishes
---
Do you want as much daylight as possible in your building? Then a glass roof construction is a good choice. Just look at large shopping centres such as the Thier Galerie in Dortmund. Or the BMW research and innovation centre. With a glass roof we do not only have the possibility to realise your individual ideas - we also adapt the glass roof to your individual needs. That way, we can respond to your request for a lot of daylight, and at the same time make your building safer with smoke and heat extraction devices. You can thus incorporate our Glass Roof PR60 individually into the planning of your projects. With LAMILUX, you have a partner at your side that will meet your expectations and provide impressive solutions for your glass roof. How does this work? Our PR60 system is based on an aluminium post-and-beam system that is highly adaptable as well as independent of inclination and can be installed in any roof shape imaginable, such as gable or hipped roofs. Pyramids or barrel roofs can be realised as well. If you wish, you can have your own polygonal creations realised.
This is made possible by the special design with the insert connectors since the system is so dimensionally stable at the load-bearing joints that even complicated profile joints are possible without any problems. Apart from this, the profiles are statically optimised in height and provide maximum daylight incidence with a face width of 60 millimetres. This gives the building an indispensable added value, which is also reflected in the energy efficiency. The special combination between exterior seal and press strips guarantees optimal drainage of rainwater. The interaction between the inner sealing layer and the construction's own insulation core results in optimal isothermal processes. These ensure that the heat remains inside in winter and outside in summer. If the building requires a passive house standard, it is possible to use the LAMILUX Glass Roof PR60 in the passive house variant. This corresponds to the highest passive house efficiency class "phA advanced component" and is the best aluminium mullion-transom system on the market in terms of thermal performance. Even with the passive house variant, there are no obstacles to the free shaping and design of the glass roof.

Our LAMILUX glass roof portfolio
Suitable products for all demands
---
Customised renovation
Individual preparation of renovation plans
---
Signing a renovation contract with LAMILUX means that all work will be carried out with the utmost care and everything will run as smoothly as possible. Our experts are committed to providing you with a comprehensive service - from planning to installation and maintenance. You get everything from a single source and can rely on years of experience. The procedure of a renovation planning is that we go through all points of a carefully prepared checklist and carry out the renovation step by step according to schedule. It is our goal to present you technically convincing, innovative and economical solutions.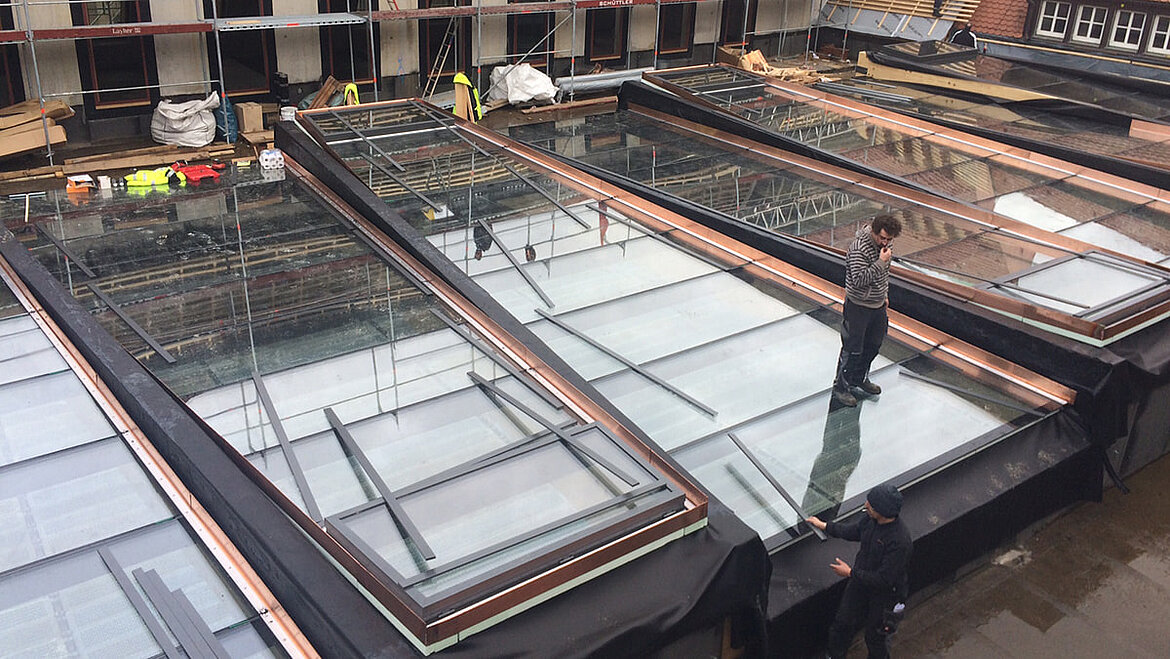 Analysis
The basis for a renovation is a checklist that is worked through step by step. Together with you, we determine the different energy and functional requirements for the product.
The following questions are examined for this purpose:
What is the condition of the product?
Can the substructure still be used?
Is it necessary to dismantle the old substructure and rebuild it?
Together with you, we plan a concept that is adapted to your needs.
For this we use:
Our multifaceted product portfolio, especially regarding energy efficiency and functionality.
Individual and building-specific adaptation of the skylights
Detailed offer with transparent cost presentation
Renovation solution that meets your expectations
What can you expect from us?
Detailed preparation and planning of your glass roof construction
Preparation of a binding approval drawing
If requested, preparation of a serviceability and load-bearing safety certificate for the glass roof construction
Handing over of proofs of the energetic data of the products
Continuous availability for questions during the approval phase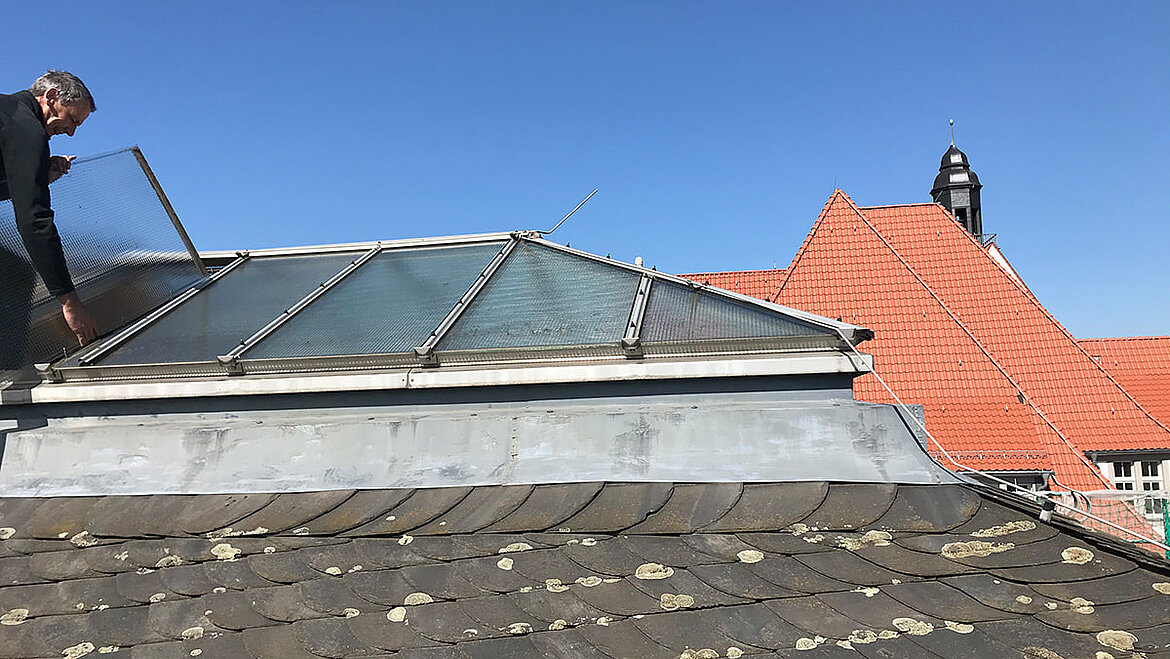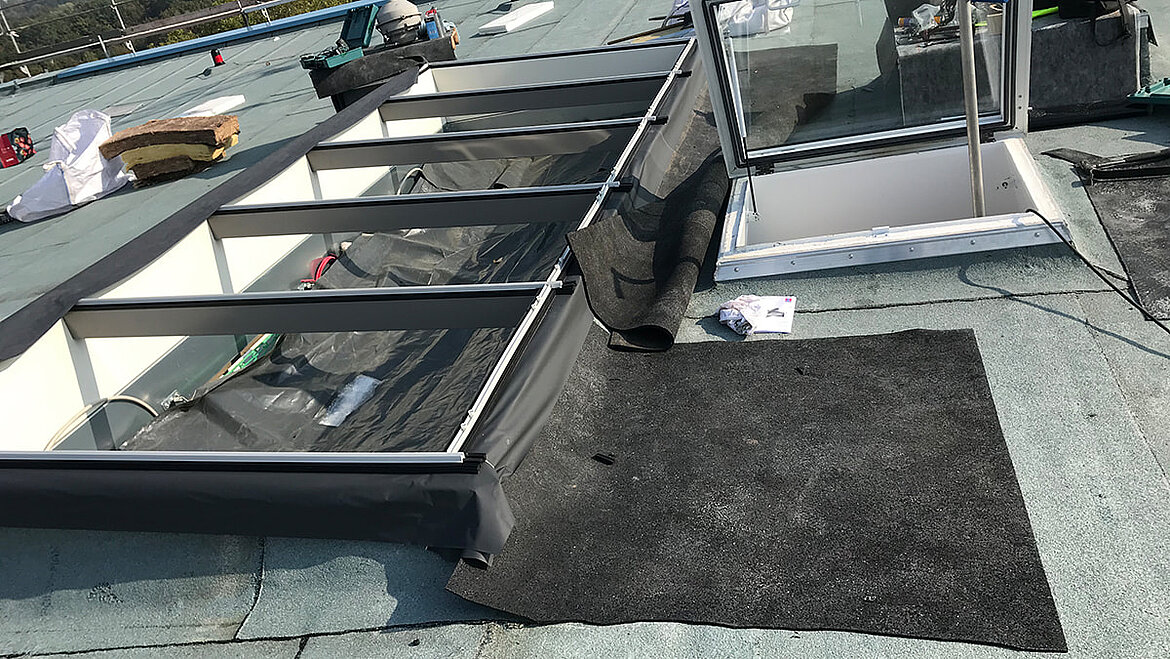 Production
Production processing includes various things:
Control of incoming goods
Preparation of a production plan
Production planning
Sustainable production methods and raw materials
Monitoring the production process
Quality control
Our programme for installation services is very comprehensive and includes the following items:
Supervision and planning of the scheduling processes
Only trained specialist personnel are employed to carry out all installation work
Instruction of the teams for dismantling the substructure and the old skylights, as well as installing the new system
Disposal of the old substructure constructions
In addition, we offer a detailed maintenance programme of your smoke and heat ventilation systems:
Recording of the condition of the smoke and heat ventilation systems
24-hour hotline
Tightly knit maintenance network
Rapid on-site service
Comprehensive project documentation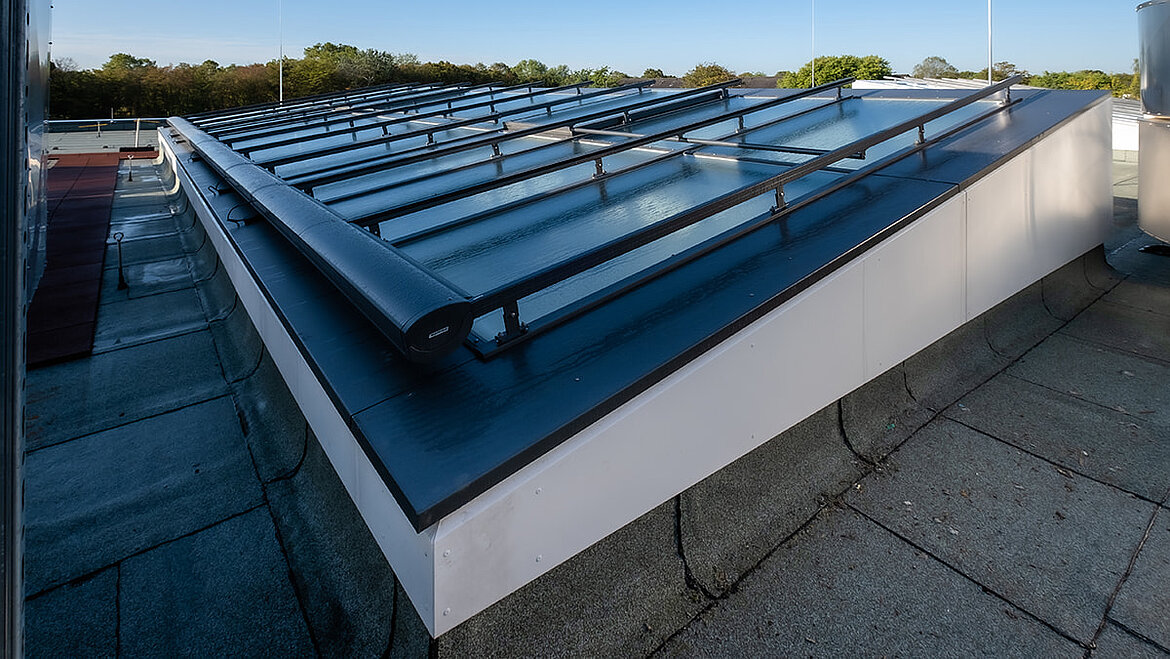 Efficient smoke extraction with the LAMILUX Smoke Lift Glass Roof PR60
The suitable solution for your glass roof construction
---
The smoke and heat extraction device can be installed in any LAMILUX Glass Roof PR60. Our LAMILUX Smoke Lift belongs to the natural smoke ventilation devices and opens in less than 60 seconds in case of smoke development to provide a fast and large smoke outlet. In accordance with DIN EN 12101 - 2, this also works under the impact of snow loads and at temperatures as low as -15° C. Even with wind loads of up to 1500 N/m², perfect functioning is ensured. What are the advantages of the LAMILUX Smoke Lift Glass Roof PR60? The sash width and height of the flaps can be selected variably up to 2.50 m and in any RAL colour and of course our product complies with the European standard DIN EN 12101 - 2 for smoke and heat ventilation systems.
Another advantage is the drive system, which can be selected variably as a pneumatic or electric drive with 24 volts, 48 volts or 230 volts. The choice can be made according to requirements, and regardless of this, the control system for all integrated smoke lifts is optimally linked to ensure smooth operation. Pneumatic and electric drives can be controlled equally. The control technology can also be used for third-party systems. We do not only carry out the installation of the control systems, though, but also maintain them professionally. The NSHEV is also perfectly suited for the renovation of glass roof structures, as it can also be easily integrated into systems of other manufacturers.
Schedule a consultation appointment with us today
Have a non-binding expert discussion with us
---
Take the first step towards your project and make an appointment for a non-binding consultation with our experts. This way we can work out a plan for the realisation of your project with all the details.