GRP in the caravan and mobile home industry
Functional vehicle construction with optical design advantages
---
LAMILUX manufactures fibre-reinforced plastics based on polyester and epoxy resin, which are used in various fields of application as a face sheet for sandwich panels or as panels in the caravan industry. Our fibre-reinforced plastics are used in side walls, roofs, doors, curved structures, in flooring, as non-slip flooring in rear external storage lockers or as interior wall cladding. There, they support the caravan, motorhome or mobile home in meeting the challenges of everyday life.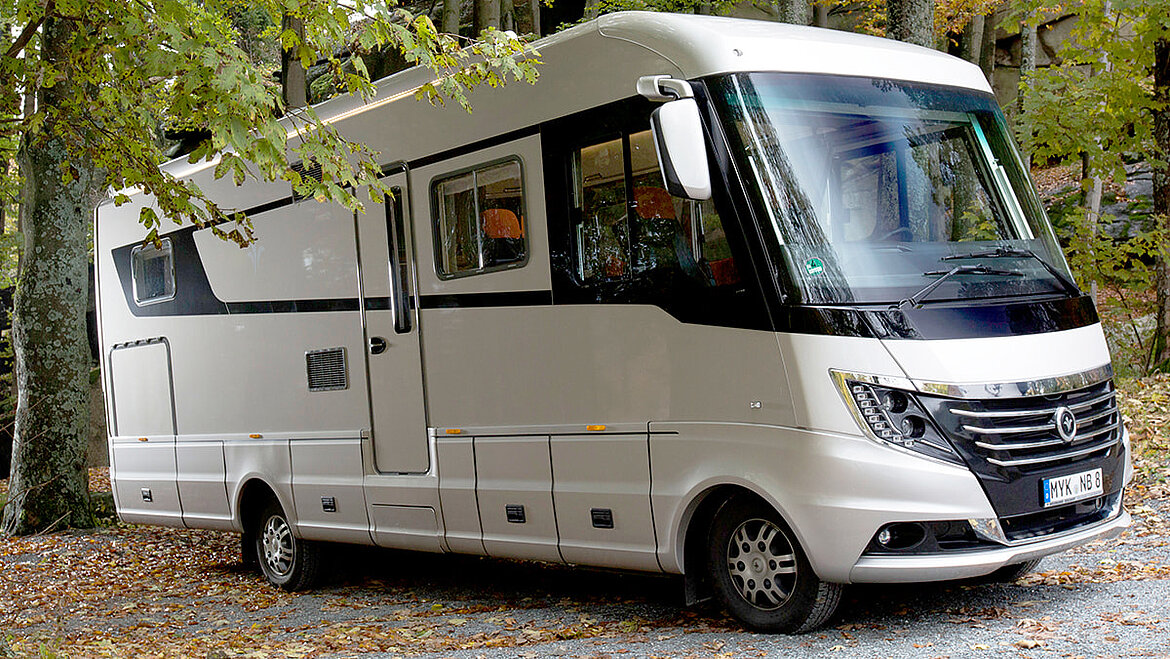 Advantages of GRP
More corrosion and hail resistant than aluminium
Excellent and weather resistance thanks to the use of a protective gel coat
Easier repair options than with metal
Low specific weight with high mechanical strength
Simple and easy further processing
Excellent surface properties compared to other construction materials
Easy option for an additional painting
Huge colour palette (up to metallic colours) for a wide range of applications

Fields of application in caravans
Durable – Lightweight – Sturdy – Classy
---
The fields of application for GRP in caravan and mobile home construction are extremely diverse. The multifunctional material ensures durability and stability in the following fields of application: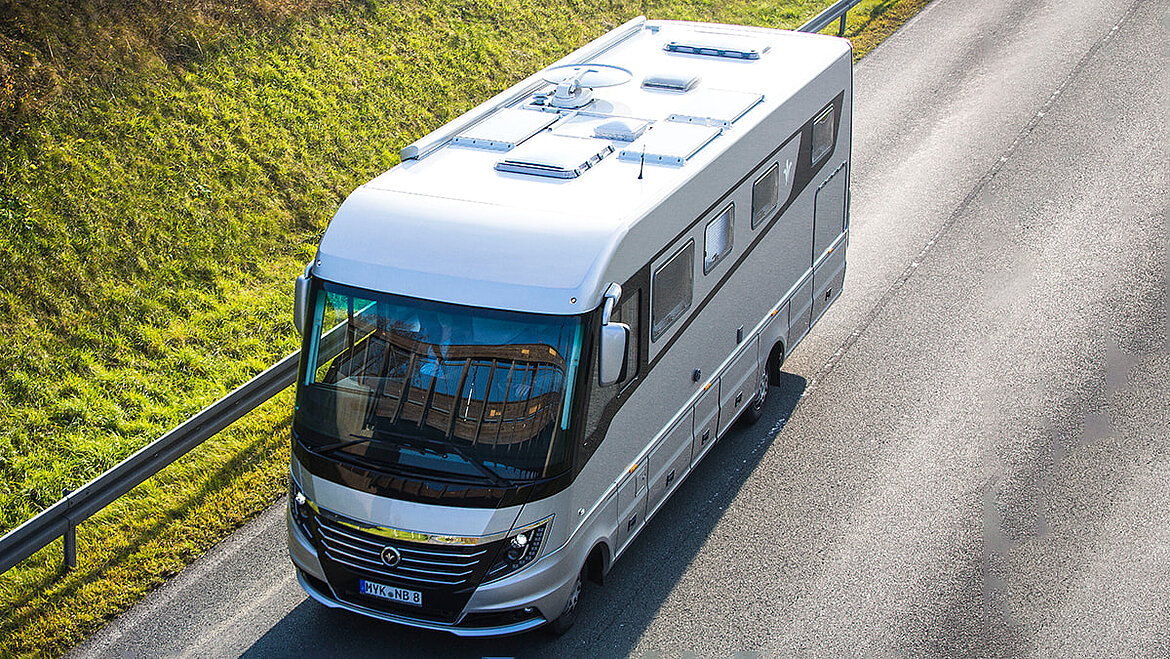 The low mass per unit area combined with high stability ensures that GRP has a very high potential for lightweight construction. Lightweight construction plays an increasingly important role in the automotive industry, primarily by driving the reduction of CO2 emissions and fuel consumption. Panels made of fibre-reinforced plastics in the roof help to keep to minimise the weight of the vehicle.

Most important features
Resistance to UV rays and weathering
Resistance to hailstorms
Flexible installation options
Our favorite composites for roof applications: LAMILUX High Strength X-treme & LAMILUX Woven Roving flex Gelcoat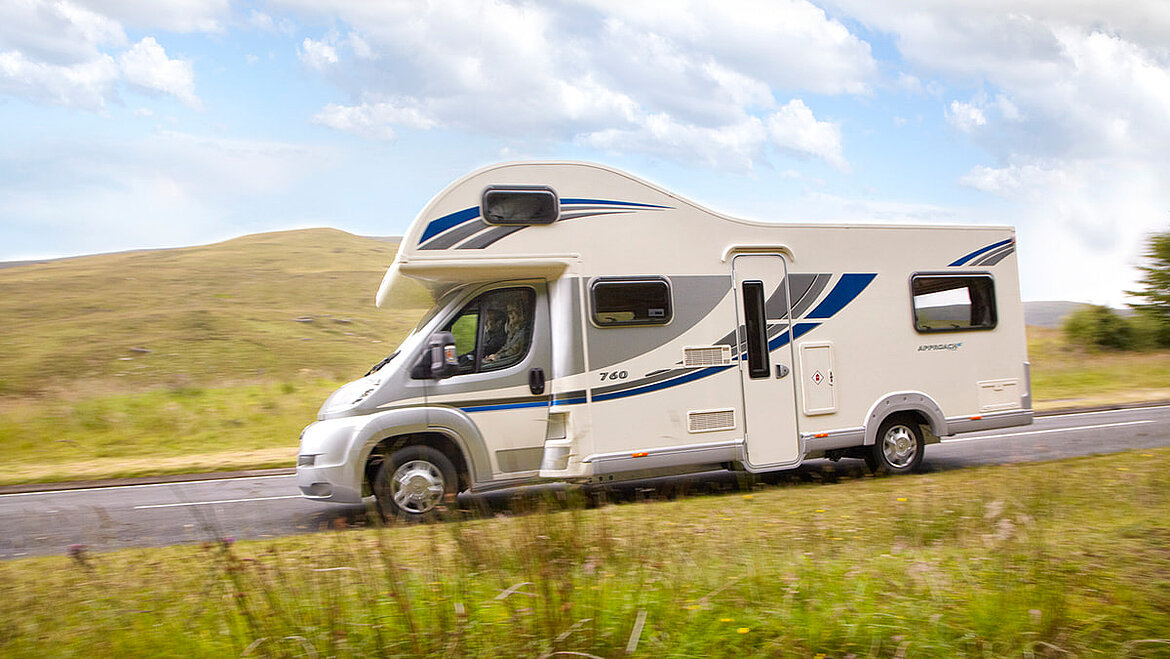 GRP can display all its advantages as a sandwich panel in the outer face sheet of the side wall of the mobile home. LAMILUX premium quality combines the material properties of glass fibre reinforced plastic with the look of aluminium. The lightweight, extremely sturdy construction material has virtually no limits in terms of colour options and choice of designs. A Gelcoat layer seals the surface to protect the elegant appearance and also ensures good UV and weathering resistance in order to provide optimum protection for the caravan against external influences.

Most important features
High-gloss surfaces
Resistance to UV rays and weathering
Weight savings
Our favorite composite for the exterior side wall: LAMILUX HG 4000 & LAMILUX SUNSATION®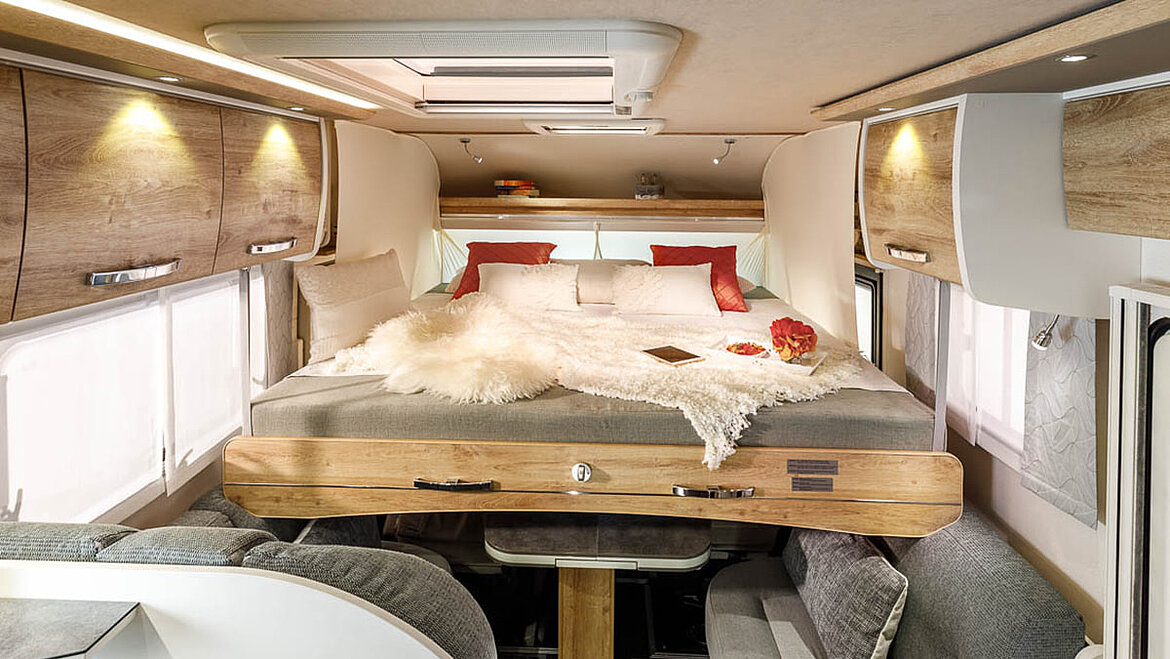 The wide colour spectrum of glass fibre-reinforced plastics is not only advantageous for the outer wall, but also in the design of the caravan interior. The interior can be individually designed with GRP, as LAMILUX Composites are custom-made in decor, design and specification. With a decorative PVC surface, the interior walls of a mobile home become a visual highlight and also prevent mould formation and corrosion.

Most important features
Corrosion-free/ no mould formation
High-quality decors and fabric types
Food-safe
Our favorite composite for the interior side wall: LAMILUX LAMIGraph,LAMILUX LAMIfoamtex & LAMILUX Super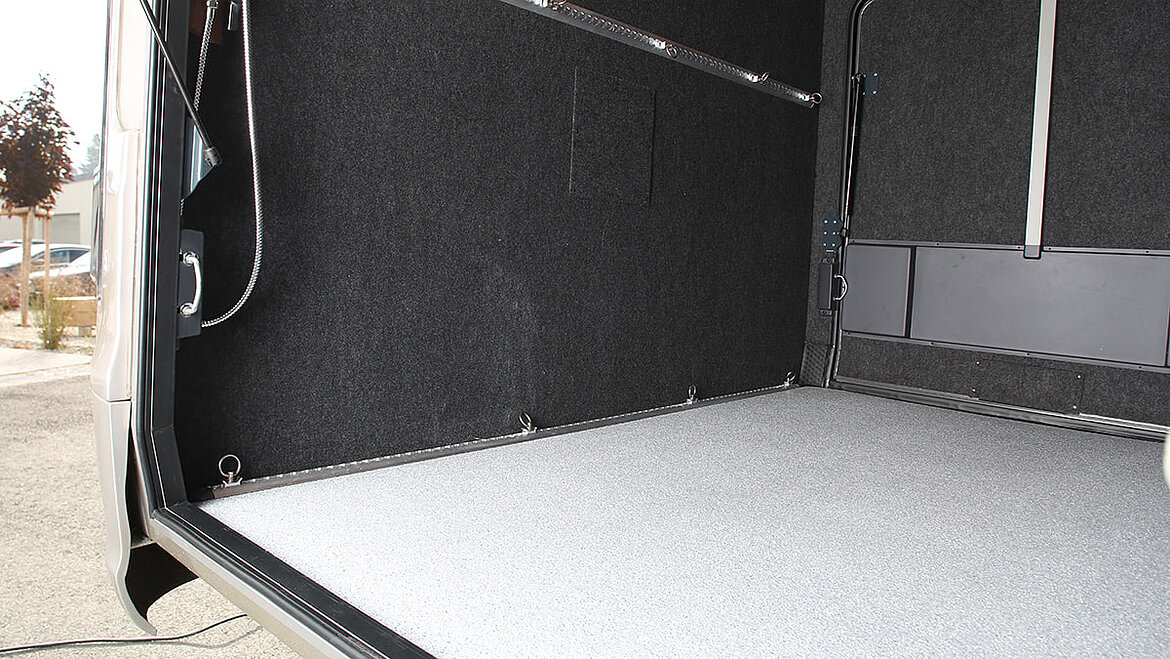 GRP not only performs excellently on the interior wall of a caravan, but also ensures an individual look for the floor. GRP's light weight, such as in the case of LAMILUX Composite Floor, saves unnecessary weight in floor material and increases the efficiency of the caravan. LAMILUX Anti Slip is a glass fibre-reinforced laminate with an effective, abrasion-resistant anti-slip coating. This property is particularly advantageous for use as flooring in the load space or as a ramp of a caravan. LAMILUX Composites can thus be used to prevent damage caused by luggage or provisions slipping around and causing further damage as a result. LAMILUX Woven Roving is also suitable as an underbody material to prevent damage from stone chips.

Most important features
Underbody materials
Anti-slip coatings
PVC GRP flooring
Our favorite composite for flooring applications: LAMILUX Woven Roving, LAMILUX Composite Floor & LAMILUX Anti Slip

TÜV-tested LAMILUX quality
---
It is not only the functionality on the inside and outside of the caravan that is important, but also the look and homeliness of the caravan. The functionality and appearance of LAMILUX Composites is primarily ensured by sturdy, consistent quality. LAMILUX is the world's first manufacturer of fibre-reinforced plastics to have the majority of its laboratory and testing facilities voluntarily tested and successfully certified by TÜV Süd Germany.
Throughout all stages of development, production and life cycle, our products are accompanied by intensive input from our research and development team. Extensive material tests and analyses form the basis for checking the properties of our composites in order to ensure durability and longevity. LAMILUX Composites is thus setting new standards to provide you with 100% quality.

The most important things at a glance
LAMILUX Composites
---
In thicknesses of 0.3 mm to 5.0 mm (product-dependent)
In widths up to 3.2 m
As panels up to 12 m or sheeting up to 300 m in length
Glass mats, Woven Roving or non crimp fabrics
Gelcoat layer for excellent UV and resistance to weathering, anti-slip coating
In a range of colours: RAL, NCS, translucent, dual colour, metallic or custom
Fibre structure, woven roving structure, high-gloss, matt, decor, dual colour
Smooth, corona-treated, roughened