Smokejet
Natural ventilation and SHEV combined
---
The SMOKEJET is a louvre ventilator which, in addition to its function as a smoke and heat exhaust ventilation system, can also be used as a natural ventilation unit. It uses the advantages of a smoke and heat exhaust ventilation unit and also ensures natural air exchange and daylight in buildings.
To this end, the SMOKEJET ventilation and natural smoke exhaust ventilation unit uses the thermal lift in the building depending on the pressure and temperature difference for natural ventilation or natural smoke exhaust ventilation in the event of a fire. Daily ventilation independent of weather conditions is provided via automated rain sensors. In the event of a fire, SMOKEJET opens automatically via a thermal triggering device (TTD) or the fire alarm system.
Due to its high stability, its low weight and the comprehensive application possibilities, the roda SMOKEJET louvre ventilator is always appreciated by architects and building owners.
Fire protection – for your safety
Whether in the industrial sector or in office buildings – in today's world, materials are predominantly used that release toxic gases when burnt.
The SMOKEJET louvre ventilator is equipped with an automatic thermal triggering mechanism. When the trigger temperature is reached in case of fire, the unit opens independently of all other functions. The roda SMOKEJET functions via smoke detector impulse and the fire alarm control panel in equal measure
Natural ventilation without energy loss
Especially in the summer months, industrial production facilities often experience production stoppages due to heat build-up and stale, bad air. The SMOKEJET louvre ventilator provides free and noiseless ventilation without additional energy expenditure. The higher the internal heat load, the more effective the ventilation effect. The natural ventilation of the SMOKEJET regulates itself via the prevailing temperature difference – without any additional control
Natural daylight illumination
The transparent louvres of the SMOKEJET louvre ventilator allow natural daylight to enter the building even when it is closed. On the one hand, this saves lighting costs and, on the other hand, has a positive effect on employee motivation. In this way, SMOKEJET supports the amortisation of the system through active energy saving.
SMOKEJET as a wall-mounted SHEV or as a supply air louvre
The roda SMOKEJET offers a variety of installation options in the roof, but can also provide the required supply air in any wall construction. Since no or only insufficient total ventilation can be guaranteed without supply air, the use of supply air systems is of great importance. Whether in the case of ventilation or fire, the supply of fresh air is most effective in the lower area of the building. In the event of an emergency, the SMOKEJET louvre ventilator supports the removal of dangerous fire gases through the inflowing supply air and promotes the formation of a low-smoke air layer close to the floor. In addition, the materials located near the source of the fire are cooled at the same time.
The SMOKEJET louvre ventilator is used in industrial, commercial and municipal buildings.
Applications
Flat roof
Saddle skylight strip
Barrel skylight strip
Shed roof
façade
Depending on the design, the SMOKEJET meets the requirements of DIN EN 12101-2 and VdS 2159. The EC declaration of conformity is handed over together with the product.
Advantages of the product
Why Smokejet?
---
Can be customised for all roof openings up to 5.71 m²
Use for daily ventilation
Natural daylight illumination which is glare-free when using PC Softlite
Full ventilation at louvre position of 90°
Ideally suited for shed roofs, as well as roofs with a pitch of 30° to 90°
Ideally suited for wall constructions
Good aerodynamic efficiency
Simple installation
Only one drive per unit required
Installation of the pneumatic or electric drive completely in the frame

Drainage of rainwater through integrated rain gutters in lateral drainage channels
Building material class A1 (in appropriate design)
Hail- and fall-through-proof according to manufacturer's specifications
Corrosion resistance
Ageing resistance
Functionality in endurance test with 10,000 opening operations
Use of dimensionally accurate cast parts for all brackets
Drill-hole-free base connection via tension locks
Customised colouring according to customer requirements
Product is recyclable and free from harmful materials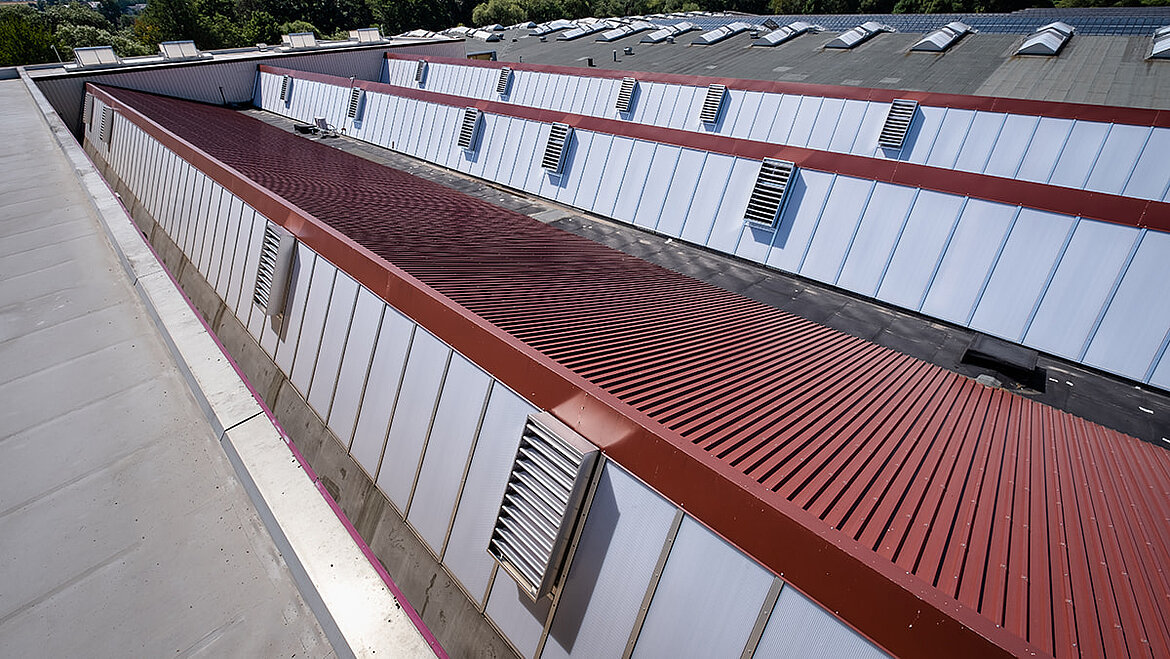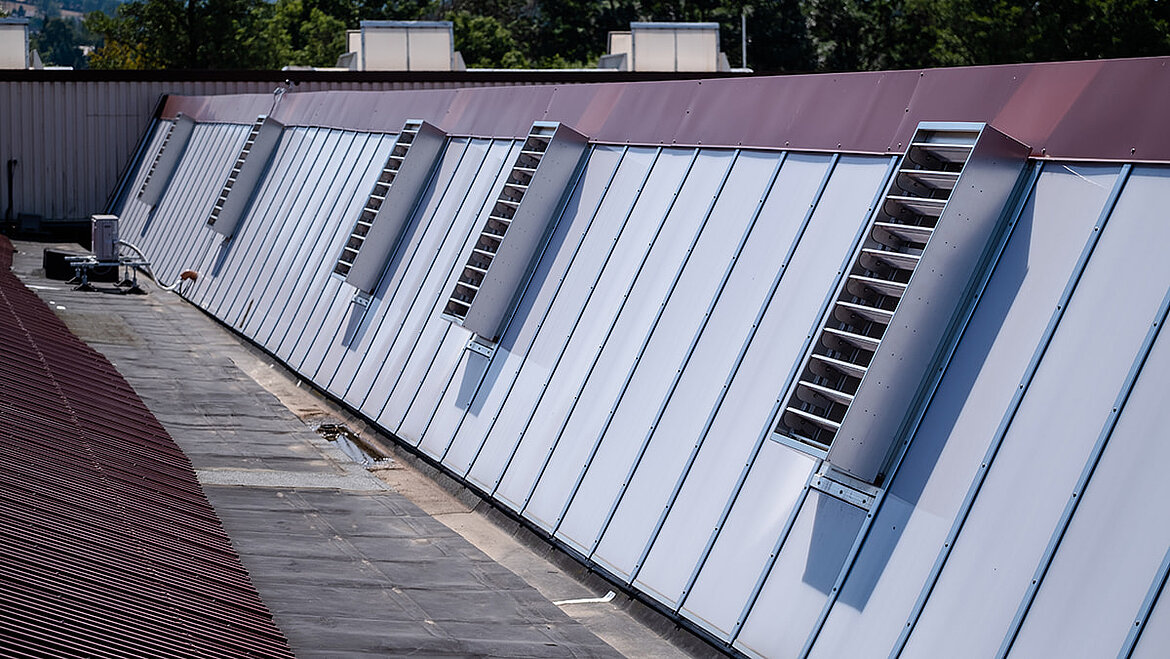 Technical details of the product
Smokejet
---
Designs
The SMOKEJET consists of an aluminium frame construction made of alloy AlMg3 and a number of swivelling, aerodynamically shaped louvres corresponding to the size. For the infill of the louvres, you can choose between aluminium, glass and PC. The louvres are opened and closed with the aid of an internal pneumatic cylinder or actuator. The louvre pivots are made of aluminium and mounted in UV-resistant nylon bushes. Sealing brushes or EPDM seals reduce the outflow of warm air to a minimum.
Louvres
Depending on the area of application, the following louvre variants are available for the SMOKEJET louvre ventilator: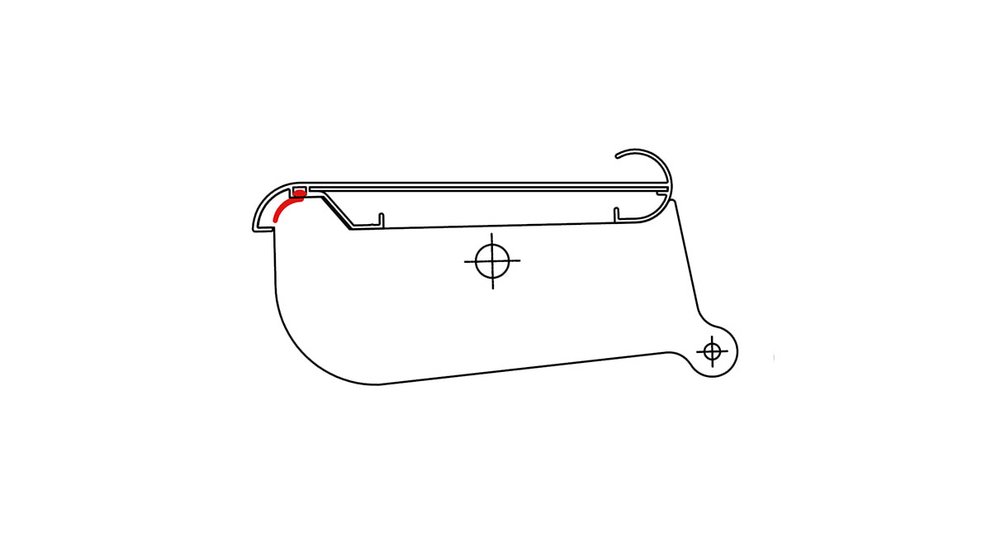 A1: Single-ply aluminium louvre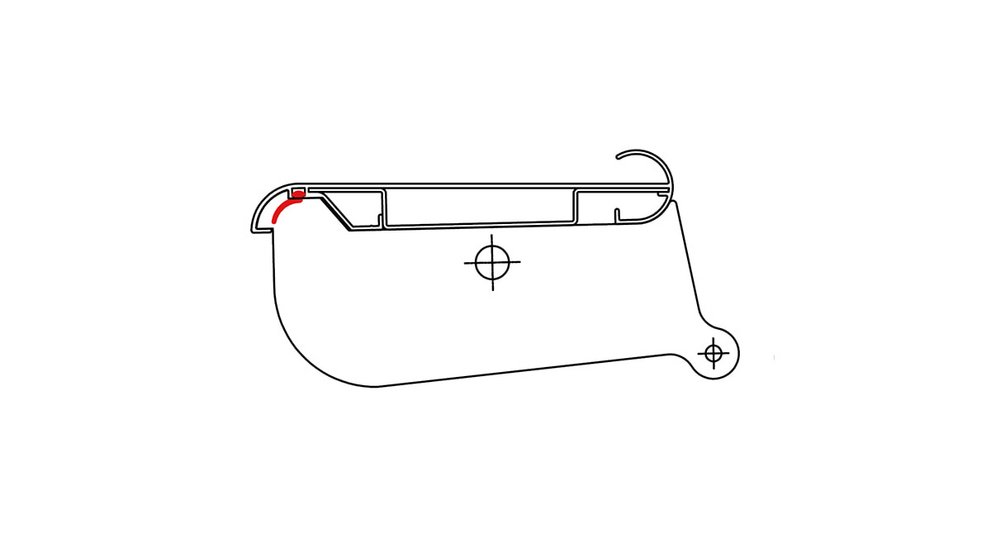 A2: Double-ply aluminium louvre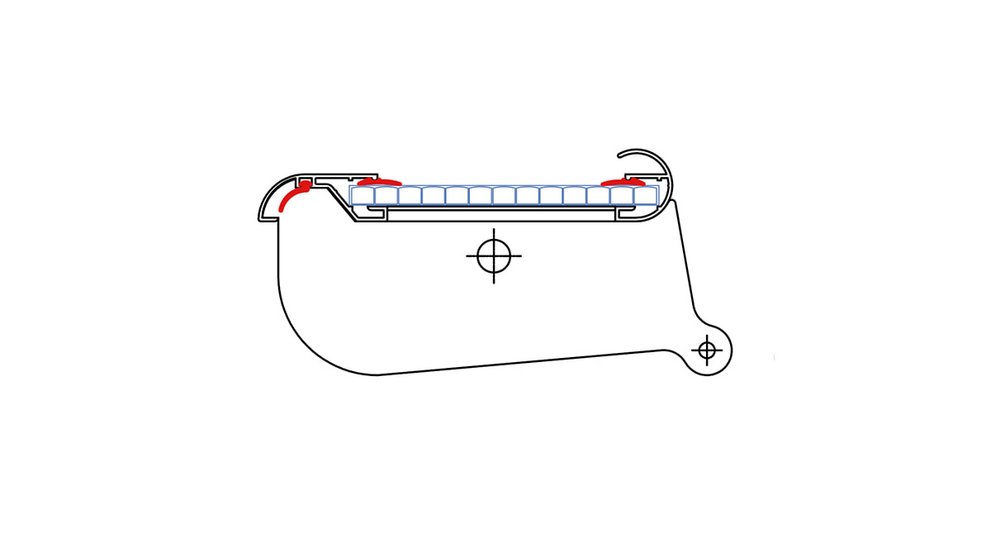 PC: Polycarbonate louvre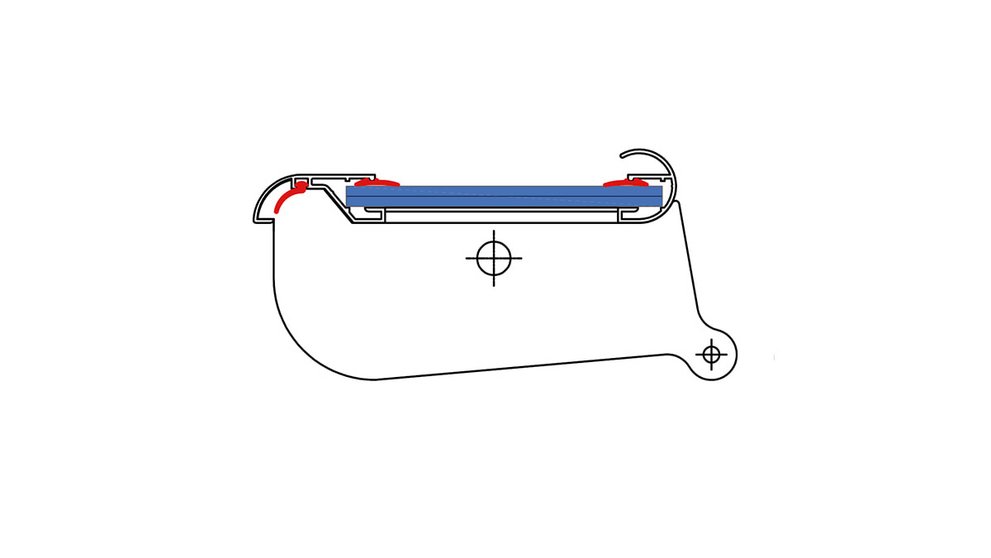 GL: Single-ply VSG louvre
OPENING MECHANISM DESIGNS
Pneumatically operated opening mechanism in case of fire
Automatically via a thermal priority valve (TPV) and connected CO2 cartridge
Automatically triggered via fire alarm control panel by fire detector
Manually triggered via fire alarm control panel by SHEV button
Electrically operated opening mechanism in case of fire
Automatically via fire alarm control panel with buffer batteries
Automatically triggered via fire alarm control panel by fire detector
Manually triggered via fire alarm control panel by SHEV button
Opening mechanism for daily use
Via on-site compressed air supply and ventilation control box (for pneumatics) or SHEV control panel (for 24V actuators):
Ventilation control box
Button
Timer for night cooling (optional)
Wind and rain sensor for bad weather protection (optional)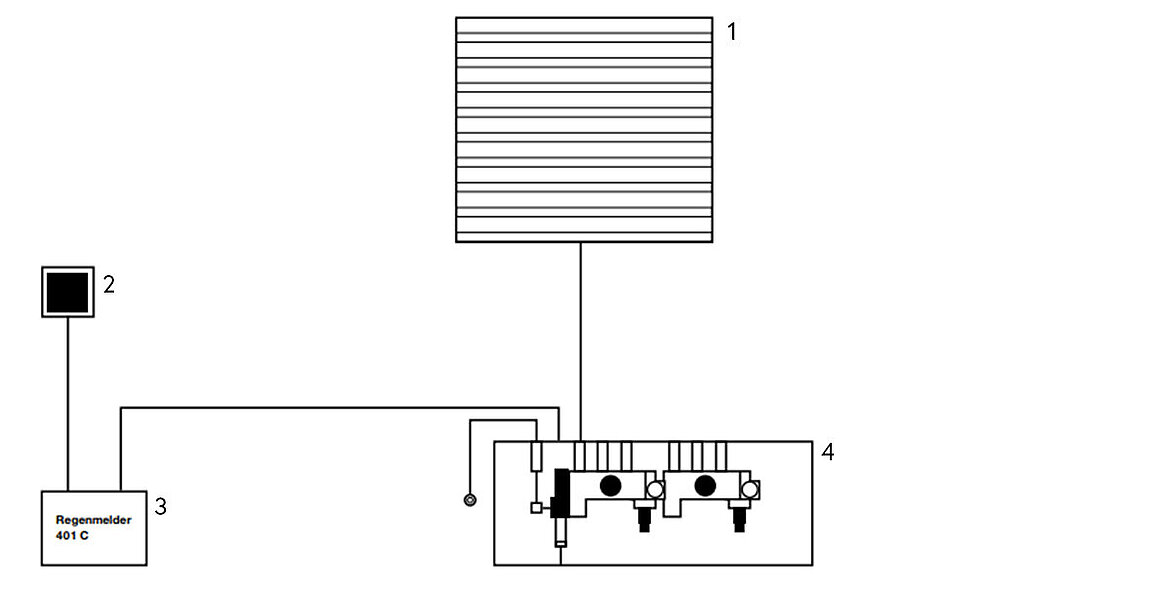 1 - Louvre ventilator SMOKEJET
2 - A rain sensor can be used to provide weather-protected ventilation. The slats close automatically when moisture occurs.
3 - Rain detection system consisting of rain sensor and evaluation station.

4 - Pneumatic switch cabinet for open-close control of universal blinds. With connection options for automatic rain sensor and fire emergency alarm box.

Sizes
The production of the units is possible in all length dimensions and defined width dimensions from 576x705 mm to 1926x2966 mm. The unit width is calculated from the frame width (40 mm) and the width of the individual louvres (133 mm). (unit width = number of louvres x 133 mm + 40 mm)
Furthermore, depending on the location and requirements, the most suitable variations can be selected.
Base connections (EUROZARGE/ EUROSOCKEL)
Various flange designs
Installation
Due to the low weight as well as adapted dimensions and flange designs, easy installation in all common roof and wall constructions is possible.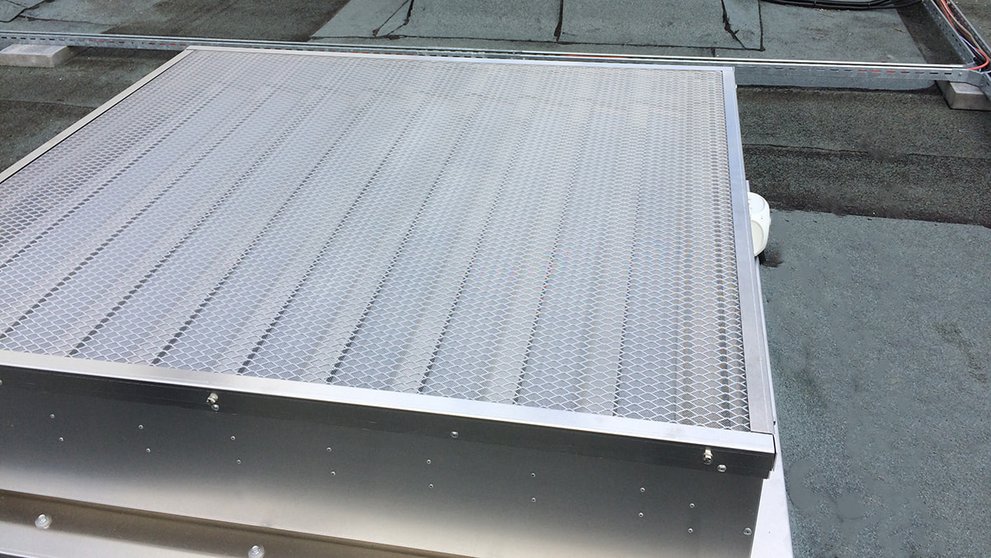 The SMOKEJET ventilation and smoke exhaust ventilation unit can also be equipped with further accessories on customer request, which brings effective advantages for the operator.
Insect protection grating
Ideal for industries with stringent hygiene regulations
Easy cleaning during operation
Optionally as drawer
No effect on ventilation performance
Adverse weather ventilation
Via an automatic rain sensor, the MULTIJET multi-purpose ventilator automatically closes the louvre blades and opens the interior flaps in the event of rain or snowfall. Ventilation is then weather-protected via pneumatic or electric interior flap control.
Downloads
for more information
---