Square exit enables spiral staircase to roof terrace
---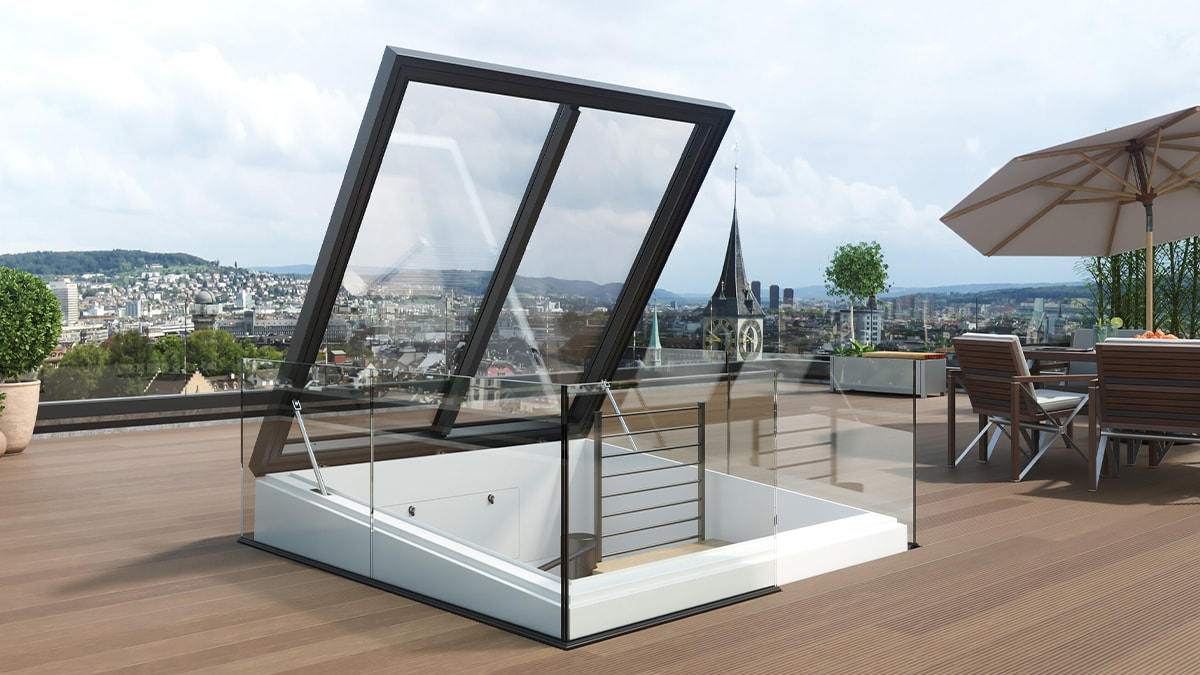 Fourth flat roof exit in the LAMILUX Comfort range
Especially in big cities, where the number of floors in housing is sometimes limited and private gardens are rare, roof terraces are very popular. For this reason, LAMILUX has now developed a fourth flat roof exit in its Comfort series: The LAMILUX Flat Roof Exit Comfort Square combines purist design and function in a new form.
The glass pane in the new Comfort roof exit creates a four square metre area for daylight incidence into the attic flat as well as fresh air utilisation – this is the largest glass pane that LAMILUX has installed in its flat roof exits to date. The square shape of the skylight makes it possible, for the first time, to also use spiral and platform staircases underneath and thus design the rooms in a particularly purist way. Until now, access to the roof was limited to straight stairways due to the elongated rectangular shape of the roof exit.
It only takes 45 seconds for the concealed hydraulic drives to silently open the glass element of the skylight by 70 degrees. Thanks to this swing mechanism, as already used in the LAMILUX Flat Roof Exit Comfort Swing, the skylight does not require any additional space on the roof terrace than its own size in closed form, even when open.
In terms of energy, the new product continues the tradition of the other LAMILUX skylights: The overall system, which is free of thermal bridges, optimised isothermal processes and the option of special glazing meet modern demands for sustainability, energy efficiency and climate protection.