LAMILUX SUNSATION® wins German Design Award
---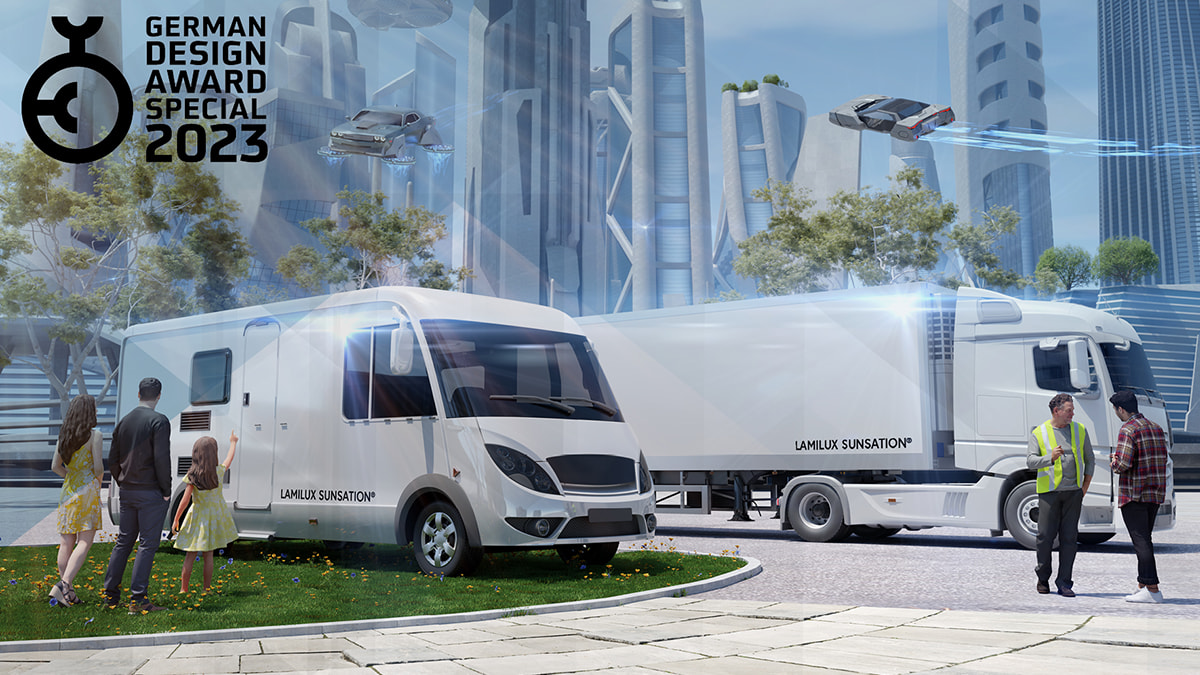 Special Mention for the world's most UV-resistant GRP face sheet
The innovative gelcoat technology LAMILUX SUNSATION® has convinced a renowned jury for the third time: The German Innovation Award was followed by the AVK Innovation Award and now the German Design Award also crowns the world's most UV-resistant GRP face sheet with the "Special Mention" in the category "Excellent Product Design".
Europe's leading manufacturer of fibre-reinforced composites, LAMILUX Composites, presents LAMILUX SUNSATION®, the world's most UV-resistant GRP face sheet and one of the most revolutionary developments in the world of glass fibre-reinforced plastics.
Remarkable design
Extreme colour and gloss resistance and no colour difference after removal of decals from surfaces: LAMILUX SUNSATION® sets a new benchmark in the quality standard of glass fibre-reinforced plastics. In artificial weathering tests, such as according DIN EN ISO 4892–2, LAMILUX SUNSATION® demonstrates absolute resistance. Even after 15 to 20 years of real weathering, LAMILUX SUNSATION® retains its rich colours and maximum gloss. The results of the tests confirm the revolutionary development for GRP exterior applications. The ultimate plus: LAMILUX SUNSATION® significantly reduces the care requirements of exterior applications. Surfaces that do not dull and do not lose their gloss do not need to be waxed for preventive protection or subsequent repair. In figures, this means: 90 percent less effort and expense for waxing, thanks to the use of LAMILUX SUNSATION®.
About the German Design Award
For 10 years now, the German Design Award has been honouring ground-breaking products and projects that are pioneering in the German and international design landscape. The top-class international jury honours their manufacturers and designers with the award. The German Design Award is one of the most renowned design awards worldwide and enjoys an illustrious reputation far beyond professional circles. Anyone who triumphs in the face of high-calibre competition has successfully shown that they are among the best.