GRP for containers in the transport industry
Robust - lightweight - visually appealing - unique
---
LAMILUX produces fibre-reinforced plastics based on polyester and epoxy resin on several production lines in an industrial flat sheet process. The fibre composite material is used in various fields of application as a face sheet for sandwich panels or as panels in the container industry. Our fibre-reinforced plastics (GRP) are used there as an outer shell.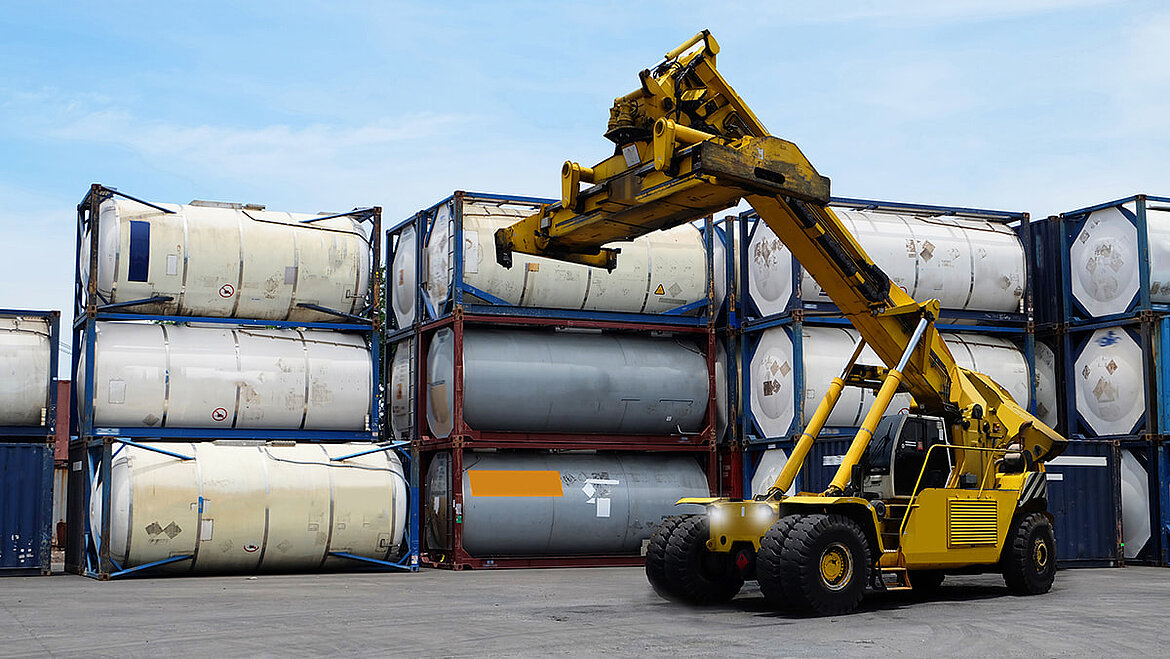 Advantages of GRP
Smoother repairability than with metal
Opportunity of afterwards painting
Low specific weight while providing high mechanical strength
More corrosion and hail resistant compared to aluminium
Impact-resistant material compared to other construction materials
Better cleanability than metals
Simple and rapid further processing
Super UV and weather resistance owe to the use of a protective gel coat
Reduced maintenance and repair costs due to highest strength
Fields of application in the transportation industry
Robust - lightweight - visually appealing - unique
---
From refrigerated containers to tank containers
For safe transport in difficult conditions
Containers of all kinds are subjected to very high mechanical loads during loading and transport; whether as containers on a cargo ship or as tank containers on trains or on a truck.
In refrigerated containers in particular, low temperatures must be maintained using as little energy as possible over very long periods of time. LAMILUX Composites ensure exactly that: safe, energy-efficient transport of food in refrigerated containers.
Containers made of GRP benefit from this
Fibre-reinforced plastics protect the wall cladding on the inside of the containers with their extreme impact-resistance. Their stiffening effect also lends extreme stability to the entire container construction. Additional outstanding features are the material's thermal insulating properties and low thermal expansion rate due to its high fibre content.
High impact resistance and robustness
Maximised service life
Reduction of downtime
Prestigious appearance even under the toughest conditions
Reduced operating costs thanks to weight reduction
Higher payloads possible due to lightweight design and lower weight
Easy to clean and no corrosion
Resistant to sunlight and effects of weathering
Avoidance of thermal bridges with reinforced materials
Reduced maintenance and repair costs
TÜV-tested LAMILUX quality
---
Our continuous production process, which is controlled by highly qualified specialists, produces consistently high quality for you. As a European market leader, we have large production capacities and thus guarantee you supply reliability. In order to ensure our quality, we are the world's first manufacturer of fibre-reinforced plastics to have the majority of our laboratory and testing facilities voluntarily tested and certified by TÜV Süd Deutschland. This means that we and our products have imposed the highest quality requirements.
The most important things at a glance
LAMILUX Composites
---
In thicknesses of 0.3 mm to 5.0 mm (product-dependent)
In widths up to 3.2 m
As panels up to 12 m or sheeting up to 300 m in length
Glass mats, Woven Roving or non crimp fabrics
Gelcoat layer for excellent UV and resistance to weathering, anti-slip coating
In a range of colours: RAL, NCS, translucent, dual colour, metallic or custom
Fibre structure, woven roving structure, high-gloss, matt, decor, dual colour
Smooth, corona-treated, roughened